There is a reason that more and more companies are using social media to market their products and services: it works. Many longstanding companies are resistant to social media marketing since they have done just fine without for years—maybe even decades. However, social media marketing is just the digital way to do what your company has always done—get the word out!
The Difference Between Traditional And Social Media Marketing
The Marketing Funnel
If you've been in the home building, contracting, or remodeling businesses for a long time, you probably know all about the fundamentals of traditional marketing. Social media falls in the inbound marketing bucket. Many marketers use the "funnel" term to describe their strategy of acquisition, conversion, and retention. The technique is as follows: at the top of the funnel are the clients they are working to find. A mid-range of time and energy is spent on converting these potential clients into loyal customers, but the clients they hope to keep are almost an afterthought.
Inverting the Funnel?
Social media marketing is different because it turns the funnel on its head, effectively creating a pyramid. Social media marketing has been something of a game-changer in the marketing world: the focus is now on retention rather than the acquisition of customers, creating a platform where clients are able to interact with your company's media pages and spread information about your company through word of mouth.
What Makes Social Media Effective?
Social media has worked for countless companies and using it as part of your marketing strategy can definitely work for you too. The key lies in constructing an effective social media marketing strategy.
In order to appeal to your followers, you have to frequently post content. Regularly updating your social media accounts with engaging content will improve your relationship with your followers. By responding individually to supporters on social networks, your clients will feel that you care about them and will be much more likely to stick around.
Optimizing your profiles and maintaining a consistent brand and aesthetic across all platforms is key to having an effective social media marketing strategy. Since the amount of time that people spend on their phones, internet, and social media - remember to try to meet potential customers where they are at and provide content that we know they are looking for.
[Read More: The Anatomy of the Perfect Facebook Post: Studying a Viral Client Success Story]


Social Media and the Construction Industry
Providing engaging content for followers is a very specific art, but it starts with using the right networks. The most effective way for home builders, remodelers, and contractors to market their content to followers is to post visually appealing, well-written content on the following social networks:
Facebook
Instagram
Houzz
Google My Business
Facebook
Facebook boasts over 1.8 billion daily active users worldwide and that number continues to grow each day. This social network allows you to create text status updates, share photos and videos, and connect your business with potential customers. Head to this blog for more Facebook post ideas.

Facebook has a high population of the typical target audience for home builders, remodelers, and contractors.To reach and engage with this target audience, share company updates and relevant photos or videos of your work. Videos are viral material on Facebook and quickly grab the attention of users as the video auto-plays in their feed.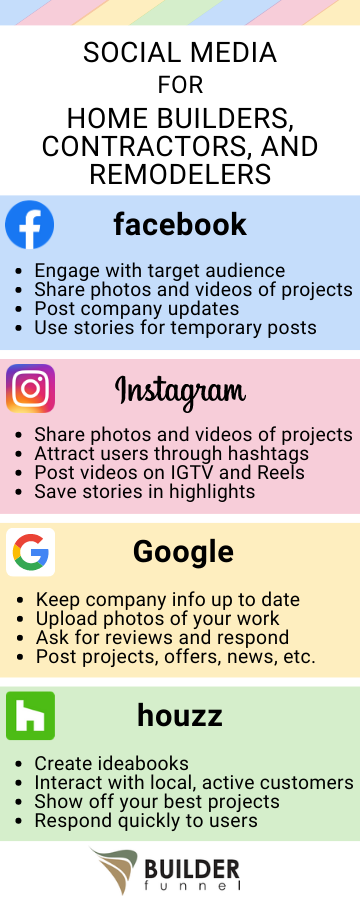 A more recent feature that Facebook offers is their own version of a "story," like Instagram's stories.With Facebook stories you can share quick doses of information with your audience through images or graphics.
In order to expand your reach, you can also create ads and boost posts that are performing well on your page to reach even more users in your target market. For more advice about how to master Facebook marketing, check out this episode of our podcast.
Instagram
With over 500 million daily active users, Instagram is a great way to engage with potential customers. While this social platform tends to lend itself toward a younger demographic than Facebook, it is a great resource to share all of your work. If you aren't currently using Instagram for your home building, remodeling, or contracting business, it's time to start!' We've compiled some lists of home builders and remodelers who are doing amazing on Instagram if you need some inspiration.
Instagram allows you to showcase your projects by sharing photos or videos. While photos are primarily used on Instagram, video has become increasingly popular recently with their reels and IGTV features. Remember, one of the benefits of using Instagram is the ability to use relevant hashtags on your posts to reach more users through Instagram's Explore section.
Like Facebook, Instagram has stories that allow you to feature quick content for your audience. Stories disappear after 24 hours unless you save them to your profile's highlights.
Instagram created its reels as a way to compete with TikTok's video platform. With reels, you can film short videos and edit clips together form content up to 60 seconds long.
If you are looking to post longer videos, that is what IGTV is for. You can post videos up to 15 minutes long from your mobile device and up to 60 minutes long from your computer.
Google My Business
Google My Business allows you to manage the way that your business appears across Google platforms like Google Search and Google Maps. You should make sure that your general information (location, address, phone number, hours, etc.) always stays up to date.
Two important ways that you can optimize your home building, remodeling, or contracting Google My Business page is by encouraging your past clients to leave reviews (and responding to them), and to upload pictures to your profile. Both of these will act as first impressions for people who google your company.
You can also share posts on Google My Business. These posts, like the ones in the image below, will show up when people google your company. Make posts frequently about your company news, projects, services, special offers, and more.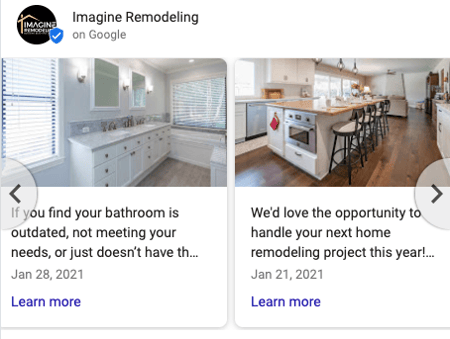 Houzz
Every professional remodeling business should have a profile on Houzz. Since Houzz users are specifically looking for a home builder, remodeler, or contractor this social platform is perfect for showing off full projects and connecting potential leads. With your profile, you can also create idea books filled with project ideas for your potential clients to look through.
Since Houzz users tend to spend months browsing ideas before choosing a contractor, remodeler, or home builder - you have to be patient before seeing the results and gaining leads. Make sure to encourage all of your clients to leave reviews to increase your Houzz ranking and visibility. For more details and some pros and cons about Houzz, check out this podcast!
While there is a lot of users on Houzz who are looking for contractors, home builders, and remodelers, there is also a lot of competition with over 1.5 million professionals on the site. To stay competitive, respond to consumer's questions quickly and effectively to make a good impression, and showcase a portfolio of your best work.
[Read More: 4 Common Houzz Mistakes - and How to Avoid Them]
Final Thoughts
Social media marketing is essential in today's digital world. Remember that each of the platforms reviewed in this article has different purposes and reaches different areas of your target audience. Using one of them is great, but optimizing your profile and content on all four of the platforms will help expand the reach for your home building, remodeling, or contracting business.
If this all sounds great, but you're wondering "Who has the time for all this?!", we invite you to check out our Done For You Social Media Program today!