For remodelers, Instagram continues to be a powerful marketing platform to showcase your work and drive traffic and leads to your website. But this only works if you're posting consistently and posting the right content. If you're unsure on what to be posting or looking for more ideas, you're in the right spot!
The ultimate purpose of this article is to help generate ideas for you from different remodeling companies in the industry that are doing an exceptional job on Instagram. These companies all excel at posting content on Instagram and will offer several different ideas to up your Instagram game.
We have highlighted a few influential remodelers that you will be able to learn from their content and how they display their account.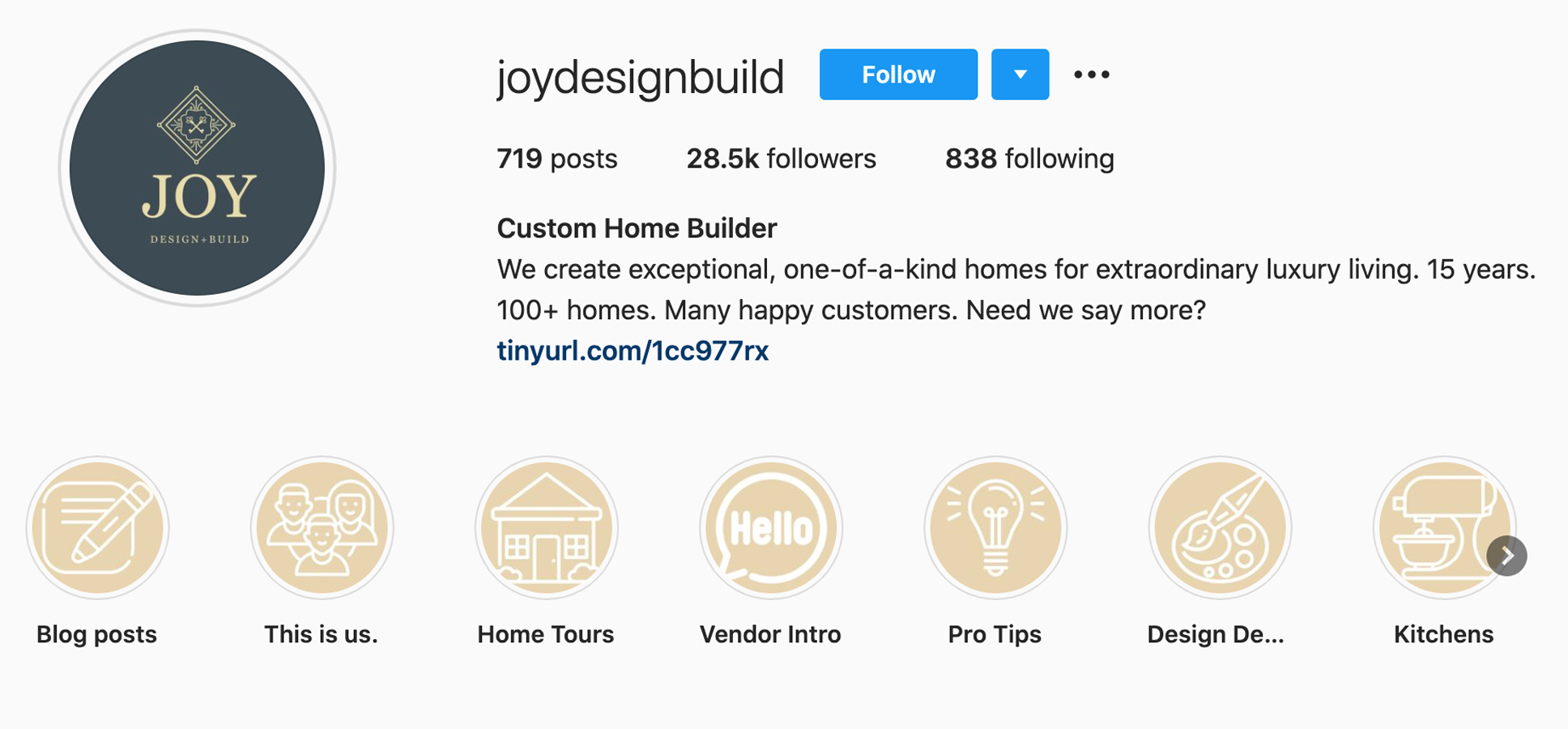 Joy Design + Build is a custom home building company and design-build remodeler serving McLean, Virginia and the nearby area. If you are looking for an aesthetically pleasing Instagram grid, along with visually appealing story highlights, look no further than Joy Design + Build! They truly know their style, which allows them to stay on brand posting bright pictures and branded story highlight cover photos.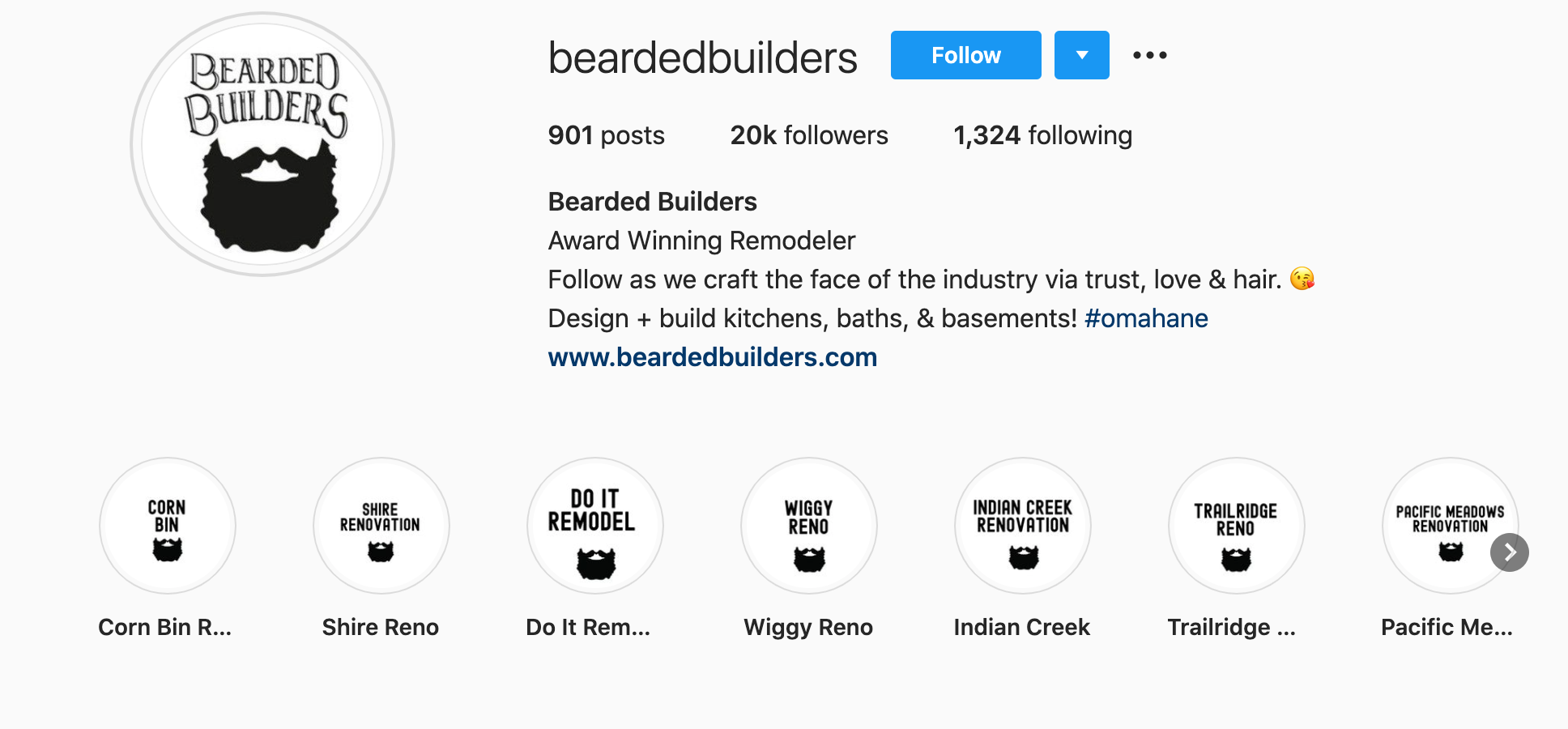 The Bearded Builders are an award-winning remodeler based out of Omaha, Nebraska. They post clean and crisp photos of their projects, including carousels of pictures. In some of these carousels, they additionally include a photo of the beginning project, giving you an idea of the transformation. An interesting tactic with carousels is if followers don't scroll through all the images, your post will populate back to the top of their feed next time they open the app if they didn't engage (like) the post the first time.
Also, they do a good job utilizing videos with their stories while they are on the jobsite. Creating branded story highlight photos which attracts users as well.

Sebring Design Build is a builder in the Chicago area and does an excellent job posting quality photos. One thing that they do well and consistently is before vs. after photos.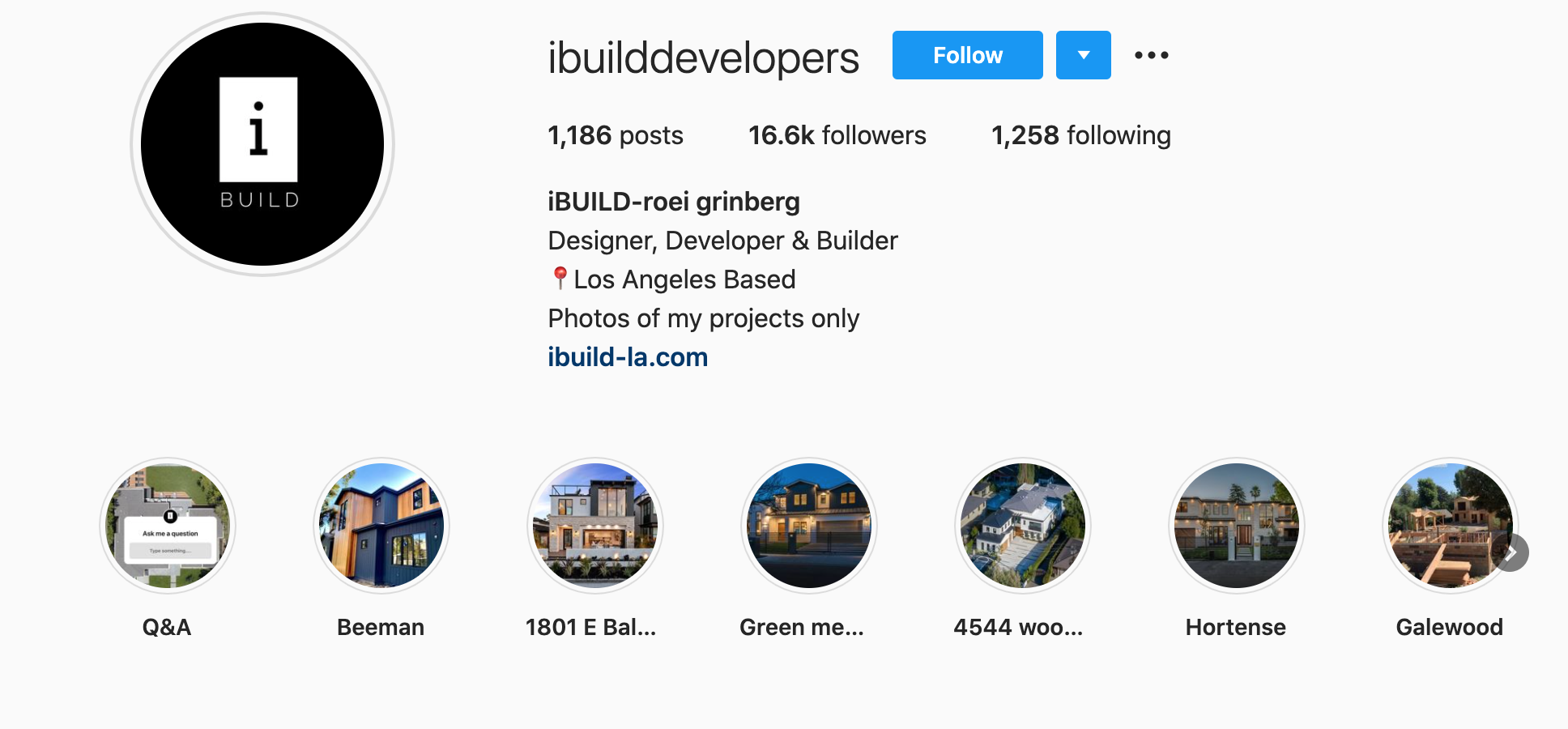 iBuild Developers is a Los Angeles based company, following the latest architectural trends, which leads to developing artistically inspired and high-aesthetic homes. Utilizing stories throughout the building process on some of their projects, you are able to go back through and watch the transformation come to life. Additionally, posting high quality images and adding in before and after photos to drive traffic to their Instagram.

APlus Interior Design Remodel, based out of Orange County, California, keeps the content rolling out. Posting 3-5 times a week with beautiful pictures of their projects and additionally, an extremely simple content piece you could add is taking a quick video of a recent remodel that you have completed, where APlus exhibits this seamlessly.
Kaminkiy Design & Remodeling based out of San Diego portrays an attractive Instagram grid, posting bright photos to catch the users eye. Additionally, a common theme among popular remodeler Instagram pages, utilizing the story highlights feature. Kaminskiy does this slightly different compared to others, where they have specific categories for each type of remodeling project. If you are interested in viewing their past kitchen remodels, you are easily able to view them.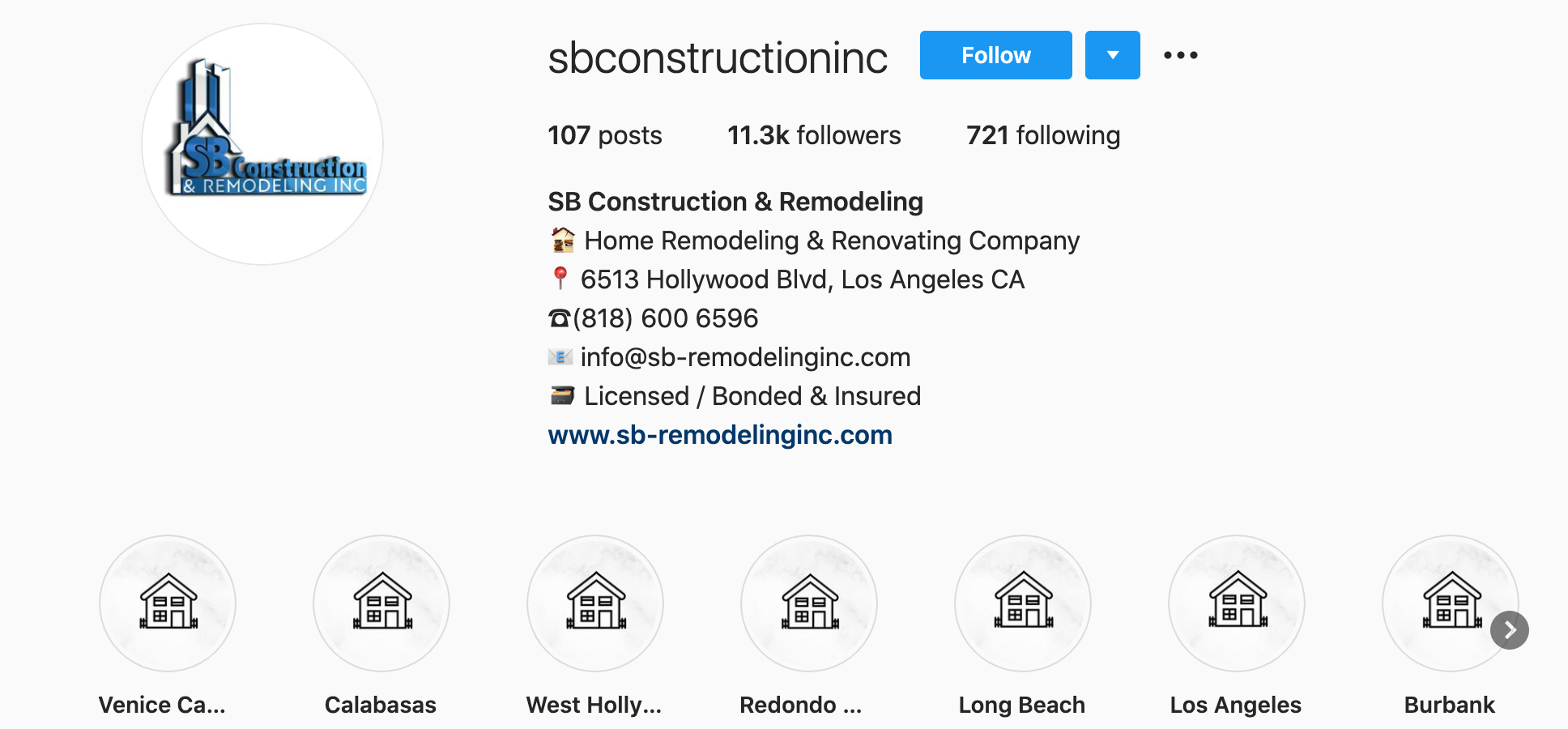 SB Construction & Remodeling serves the Los Angeles area and is another perfect example of eye-catching cover photo's for your story highlights. Additionally to having captivating story highlights, they also post beautiful remodeling projects that make you say "wow!".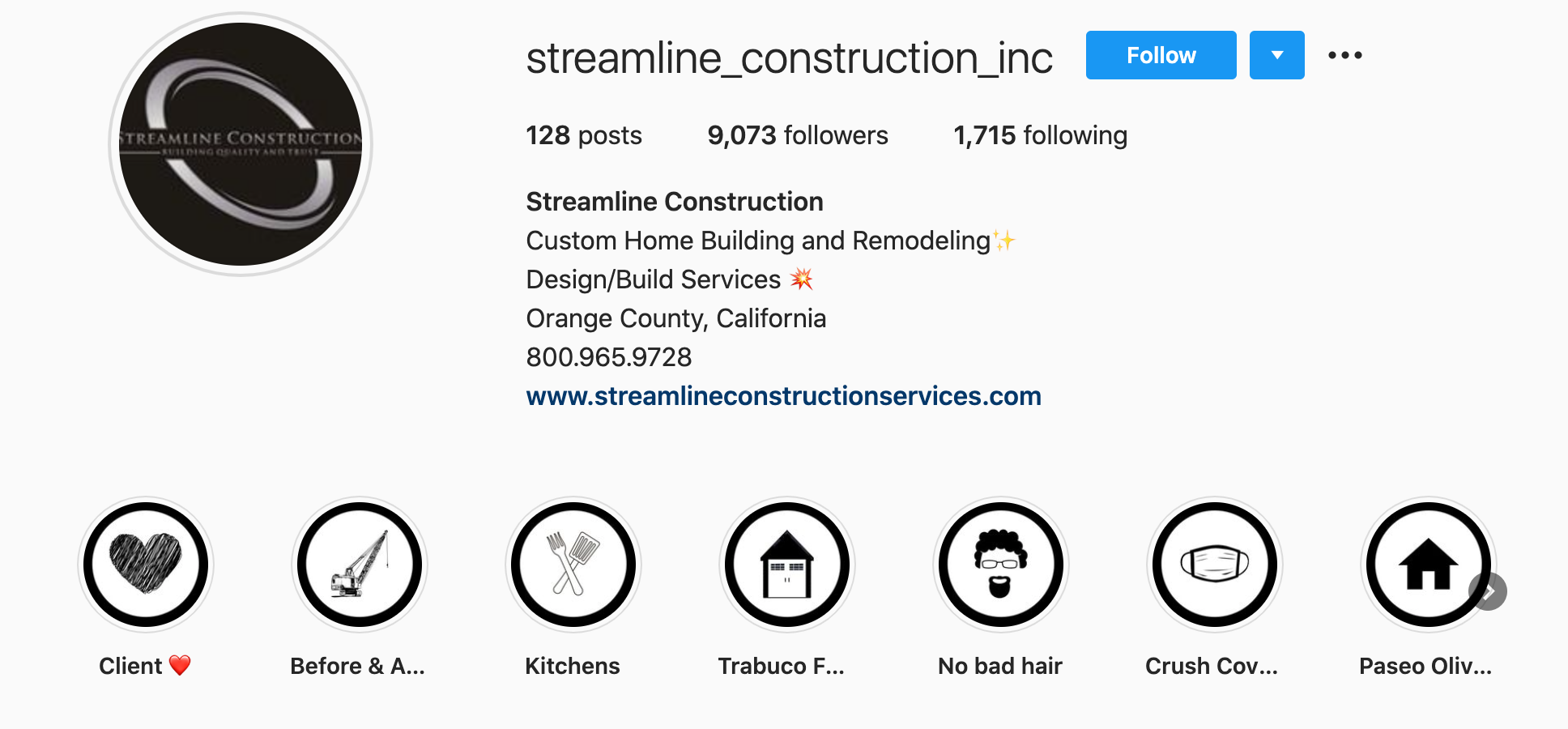 Well written captions accompanied by gorgeous pictures, Streamline Construction doing custom home building and remodeling out of Orange County, California, can help give you ideas on what to do with your captions. Additionally, staying active with their stories and also ensuring to utilize the highlights feature - this seems to be a trend here.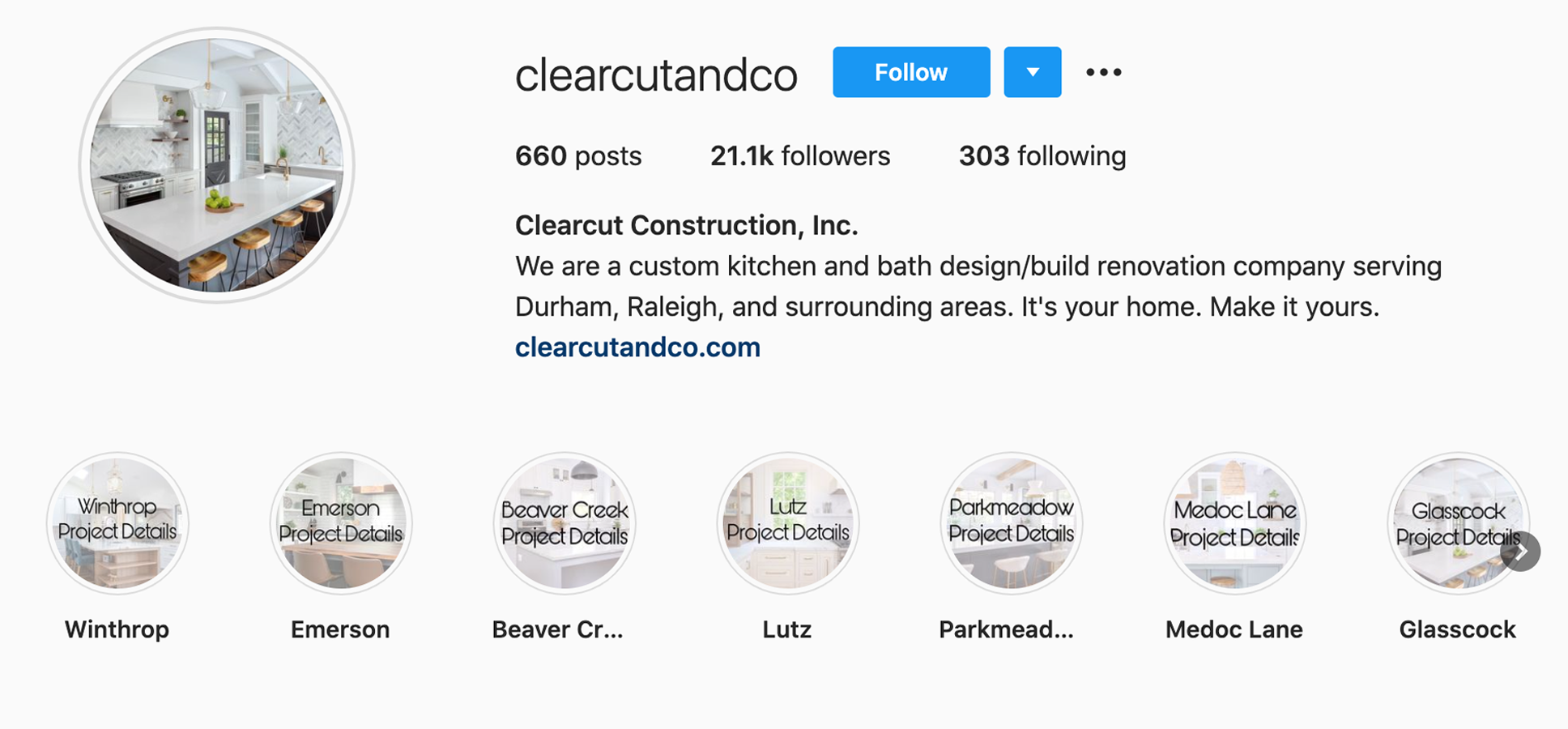 Serving the areas of Durham, Raleigh, and the surrounding areas in North Carolina, Clearcut Construction, Inc. gets extremely in-depth with their captions, quality photos, and utilizing Instagram Reels in a different way. I understand some people don't like being in front of the camera and some may say they don't know how to take videos, Clearcut Construction offers a simple way to make a video by piecing together pictures. A helpful tip if you use this approach, changing pictures on the beat with the song makes the video more aesthetically pleasing to watch.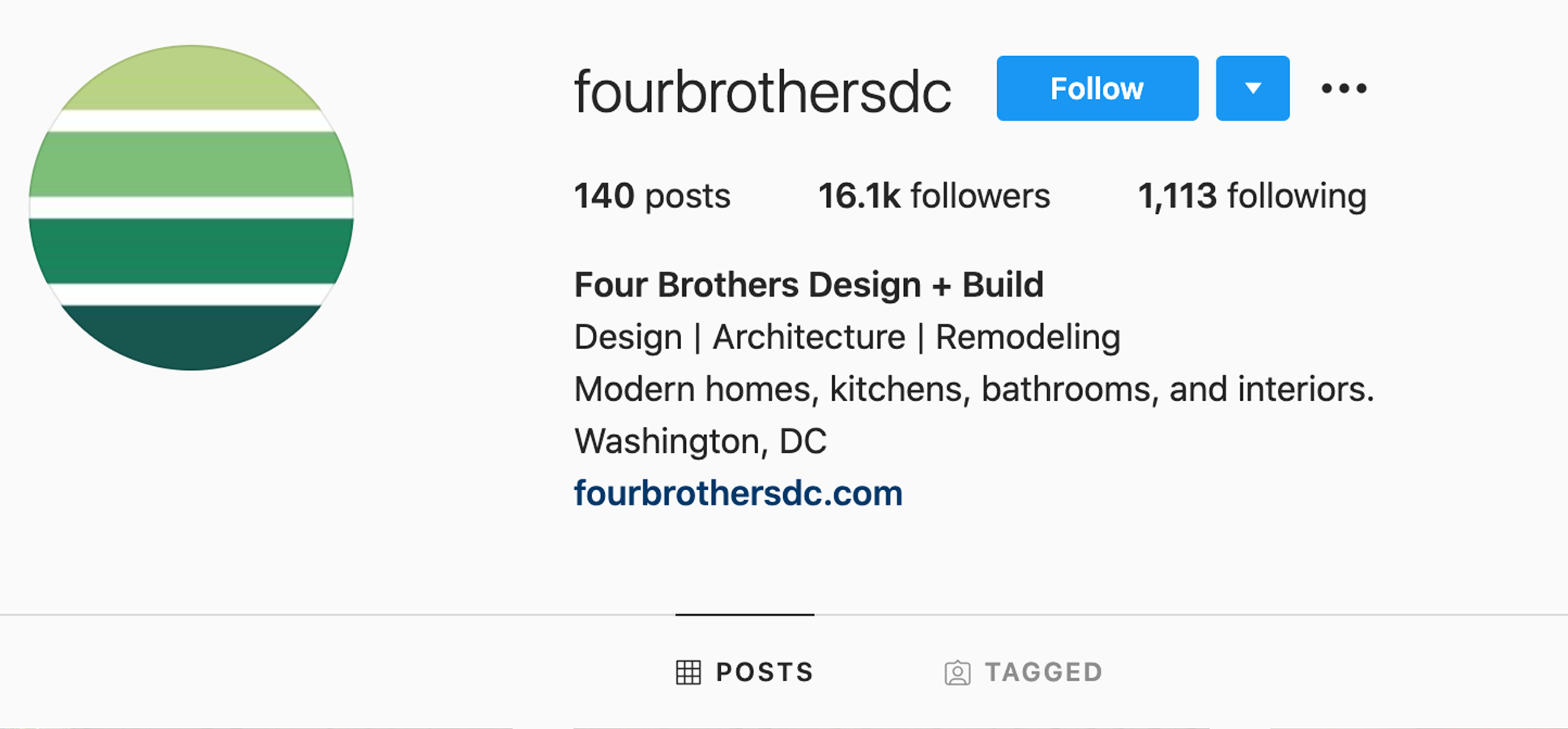 Four Brothers Design + Build based out of Washington, DC takes a different approach that we have gone over with Instagram posting. Instead of just utilizing one post, they make their grid stand-out. When you navigate through their grid, you will notice that they post two pictures back-to-back, but it's of the same picture, just split into two pieces. When you look at it individually, you will not get the full picture, but on their grid will be the whole picture. A neat and different approach to posting to Instagram.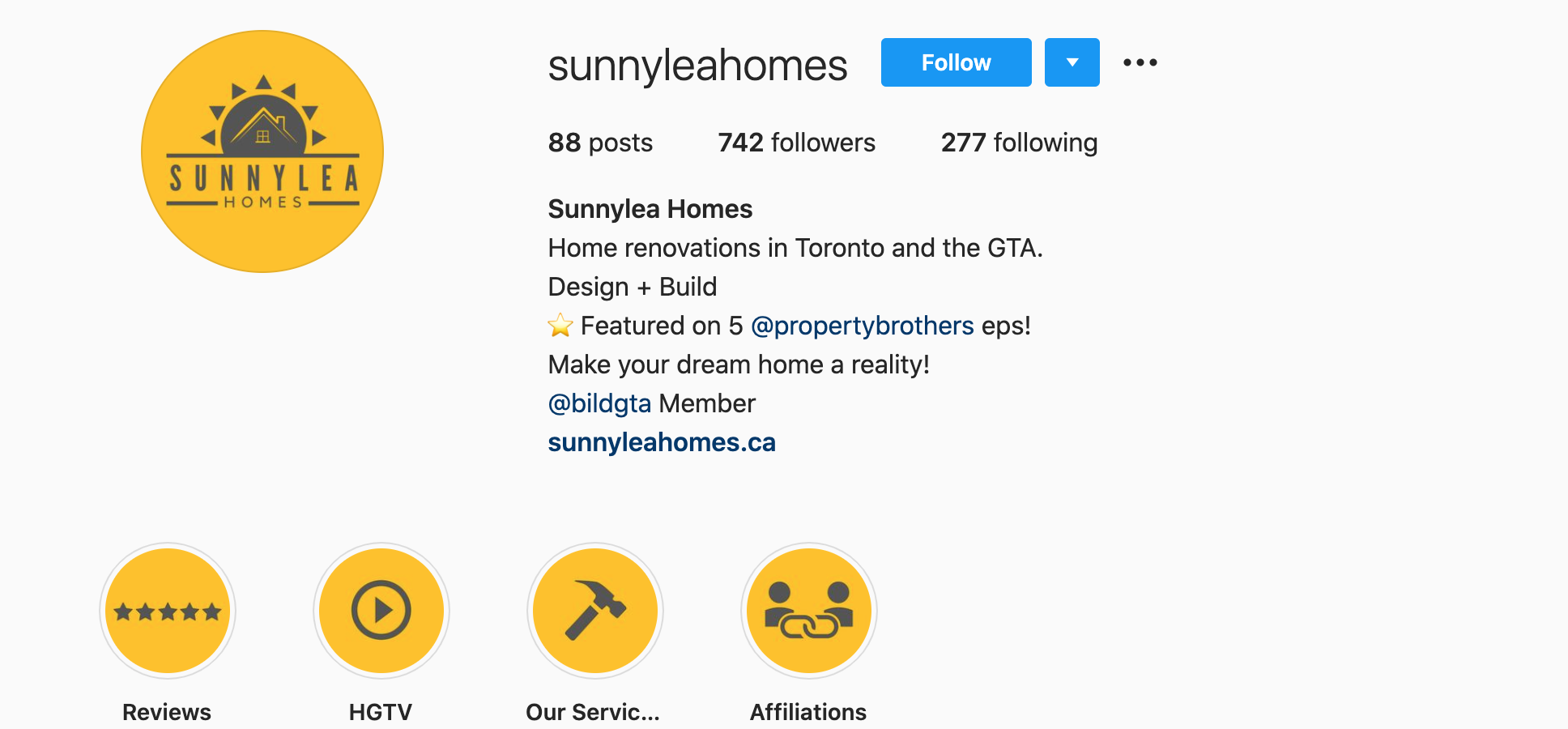 An interesting profile here lies with Sunnylea Homes specializing in Design + Build in Toronto and the GTA. Captivating captions partnered with good photos and this is what you will stumble across with them. A fun aspect with Sunnylea Homes, their work has been featured on Property Brothers.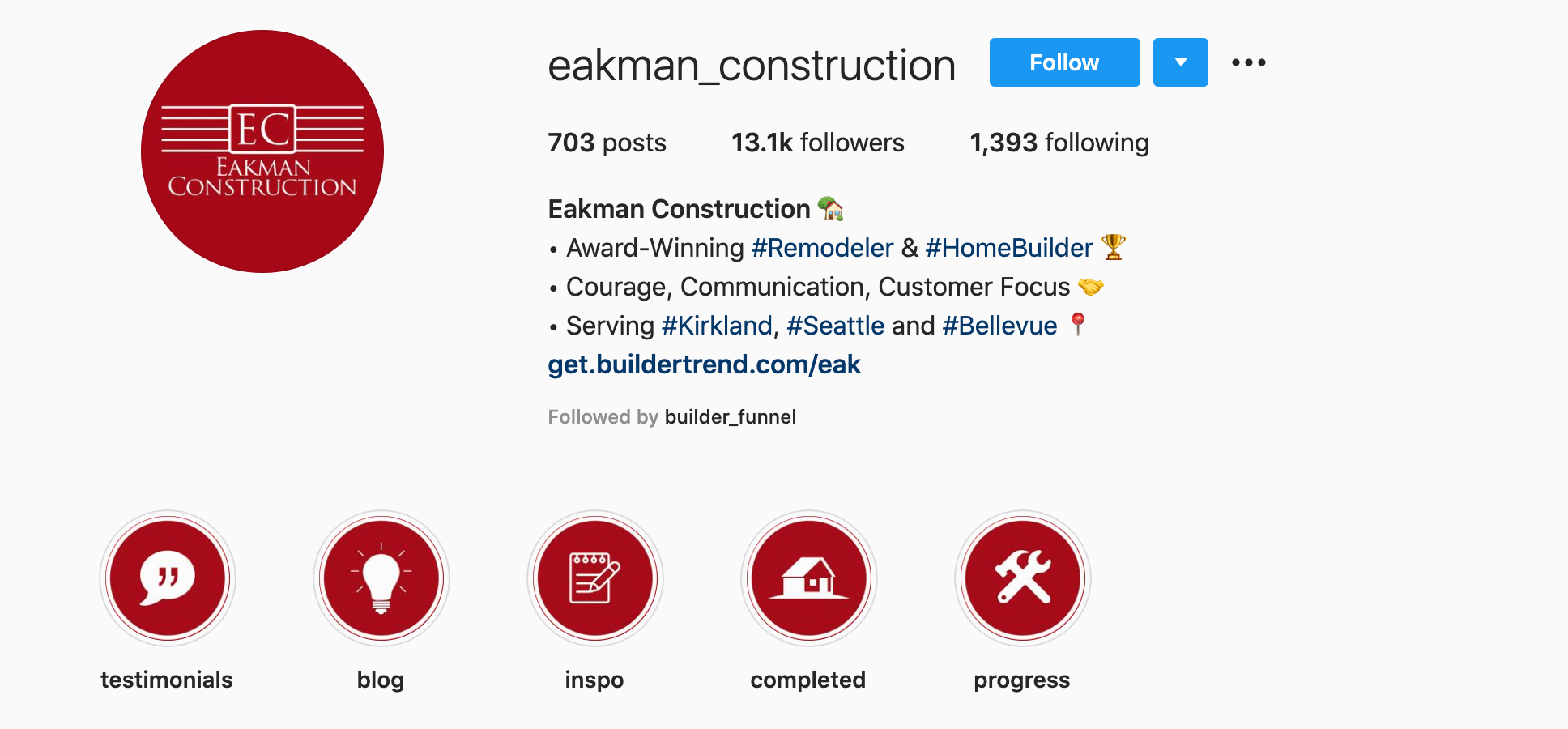 Eakman Construction is an award-winning remodeler & home builder out of Seattle/Kirkland, Washington, also implements different tactics within their Instagram. One noticeable difference they do is changing up the font they use within their captions. This helps to catch users attention as this is not something that they are used to.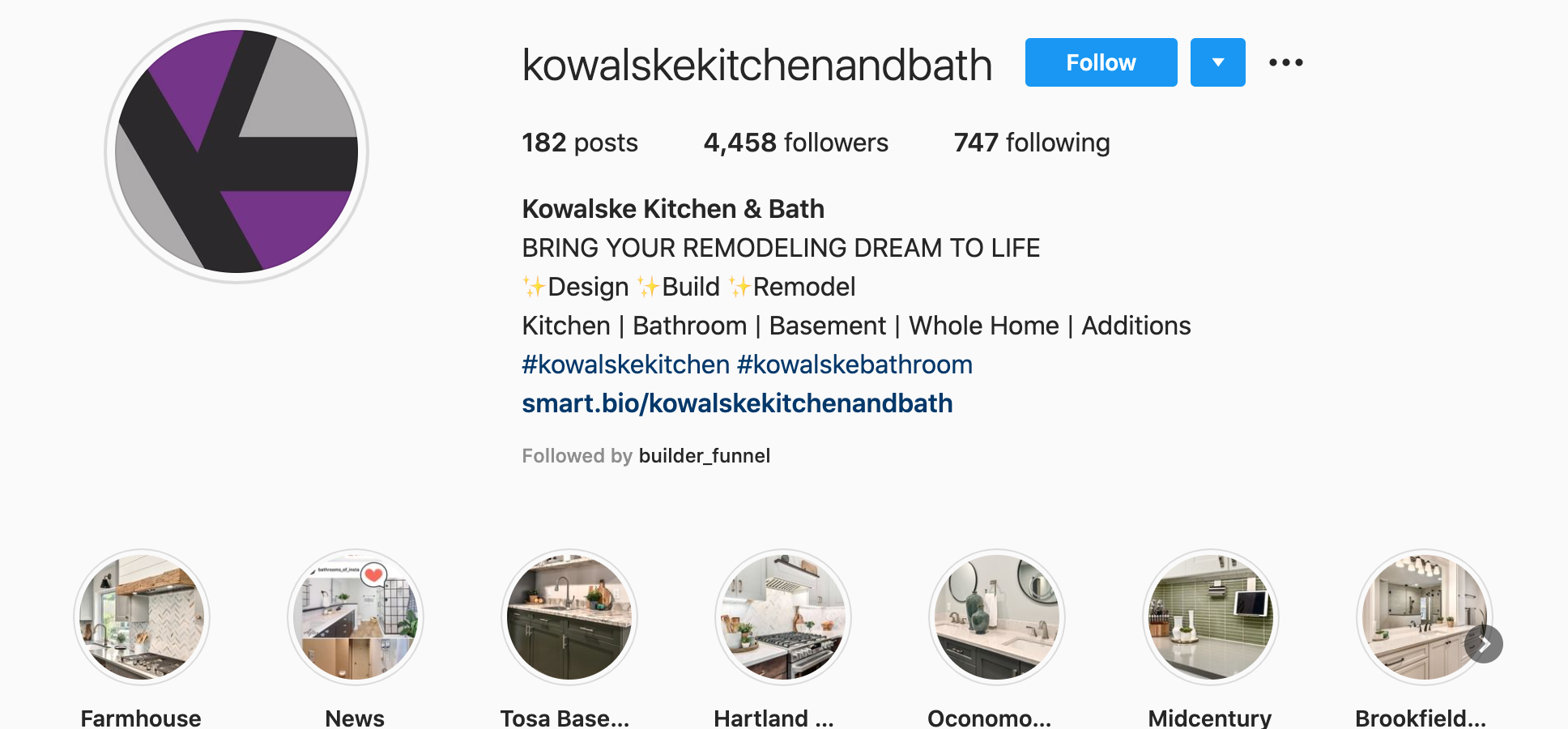 Kowalske Kitchen & Bath does design build for all your kitchen, bathroom, basement, whole home, and additions serving the Delafield, Wisconsin area. Beautiful photos, before and afters, project highlights through Reels, IGTV, and stories lead to Kowalske Kitchen & Bath portraying a great Instagram profile.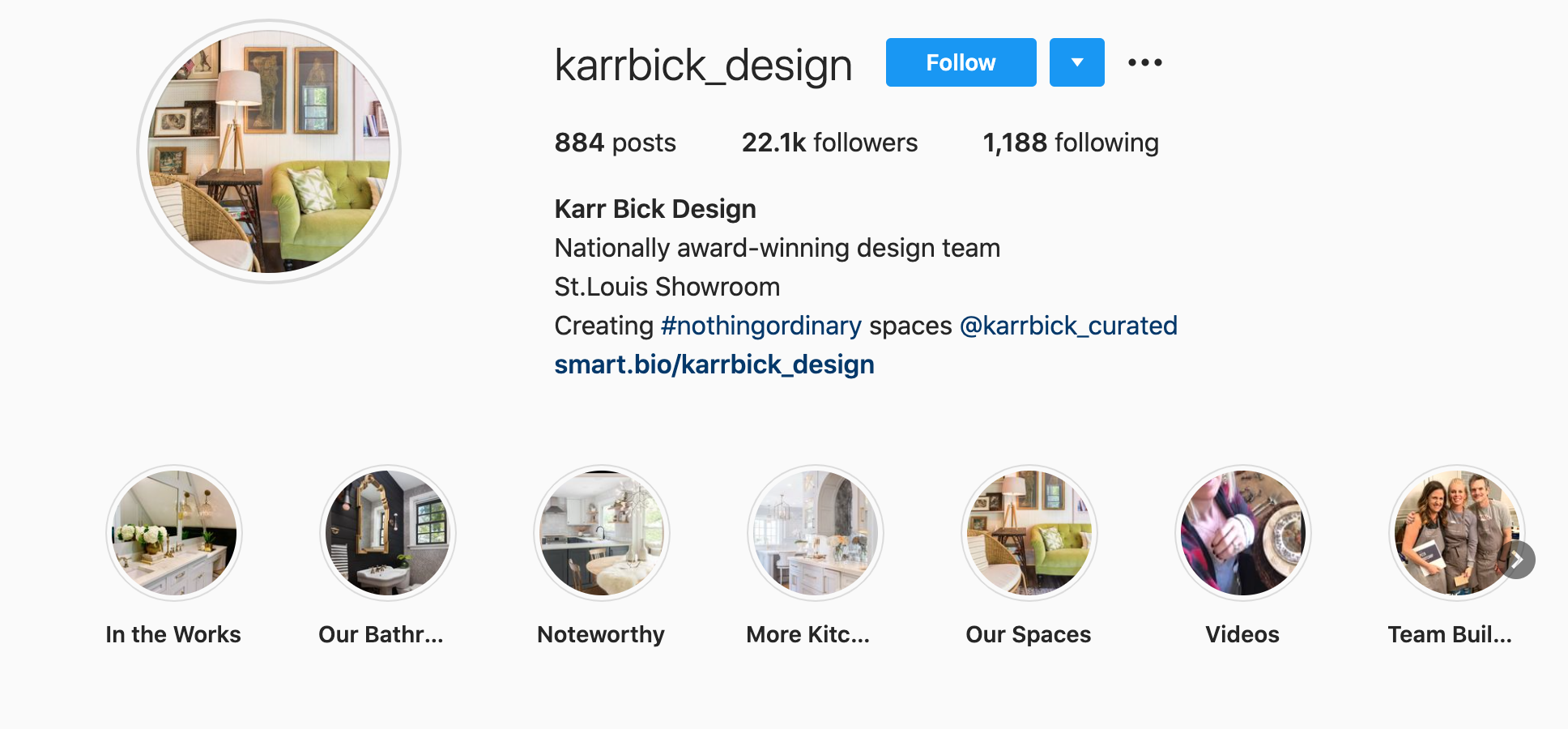 Karr Bick Design is a nationally award-winning design team serving the St. Louis Missouri area who utilizes all the principles we have talked about earlier in their Instagram profile. One additional benefit that you could implement would be tagging users that helped in the projects process. Karr Bick uses this with photographers, and other renovators that helped with the project, which ultimately helps increase social sharing of your posts.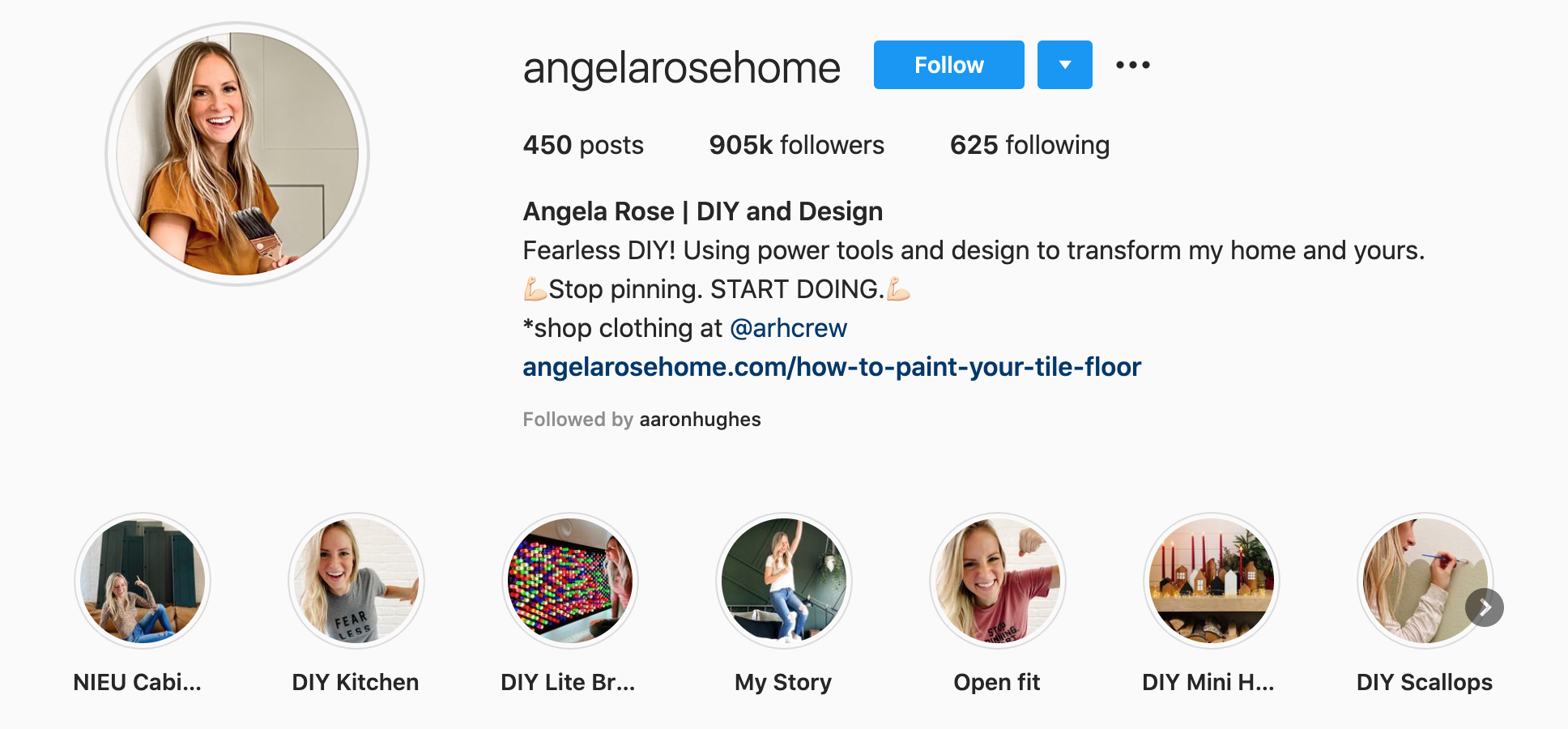 Angela Rose is a DIY master and a great example for solo contractors and remodelers to emulate! She does an excellent job generating content, whether that be fun photos during the project and the progress, IGTV, story highlights, and Instagram Reels. These are all necessities to include on your Instagram profile. The new addition of Instagram Reels is an excellent way to showcase your recent projects, and you know what the best part is? You don't even need to be in front of the camera! Just point and shoot and you never truly know how much exposure you will get with Reels. People love watching time-lapse videos which is also an easy video you can start implementing and all you need is your phone.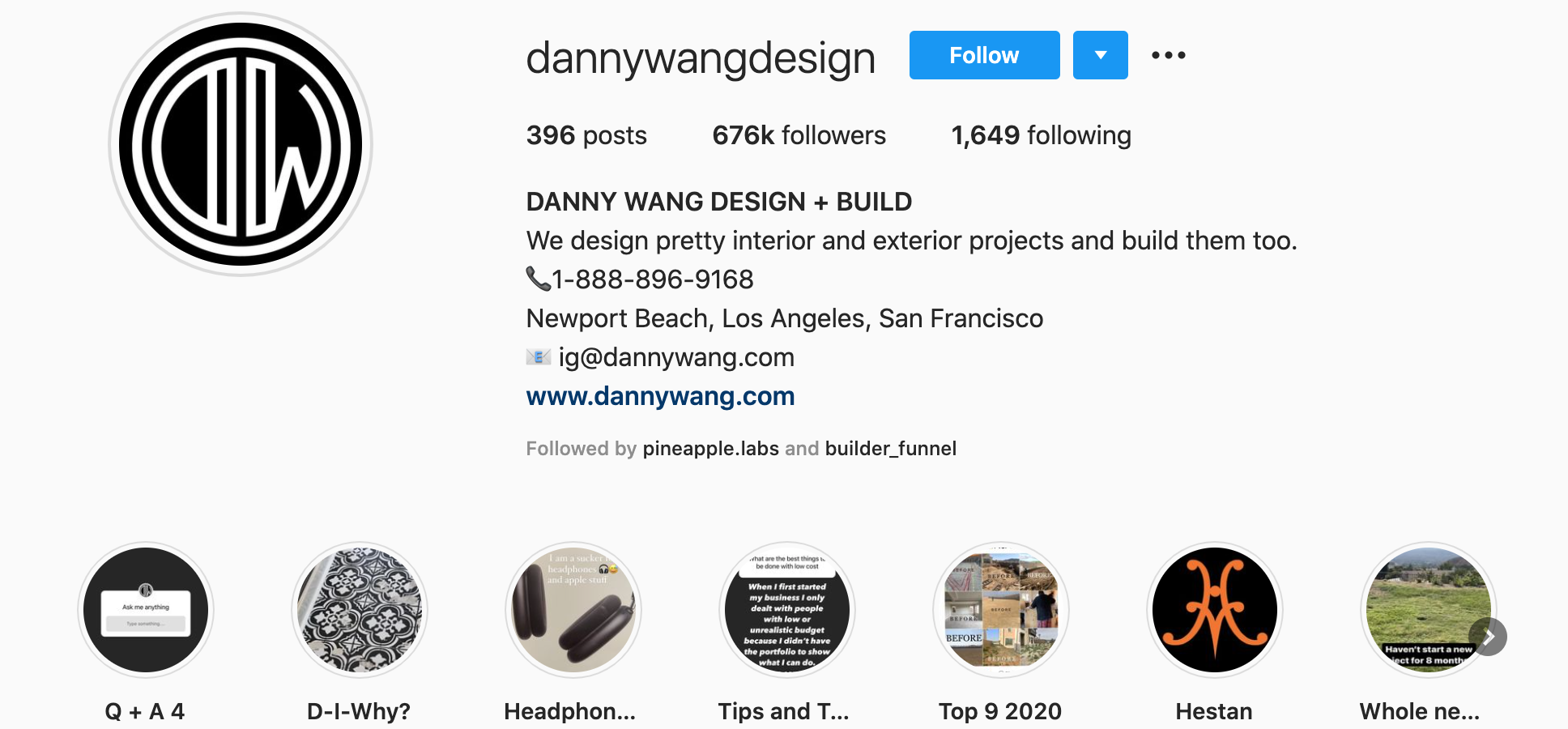 If you're looking for someone that does it all, look no further than Danny Wang Design + Build! A content machine that posts it all - Instagram Reels, IGTV, pictures, and stories. If you follow Danny Wang, you're bound to get some ideas on content pieces to post and keeping up with the popular trends.
We hope you enjoyed learning more about these remodeling companies that are killing it on Instagram! If you have any other remodeling companies that also crushing it on Instagram, feel free to mention them in the comments below.