If you are a custom home builder and you're being proactive with social media marketing, you may end up hitting a wall on what you should be posting. We will go over some top custom home builders that excelling on Instagram with their marketing and at the end of the day, hopefully this helps inspire you and generates more ideas.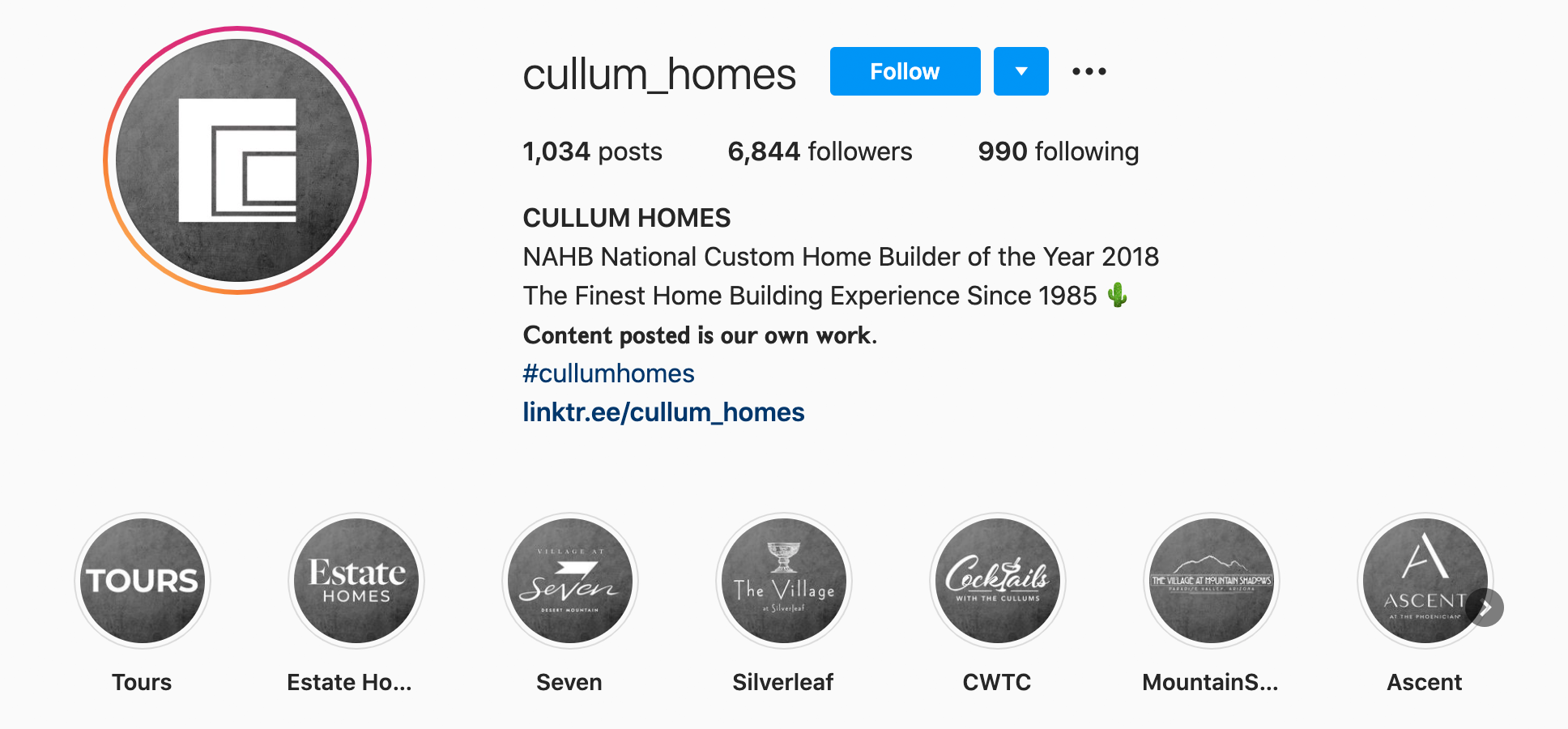 This National Custom Home Builder - Cullum Homes - is located in the gorgeous Scottsdale, Arizona. When I say consistency is key, I mean it. Callum Homes does an excellent job at consistently posting content and this can be hard for several companies. Follow them to get some ideas on how you can be content machines as well!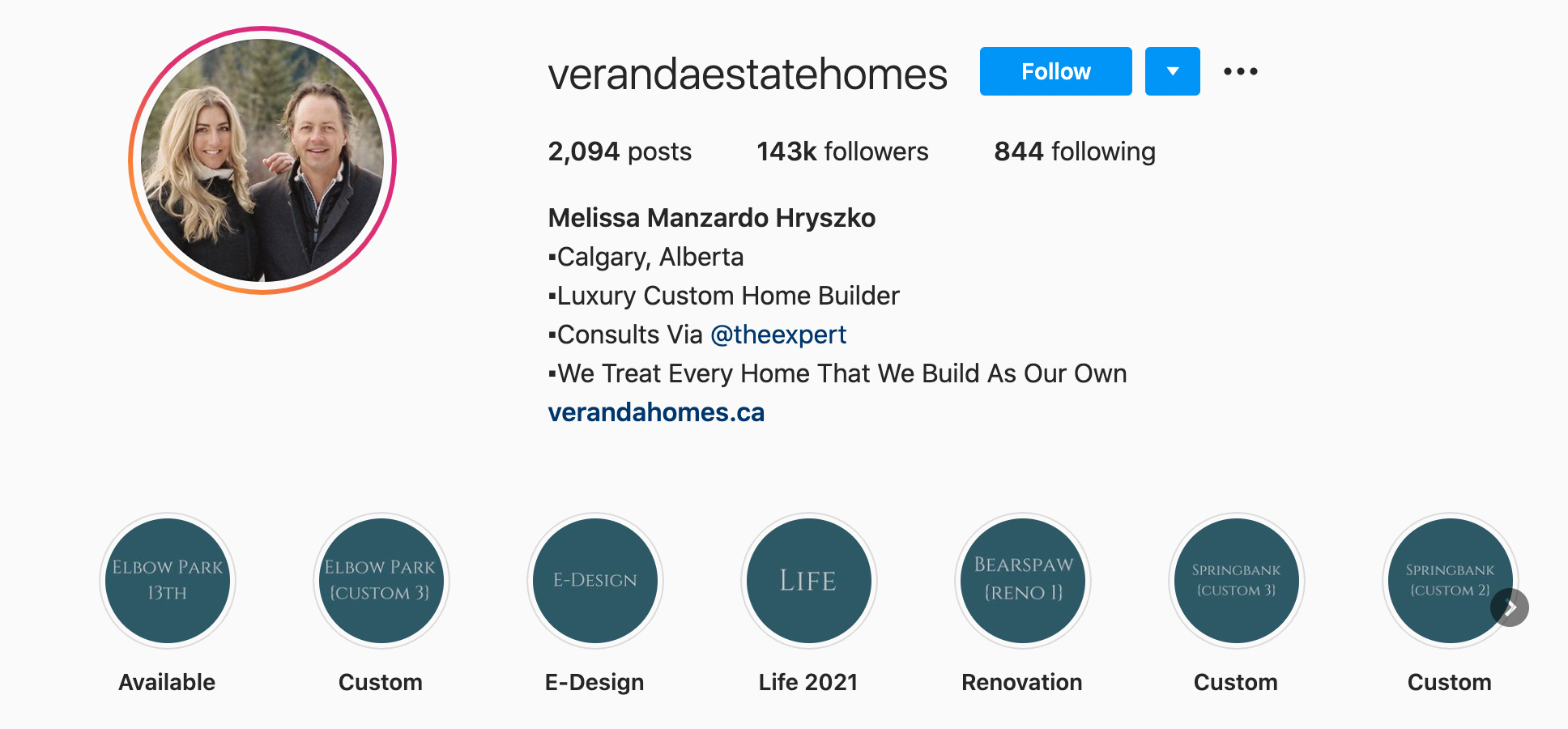 Veranda Estate Homes does luxury custom homes in Calgary, Alberta. They are doing an excellent job with their Instagram marketing. One overlooked aspect people don't consider is actually engaging with your followers when they comment. Along with the amount of content they push out, their engaging captions, and much more, Veranda does an amazing job!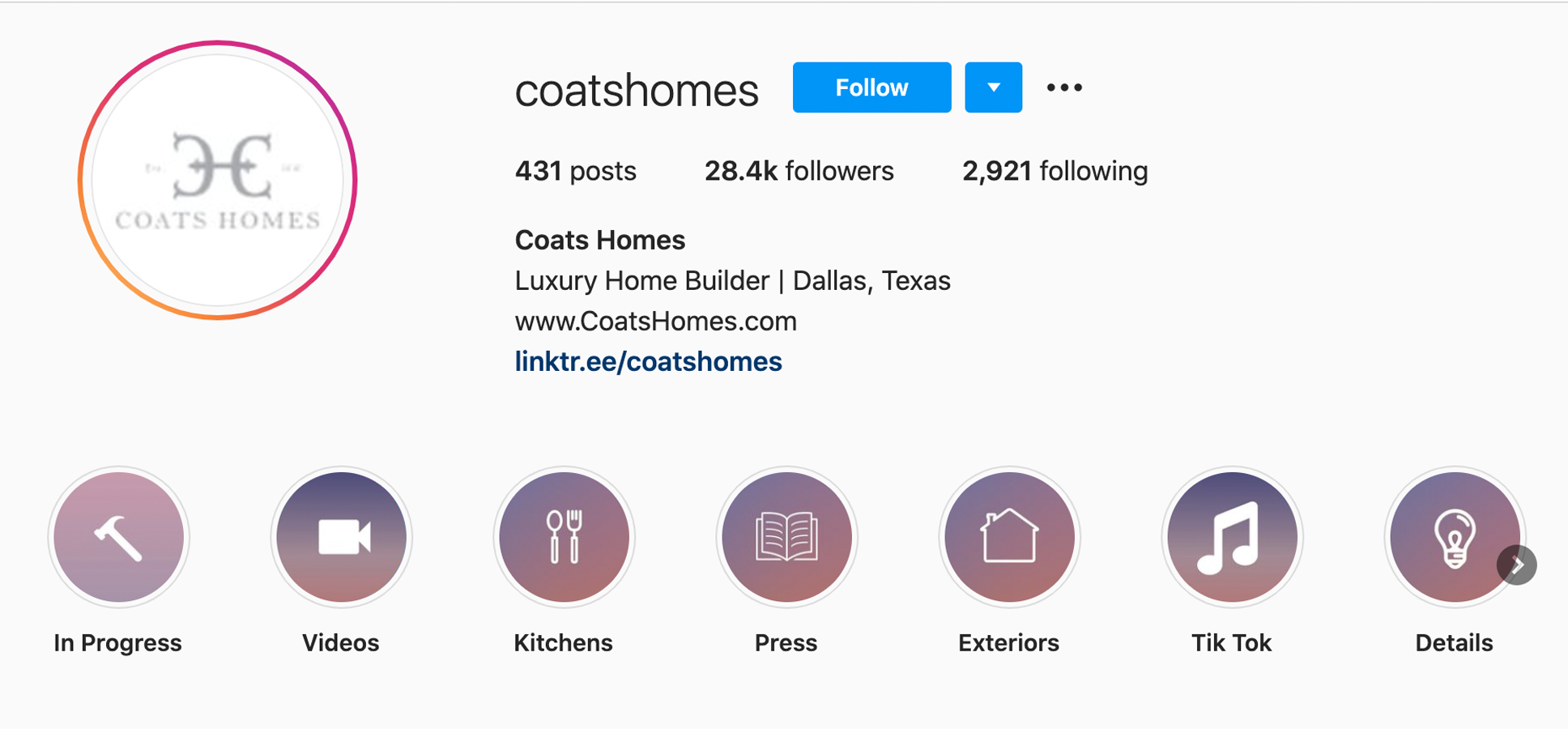 Located in Dallas, Texas, Coats Homes is a luxury home builder that definitely capitalizes with Instagram marketing. Story highlights will last forever on your profile and they are right at the top of your homepage. Coats Homes does a great job creating eye-appealing cover photos, where you are able to look at past projects. Along with this, tagging other accounts that have helped with your projects (photography, designers, etc.), helps to potentially increase social reach.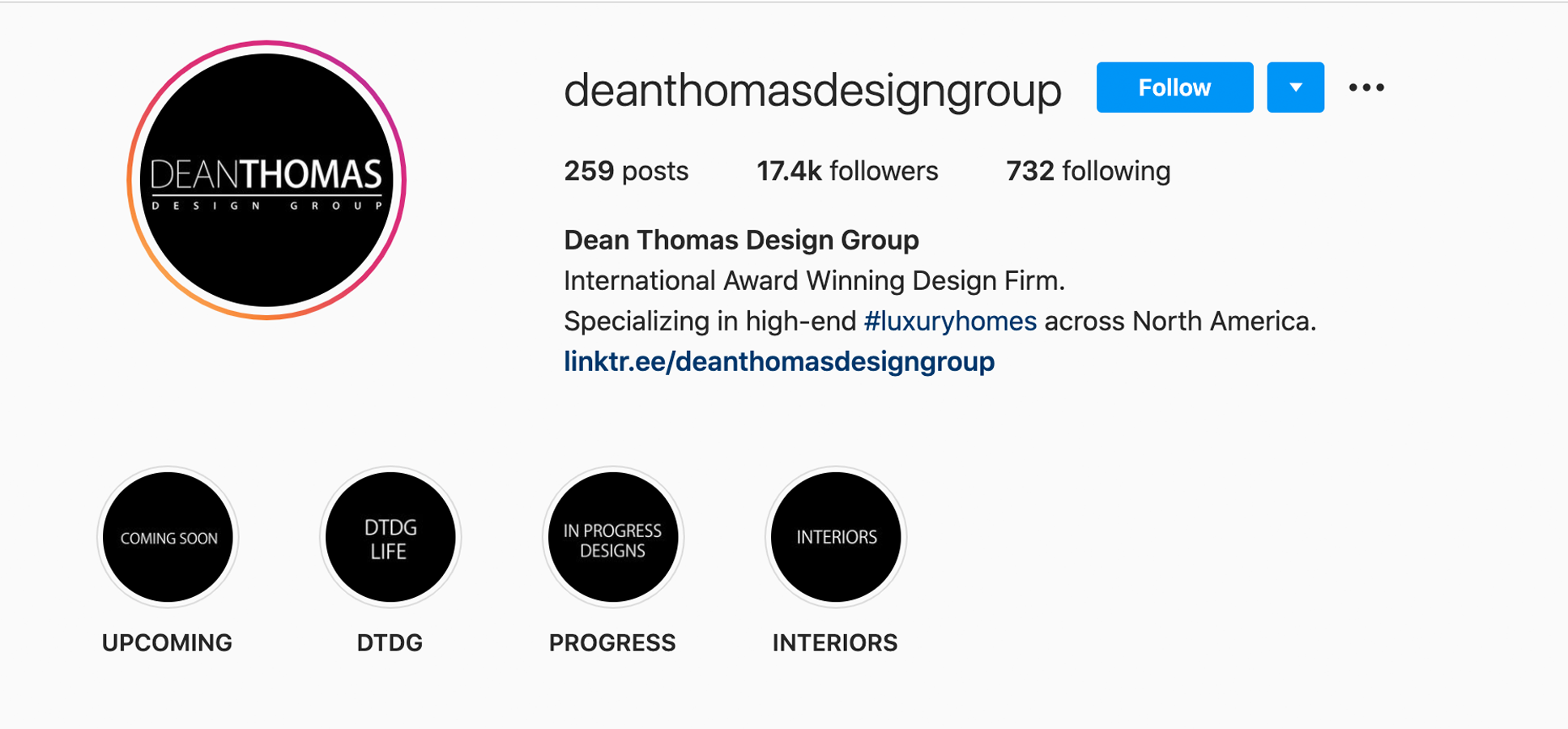 An international award winning design firm based out of Calgary, Alberta, Dean Thomas Design Group does an outstanding job on Instagram. Gorgeous home paired with consistency in posting is a recipe for success. Along with consistency in posting, comes a significant number of captions. If you are struggling to come up with captions, Dean Thomas does an excellent job to spark some ideas and verbiage to include in your captions.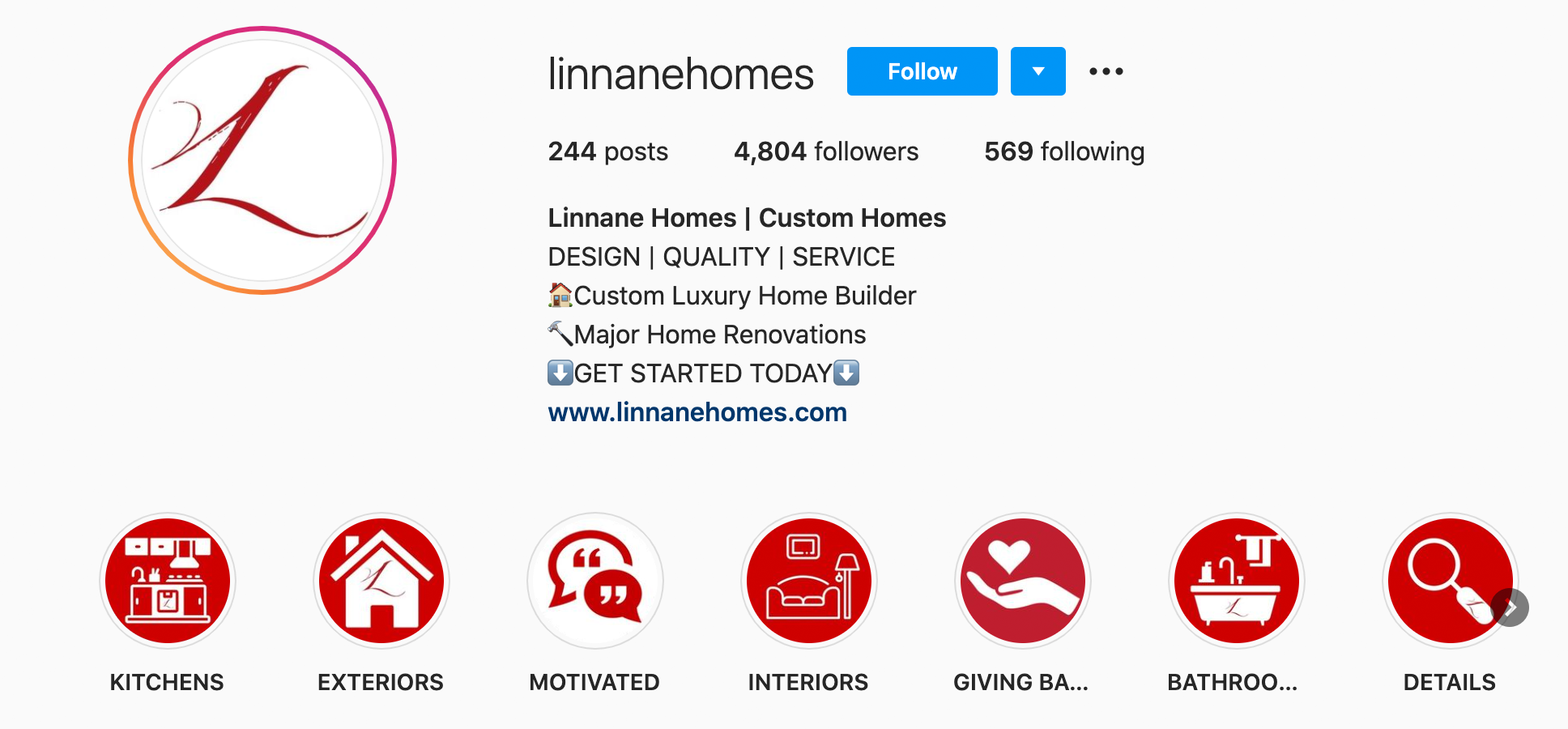 Linnane Homes is a custom luxury home builder working out of Charlotte, North Carolina. One aspect for Instagram marketing that I believe can benefit you immensely are story highlights. Instagram stories helps out two-fold. The first is that you are posting stories consistently and then you are also able to save these stories so people can view them whenever. Linnane Homes in this aspect, creating branded cover photos and saving past projects here for you to go back and look at - a great area to include on your page as well!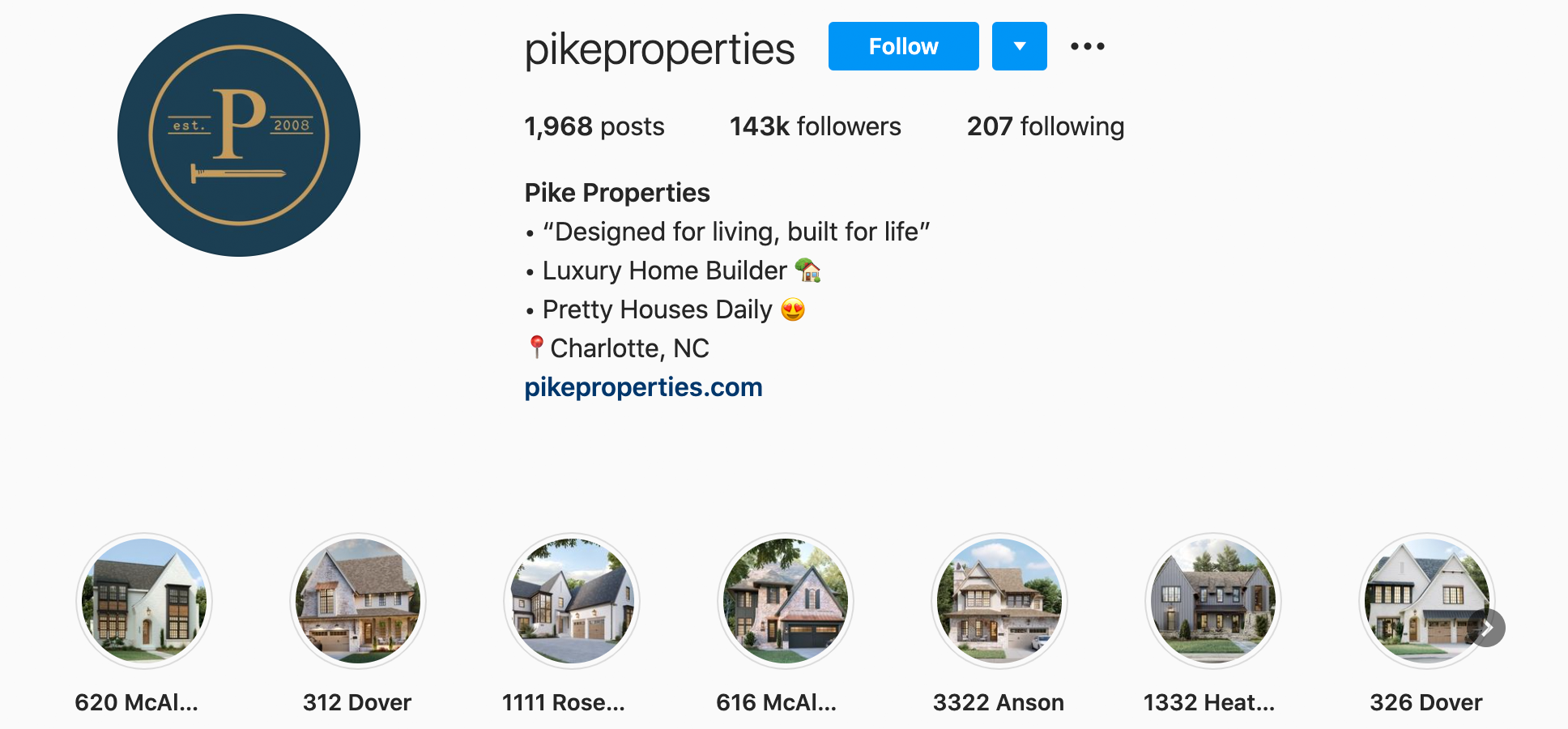 Building beautiful luxury homes out of Charlotte, North Carolina, Pike Properties is a must see page! IGTV is an excellent tool to use within Instagram and they do an outstanding job. Behind the scenes of creating projects, final products, to everything in-between, IGTV is something that you should be incorporating in your social marketing as well! Learn from them on ideas and how to go about implementation.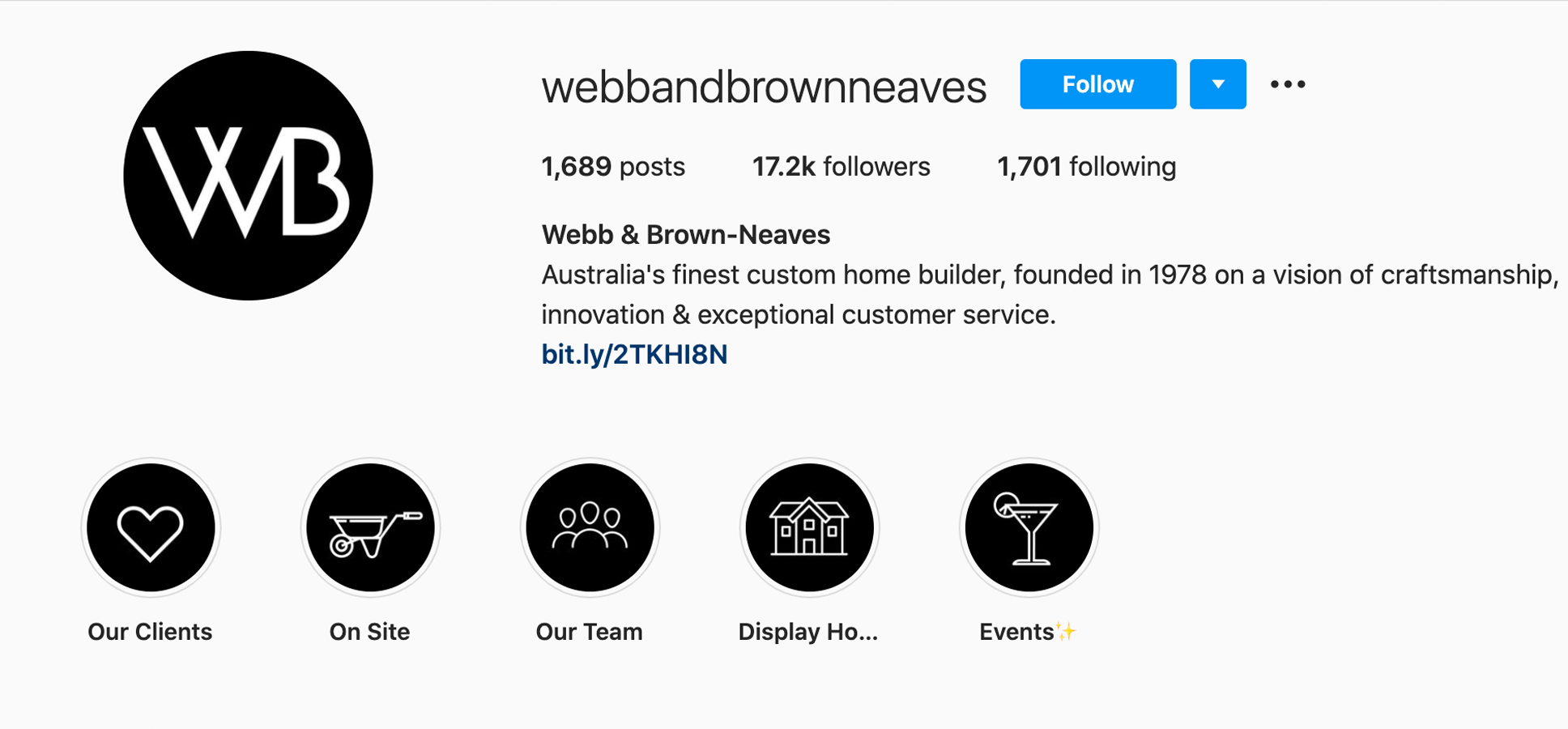 With over 30-years of experience in the industry, Webb & Brown-Neaves has been building the finest custom homes in Australia! If you are looking for a page that does it all, this is the profile. Everything from gorgeous pictures, Reels, IGTV, and stories, you will be able to find everything you could and should be doing.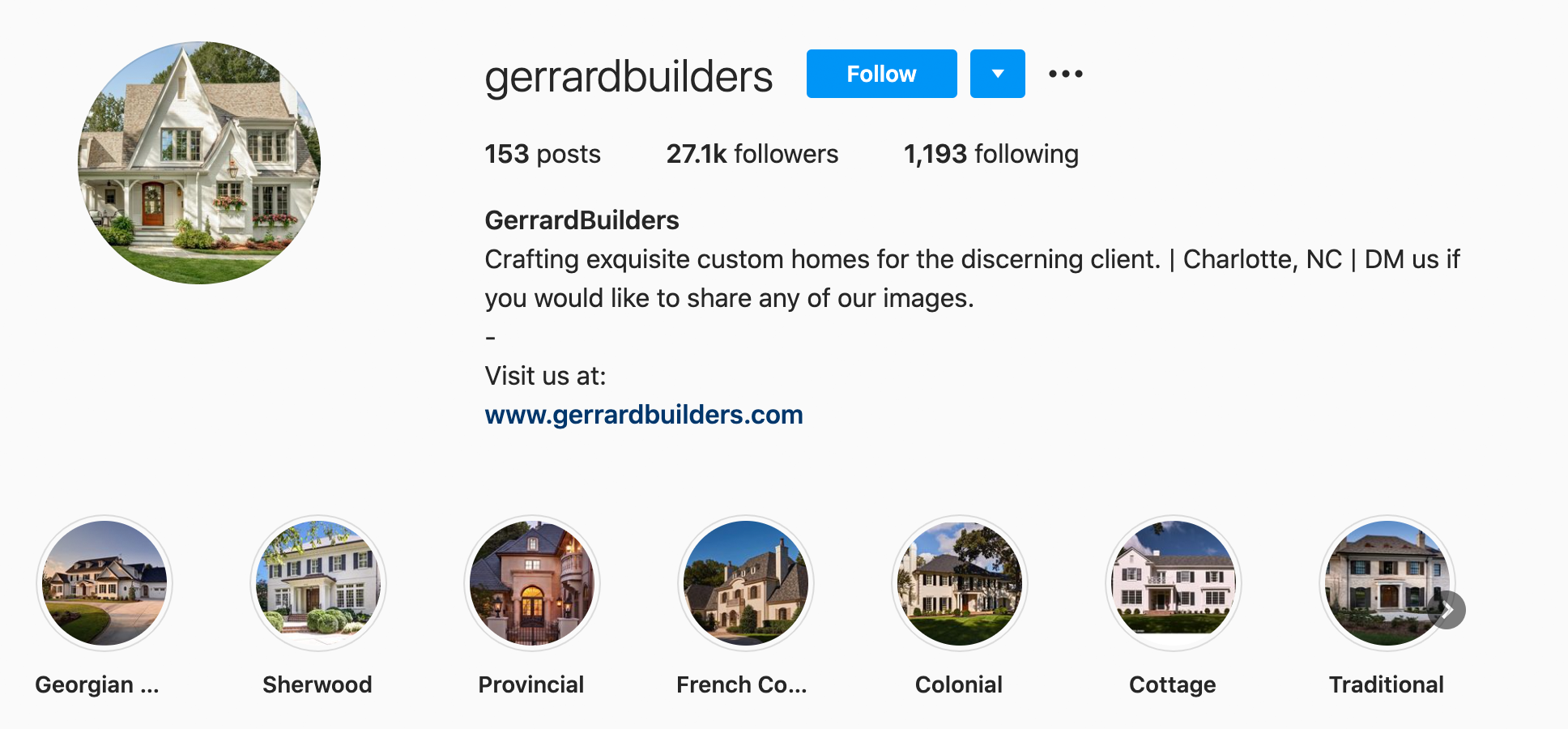 Crafting exquisite custom homes in Charlotte, North Carolina, Gerrard Builders does an amazing job with their Instagram profile. There's much to talk about with Gerrard Builders, but one aspect I am particularly fond of is their genuinely crafted stories and then saving them in the highlights. You are able to find a project and look at the final product in these beautifully designed stories.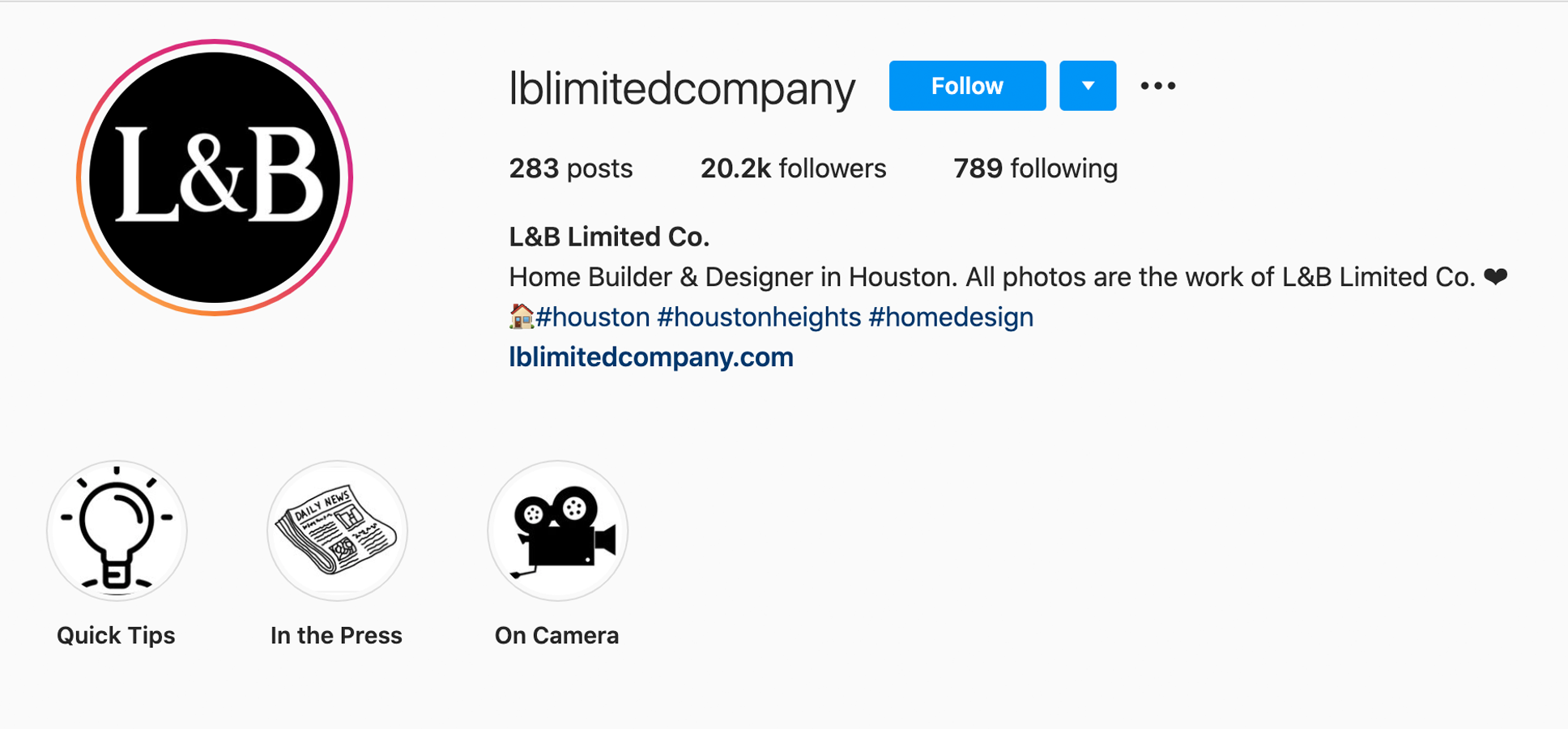 Home builder & designer based in Houston, Texas, L&B Limited Co. does something several people are scared or nervous to do. That one thing is getting in front of the camera and recording a video. This has several different benefits which include help building trust with your audience and makes them feel like they know you without ever meeting you. Provides for better and much more engaging content and much more!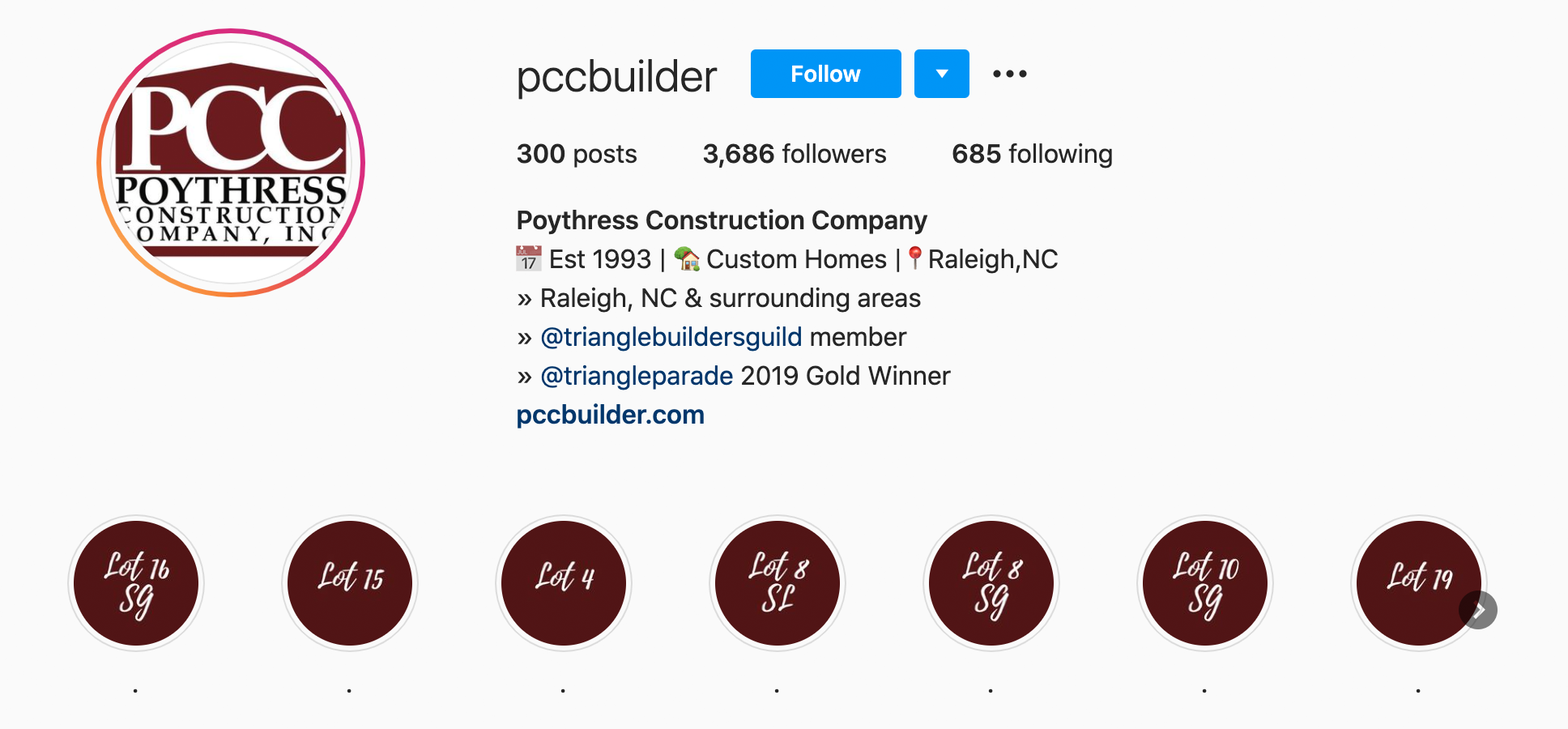 With almost 30 years of experience building custom homes in Raleigh, North Carolina, Poythress Construction Company is definitely well-seasoned in the industry. Being in the industry for a long period of time does not always translate to success and especially with marketing, but that's not the case with Poythress. Everything from stories and story highlights, beautifully crafted photos and captions, and IGTV, Poythress is a great follow on Instagram.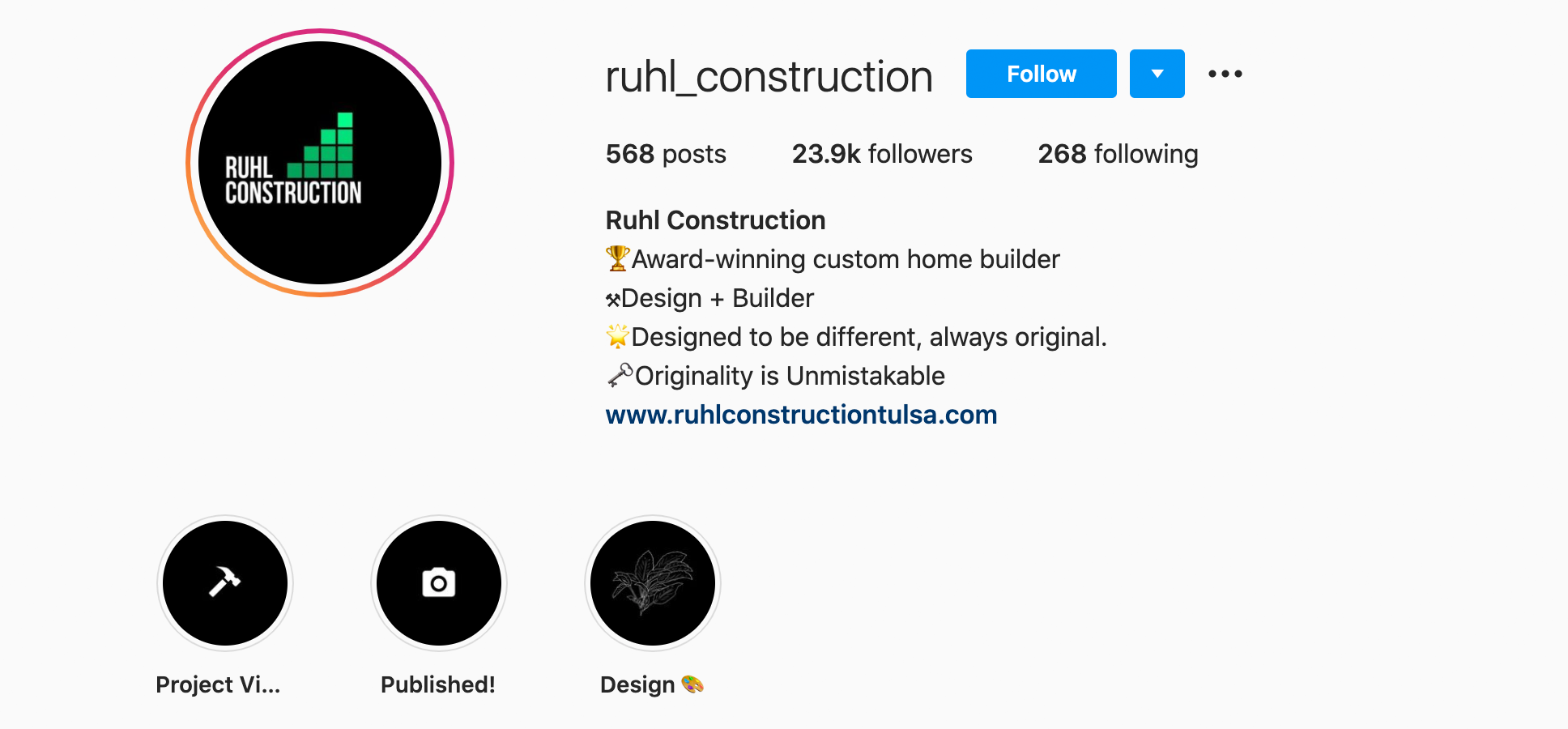 Ruhl Construction is an award-winning custom home builder working out of Tulsa, Oklahoma. A good way to grab someone's attention is to do something different, which may cause a pattern interrupt for a user. This is part of what Ruhl does with their Instagram captions. When looking at captions, we are used to the plain, regular font Instagram has, but what Ruhl does is uses a custom font to interrupt our patterns and catch our attention.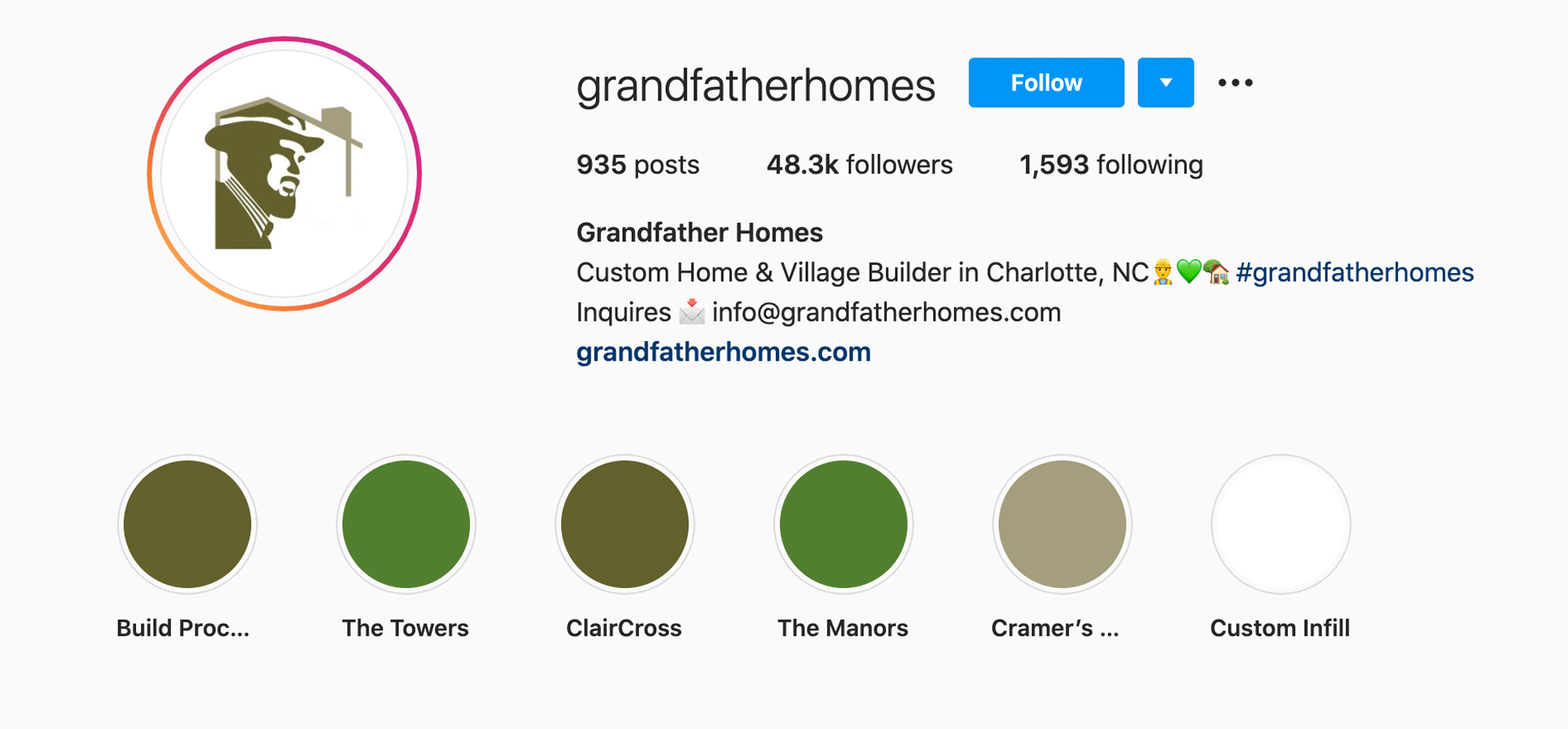 Grandfather Homes is a custom home & village builder in Charlotte, North Carolina. Consistency is key and Grandfather Homes does an excellent job at pumping the content out. Well crafted captions paired with gorgeous photos, point-and-shoot videos displaying houses and current projects, and much more!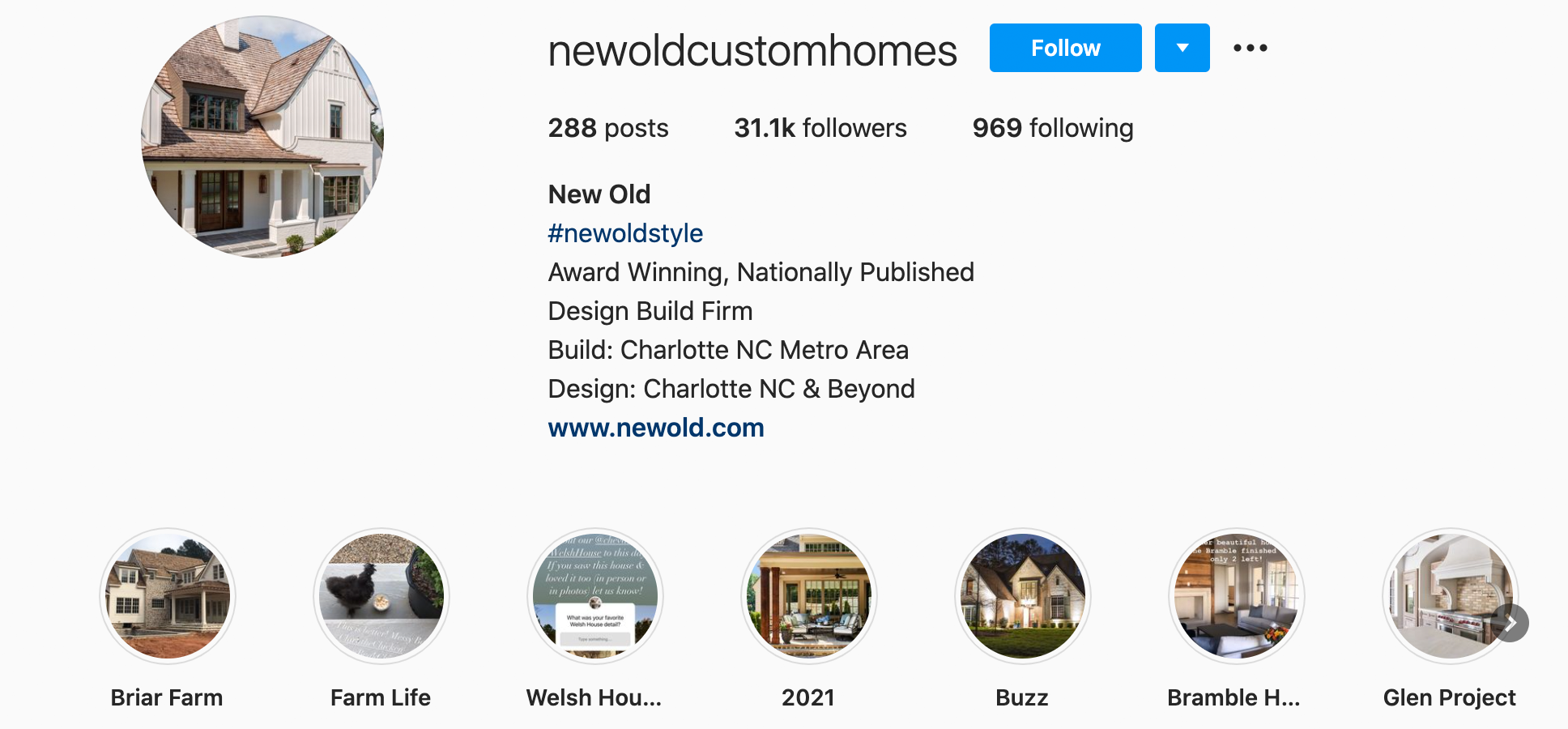 New Old is an award-winning and nationally published design build firm operating out of Charlotte, North Carolina. Getting a different perspective on content to be posted instead of the usual house photos, New Old does a great job of separating itself from the pack and not blending in. So if you are bored of posting the same content and want to think outside the box, this is the perfect profile!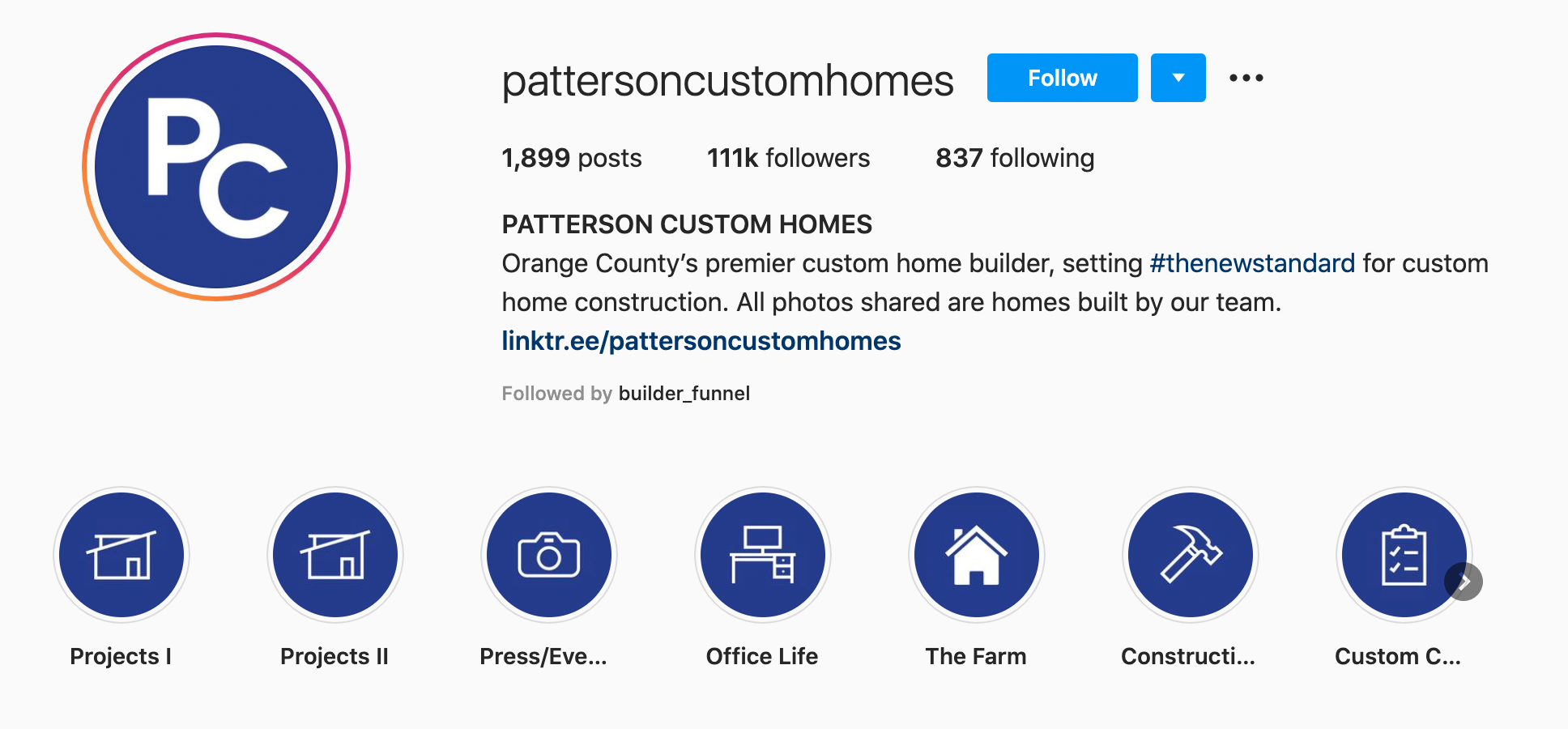 Building premier custom homes in Newport Beach, California, Patterson Custom Homes does some amazing work! One of Instagram's newest features is Instagram Reels and Instagram is trying to push this content as much as possible to compete with TikTok. Patterson Homes not only does this, but shows you how simple this can be. Be sure to check out their page to get some inspiration and ideas flowing!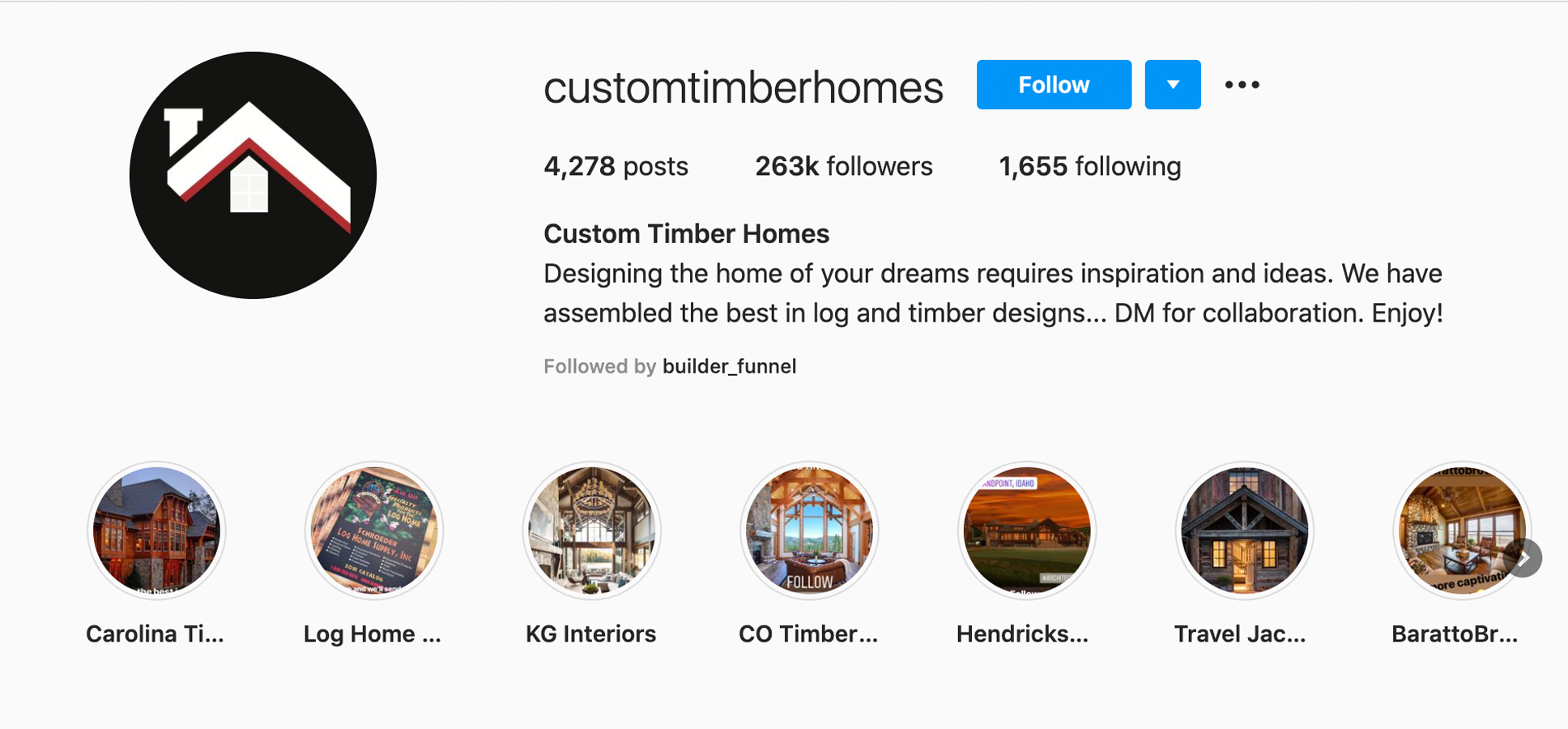 Custom Timber Homes is a page that you are able to follow if you have maybe hit a wall and unsure of what to post or caption a post. They use posts from other builders and designers and can offer great ideas for you to engage with your audience and ultimately lead to a better Instagram marketing strategy for yourself.
If you have found that you are at a road-block and looking for home builders that are excelling with Instagram and will be able to offer some unique insights to up your Instagram game!