There's an old piece of fishing wisdom that's been passed on from generation to generation: "If you want to catch fish, fish where the fish are!" The concept holds true for remodeler marketing as well. If you want to snag leads for your contracting, remodeling, or home building business, go where the leads are.
One place where the leads are is on Facebook. According to a recent blog post from Oberlo approximately 1.84 billion people log onto the site daily. These people spend an average of 19.5 hours on the site per month which equals out to almost 40 minutes per day on the site. It's no wonder that they also report that 86 percent of marketers are using Facebook for advertising!
(Of course Facebook also reports that there are 83 million fake profiles, so keep that in the back of your mind).
The fact remains that Facebook is a very popular site for individuals to get information and exchange ideas—and that includes people who may be considering remodeling their homes, hiring a contractor, or building a new home.
How can you take advantage of that? Here are potential posts that contractors, remodelers, and home builders can use on Facebook to engage potential customers.
1. Post Answers to
Frequently Asked Questions
Obviously, people are attracted to great photography, but people thinking about remodeling or hiring a home builder have lots of questions. Think of common questions you get in your remodeling, contracting, or home building business. It could be something like, "What are your options when your master bath is too small?" You could either answer that question in the post, or link it to an FAQ answer page or blog on your website with an answer.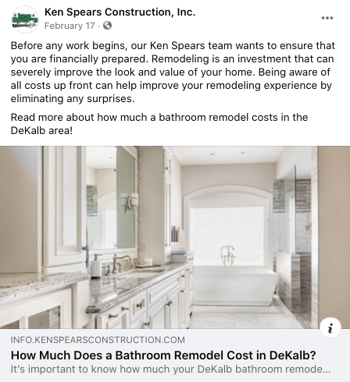 2. Post Seasonal Tips
This is something you can do four times a year (depending on what part of the country you're in). Offer spring-cleaning tips; summer projects; fall tips on getting your home ready for winter; and winter decorating ideas. While these types of posts might be easiest for remodelers, contractors and home builders can be creative with seasonal posts too. For instance, you can share home features that are especially great for certain seasons, like a nice patio for the summer.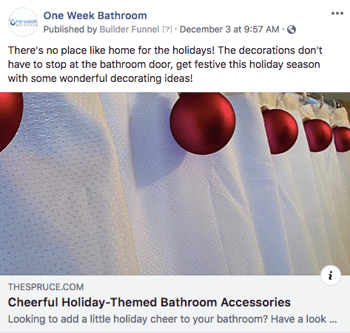 3. Post Client Testimonials
If you have satisfied customers for your remodeling, home building, or contracting services, make posts with their reviews or get them on video and let them share their stories. Keep the videos short and to the point (you may want to script them yourself). It's so much more effective when your clients praise you instead of blowing your own horn.Take a look at this video to get a feel for the kind of testimonial I'm talking about.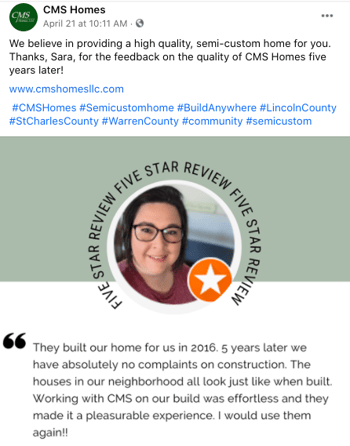 4. Post "Before &
After" Photos
A major obstacle many people have to overcome is uncertainty around remodeling or hiring someone for custom builds. Some people just can't envision the results. So, don't just tell them about it—show them the difference in a remodel, or a photo from early in the building process compared to the final results! Before and after photos are most effective when you can compare images of the blank slate to the final product. This type of post might be more applicable to remodelers, but contractors and home builders can use an adaption of a before and after post as well.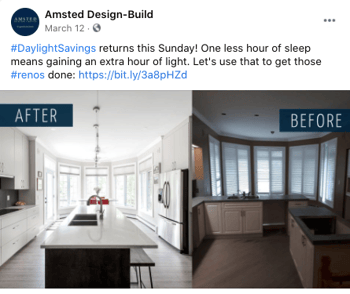 5. Post Links to Your Blog
Take some of your most viewed blogs or a new blog. Use a compelling introduction to link people to the full post on your website. In addition to offering helpful information, you'll also be showing readers that you have more information for them while promoting your blogs that your team likely invested valuable time into!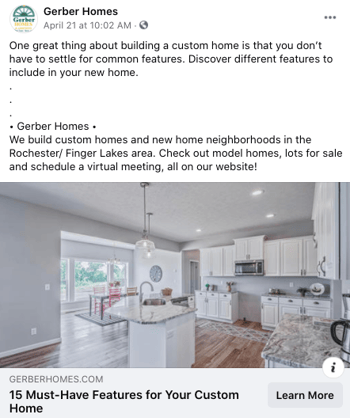 6. Post Premium Offers
If you have an eBook or a Case study about an important remodeling, contracting, or home building topic, you can offer it on Facebook. The nice thing about this (in addition to providing great information) is that you can ask for a name and an email address in exchange for the premium. That means you can follow up later. Here's an example of the kind of premium I'm talking about:
7. Post "Insider" Information
People love getting insider information. You could create a post on "Three Things This Remodeler Would NEVER Do When Renovating His Own Home!" or "The Features This Home Builder Would Want in His Own Custom Home." Since you're the remodeling, contracting, and home building experts remember that sharing tips (like the post on the left) that might be obvious to you could be valuable to others who are not experts.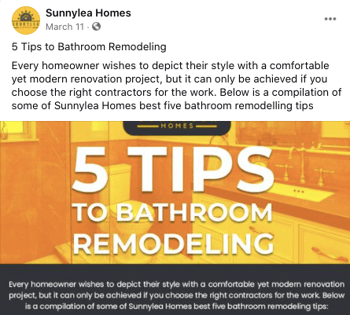 8. Post Giveaways
A great way to engage with you on Facebook is by offering a giveaway. You can make the giveaway as big or small as your contracting, remodeling, or home building business can afford. Ask people to like your page, share your post, and tag a few friends in the comments to be entered into a giveaway for a small remodeling project, a gift card for a local construction store, or a set of tools. This will encourage more people to follow your content and engage with your page.

9. Post House #Goals
Whether you're a contractor, remodeler, or home builder - I'm sure that you have some completed projects that you're proud of! Share photos or videos of your favorite projects that you think are #kitchengoals, for example. You can even include a live link to a section of your portfolio that includes more photos and details about the project.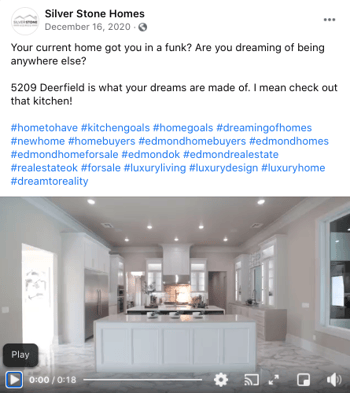 10. Post About Your Company's Story
If you want make your Facebook page a bit more personable, share your company's story. Tell us how the company started or how the owner got to this point. Share fun things about some of your employees. Contractors, remodelers, and home builders can use these posts to give people a glimpse of life within the company, which lets potential customers have a better idea of who they could be working with if they choose your company.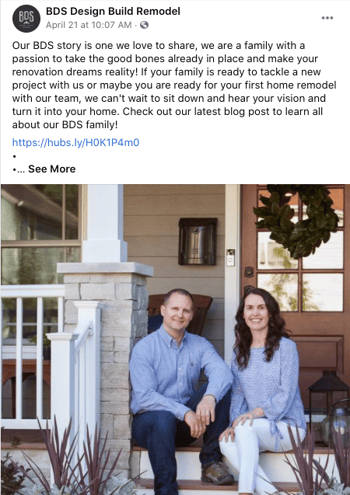 11. Post Videos of the Process
While posting pictures throughout the process of your projects can show people a snapshot of your work, sharing videos of those processes can leave a bigger impact. For instance, you can share a time-lapse video of one of the steps in your new build or remodel so people can see an entire transformation right before their eyes! For instance, the example on the left is a time-lapse video of a demolition prior to a new build. On average, posts with videos also perform better on Facebook, so this could give your company some extra traction on Facebook.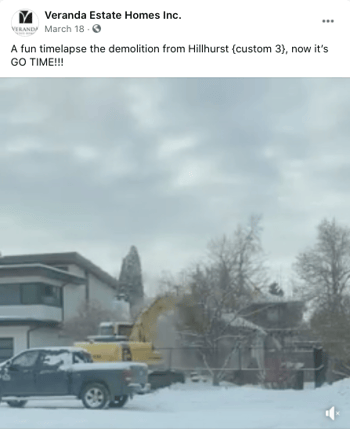 Remember, a big reason that people are on Facebook in the first place is to engage. Yes, they may be looking for ideas and exploring options, but they are there because it's a social site. Take advantage of that to get your prospects to engage with you.
If you want to catch fish, you need to go where the fish congregate. And right now, Facebook is one of the biggest "ponds" out there!