It seems like there is always a new social trend to keep up with and as the world of digital marketing is ever evolving, there IS always something new to help your business succeed in the digital space. With the downfall of Google+, Google My Business has risen.
What is Google My Business?
Google My Business is a free tool that helps businesses manage their profiles across Google platforms including Google search and Google maps. Your Google My Business profile houses a variety of information that consumers can view when they "Google" your business. This includes your business's:
Photos
Address
Phone number
Questions and answers
Google Reviews
Popular times
Google My Business posts
Social media sites
Services and Products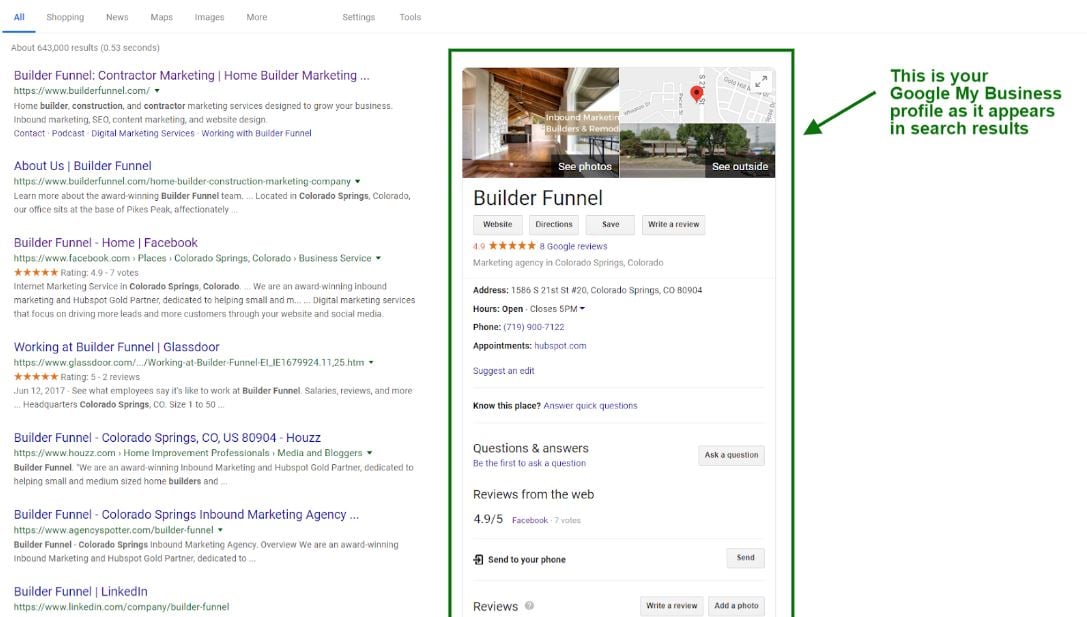 You can utilize this platform to edit your information and post updates about your business right on the biggest search engine in the industry. You can also interact with customers by answering questions or replying to reviews. Ensuring your Google My Business information is correct and up to date is critical to your ability to attract leads and customers to your website, social media, and business through the Google search engine.

Why is Google My Business Important?
Keeping your Google My Business account updated, active and full of relevant information helps you in several ways.
Ranking in Google (Boosting SEO)
First, and most importantly, having a robust Google My Business Account helps your website rank better within the Google search engine results, meaning you can potentially outrank a competitor who is not using Google My Business and be better prepared to rank #1.
For example, Builder Funnel started posting on our client's Google My Business Listing regularly in February of 2019 at which point you can see a steady increase of business views, customer actions, photo views, and website sessions from organic search traffic.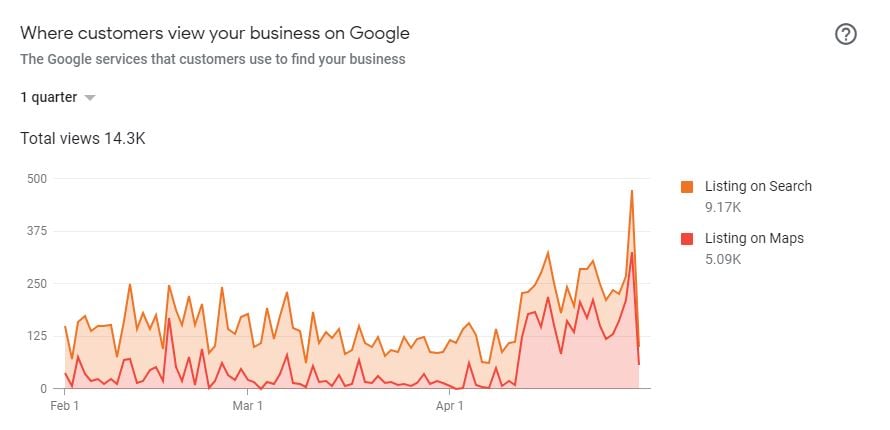 Because a Google My Business listing houses a direct link to your website, your phone number, and your address to automatically load into Google maps, users are able to contact you without even landing on your website, and without even knowing you existed in the first place in many cases.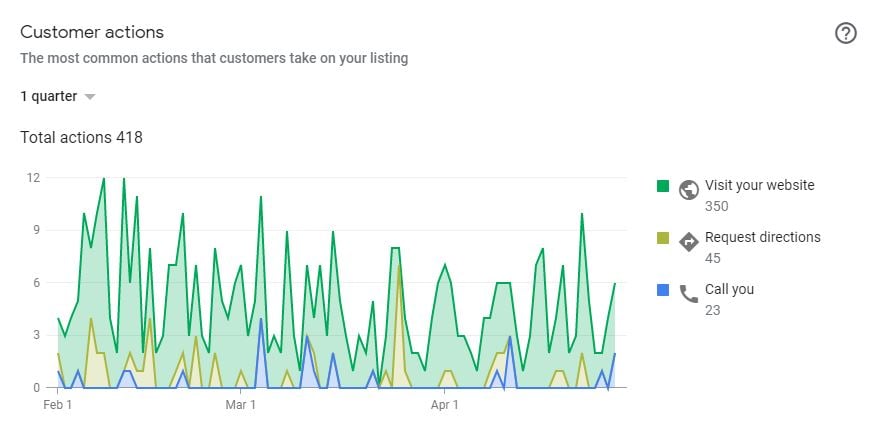 Adding photos to your Google My Business profile regularly is another way to maximize the impact your listing will have on lead generation for your business. Notice in the chart below how this client, who Builder Funnel started actively posting regularly for in February of 2019, has their photos viewed over four times more than their competitors combined. What does this tell us? That their Google My Business profile is ranking above their competitors. #winning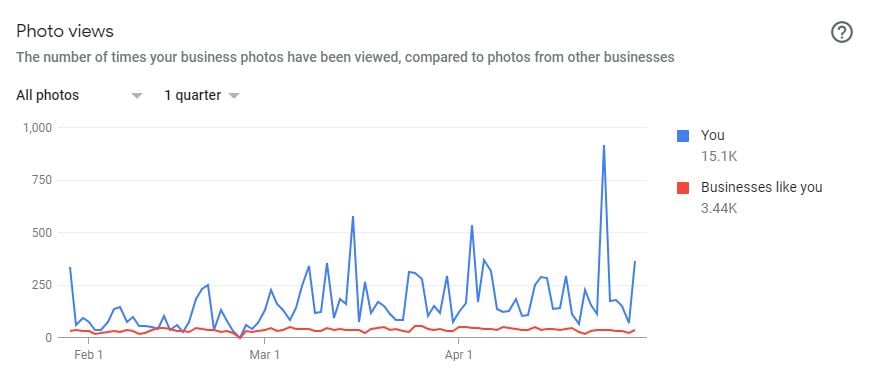 Organic search sessions to your website are also likely to increase when you fully utilize your Google My Business listing. The average organic traffic prior to posting regularly on Google My Business for this client was 266 sessions per month. After optimizing the Google My Business Listing and posting updates regularly, the average sessions increased by 44% to 382 website sessions per month from organic search.

The discovery numbers of how users found the business also increased with the overwhelming majority of the 10,314 searches coming from consumers who search for a category, product or service, which means that without the Google My Business listing, customers may not have found your business specifically when searching for "home building in [location]." Crazy, right?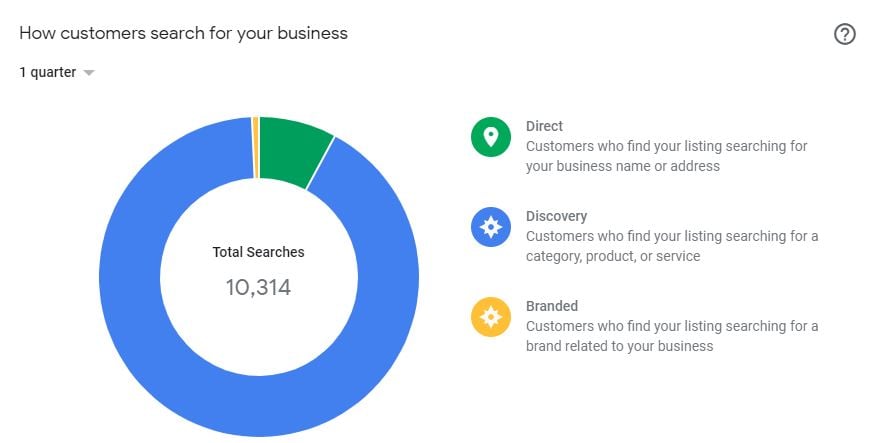 Keeping a Robust Google My Business Account Means:
Posting Frequently,

Company news, special offers, recent blogs, and other content

Responding to Customer Reviews,

Both positive and negative with as much personalization as possible

Updating your Information When Needed

Posting holiday hours and closures
By Doing the Above, You're Helping Yourself Get Google "Brownie Points"
Let's face it, being seen in the modern search landscape requires getting and staying on Google's good side. By putting in the effort to post on Google My Business (Google's redemption platform for the failed Google Plus), you will please the "Google gods" and get rewarded.
Now, if only Google would actually send you a box of brownies….
Providing Helpful Information (Helping Customers)
Similar to other social media networks you can post helpful content on your Google My Business Account to get more people to visit your website. Providing this helpful content also builds trust with consumers and helps them in their home building or remodeling journey. This also gives you an opportunity to create a better first impression with content in your Google My Business before they even reach your website.
Local Search (Boosting SEO)
Google takes into account a searchers location when they make any type of search request. This helps locals find your home building or remodeling business, but it only works if your location information is up to date. Factoring in local search helps your business get in touch with the right people, many of whom may already be interested in the services you provide.
Getting Reviews
Reviews are an essential part of the buying process for consumers, especially when making large purchases such as buying a home or investing in a home remodel. When your Google My Business Profile has reviews, your company becomes more trustworthy (or untrustworthy if the reviews are poor) and potential clients can see what it's like to work with your business. Google Reviews also impact your Google Ranking. Here are some steps to create a direct link for your clients to review your business on Google:
Step 1: Go to Google's Place ID Lookup Tool
Step 2: Enter Your Business' Name
Step 3: Copy Your Place ID (About 25 Letters and Numbers)
Step 4: Enter Your Place ID into the following link - https://search.google.com/local/writereview?placeid=YOURPLACEIDEAHERE
Step 5: Send to Your Customers to Write a Review
Top Notch Google Review Example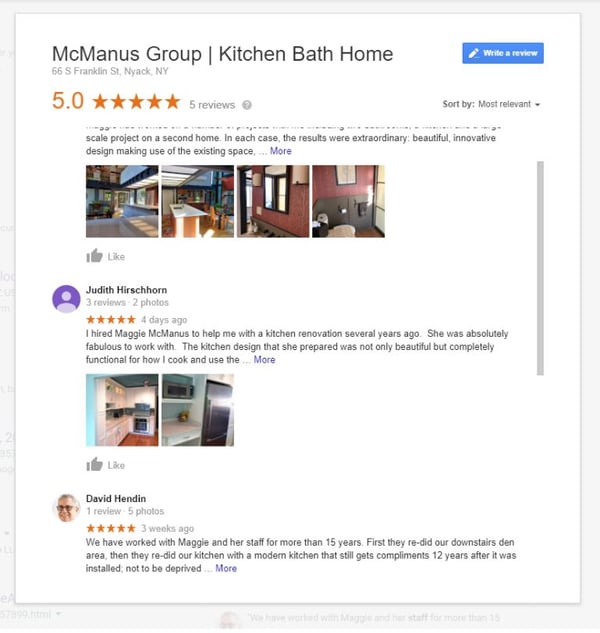 How and When to use Google My Business?
Google My Business is similar to other social media platforms in the way the platform is used. To post you simply log in to your Google My Business account, and click 'Create Post' on the right-hand side of your screen. From there, you can choose to create a post on 'What's New', an 'Event', an 'Offer', or a 'Product'.
Accessing and Using your Google My Business
Google My Business is a free resource your business can use to help keep consumers informed and generate more traffic to your website. As a best practice, keep your profile information up to date and create a post about once a week. Posts on your Google My Business account will expire after 7 days, so posting once every 7 days will keep something on your profile at all times. Remember to use engaging content such as photos, videos and any promotions you may have. Accessing your Google My Business is simple, login to the google account associated with your google my business profile then go to https://www.google.com/business. Don't have a Google My Business? Follow the steps in the next section to create your Google My Business Account Listing. Improve your Google My Business Listing by following these steps:
Enter all the information about your business that you can including:

Address
Business Description
Service Areas
Hours of Operation
Holiday Hours
Phone Number
Website
Appointment URL
Services you Provide
About your Business
Photos and Videos of your Business

Interior
Exterior
At Work
Team

Create a Post at least once every 7 days
Turn on Messaging
Creating a Google My Business Listing
Don't have a Google Business account yet? You can set one up in just a few minutes.
How to set up a Google Business Account
First, login to the Google Account you would like to be associated with your business. For most companies, a business email address associated with Google will be your best option.
Then go to google.com/business and click "Start now" and enter your business name.
Enter the information the prompts request including your business address, phone number, website, and a bit about your business.
Then you'll be prompted to verify your Google My Business listing with a couple of different options.
For more assistance with your Google My Business account, take a look at this great resource from Hubspot on The Ultimate Guide to Google My Business or Download our Social Media Checklist for specific examples of what to post on your Google My Business Listing.