All home builders need a strategy to collect positive reviews for their company. There are several places where you can collect reviews such as Google, Facebook, Houzz, etc. We talk to hundreds of home builders regularly, and each builder has their own preferred platform to collect reviews. However, does it matter where you solicit reviews?
It does matter.
What do people actually see when they Google?
If you are like most home builders, you want to be on the first page of Google when people are searching for someone to build a new home. As we all know, it is really hard to get that coveted top spot in Google.
However, the #1 ranking position in Google organically may not be the only thing you should be striving for. Instead it might be reviews.
Take a look at these Google results when I searched "custom home builders in Atlanta GA."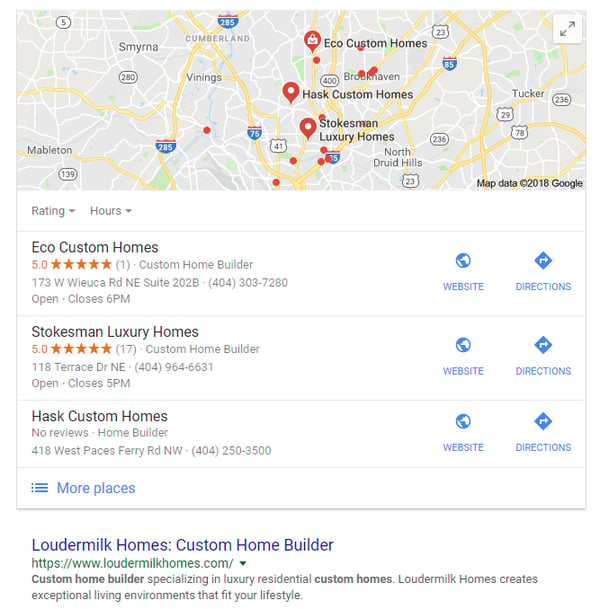 The first thing you will see is a map featuring home builders in the area. The map shows 3 home builders in the Atlanta area that most closely match the keywords that I used. Since I used the keyword "custom home builders" in my search, Google is recommending two companies with names that are closely related – Eco Custom Homes and Hask Custom Homes.
The 3rd option in the map is actually the company with the most Google reviews beating out all of the other home builders in the Atlanta area. Stokesman Luxury Homes has 17 reviews and all of them are a 5 star rating. Not only do they have a lot of reviews, but they respond personally to every review they receive.
Finally, you will see the top "organically ranked" custom home builder below the map – Loudermilk Homes. So while Loudermilk Homes is technically ranked #1 on the organic Google ranking, there are 3 other companies seen before his listing. (This doesn't even count those companies that pay for Google ads.)
What's the moral of this story? It's not always best to be "ranked #1" because often times companies paying for Ads, and companies with good reviews will still be seen first!
How Reviews Impact Google Results
According to Moz.com, reviews are the 7th most important SEO factor when it comes to local search and getting your home building business to rank. So while it isn't the most important factor, it is definitely something that can't be ignored.
Google doesn't disclose exactly how everything works, but we can speculate how reviews impact your Google Results. Here are a few of the more important factors to consider in order of our suggested priority.
Volume – The more reviews you have, the better you rank. This is fairly obvious, but hard to achieve.
High Reviews – The higher the rating of your home building company, the better. It is extremely important to ask your past customers to leave positive reviews.
Frequency – How often do you get reviews? Those reviews you got back in 2014 may not be helping anymore. Also, try not to get a bunch of reviews all at once. It is much better to get consistent reviews throughout the year. Otherwise, Google will think you did good work for about a month or two and then stopped.
Review Content – According to some sources, it is not only important to get reviews, but it is important what words are used in the review. For example, if someone left this review, "They did an awesome job on my Kitchen Remodel" then you will rank better for keywords related to kitchen remodeling.
3rd Party Sites – It is our opinion that Google reviews are probably best when it comes to SEO. However, Google does pull data from Facebook, Guild Quality, Yelp, and other review platforms.
Make Reviews a Part of Your SEO Game Plan
If you are serious about SEO, then you will want to make getting reviews a big part of your game plan. Here are a few pro tips on how to get more and better reviews.
Make review solicitation a part of your internal process. You are likely calling customers 90 days after the sale already. Ask for a review at that time.
Don't email, but instead call them. It's too easy to delete an email, but a verbal commitment over the phone is likely to result in an actual review.
After you call, send them a direct link to your Google profile so they know where to post.
Respond to every review. You can do this by logging into your Google My Business profile.
Of course, the best way to get reviews is to make sure your customer experience is so great that your customers are compelled to leave a review. As always, it is important to continuously refine the customer service you provide.