Do your Google reviews really impact where you rank on the search engine? The quick answer is yes. This blog will tell you why it's important to have good Google reviews and how you can obtain more reviews for your home building business.
Why Google Customer Reviews Are Important for Google Ranking Factors
When a customer reviews your business, they are doing more than simply letting the world know how you interacted with them through the purchasing process. They are also helping Google decide where your business should be ranked in the search engine.
If you're like most home builders, you want to rank #1 on Google when consumers are searching for keywords related to building a new home in your area. Getting the #1 spot on Google organically isn't impossible, but it is difficult and often time-consuming. While working toward the #1 ranking you may also want to consider striving for Google Reviews for a couple of reasons.
Google Reviews help your organic ranking.
In Google Maps, the company with the most good reviews shows up first – even before the #1 search spot.
Good Google reviews help your brand stand out and build trust more quickly.
Let's take a look at an example of when a user searches for the term "custom home builders in Atlanta"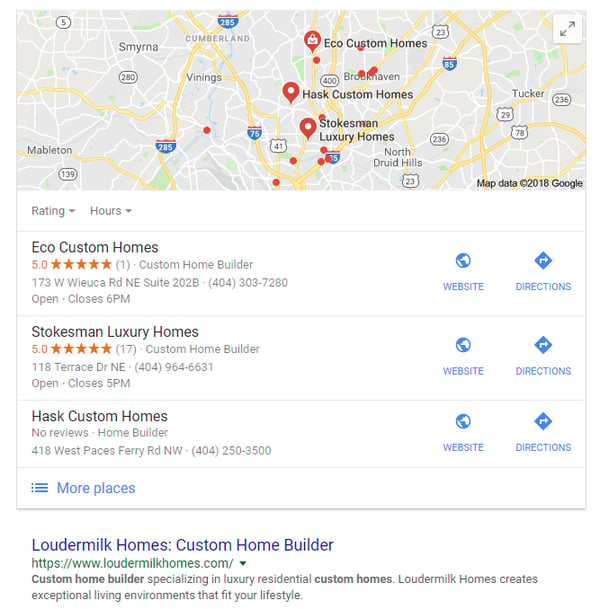 The first thing you'll notice about these search results is a large map showcasing the various home builders in the area. Above the map (not pictured) is where paid Google Ads are showcased. Below the map, you see three top home builders in the area according to Google, including Stokeman Luxury Homes, Eco Custom Homes, and Hask Custom Homes. Then, after the map section, you finally see the #1 and #2 Google ranked websites.
From this example, you can see why having Google Reviews is beneficial. The first two organic results on Google aren't even custom home builders; one is homebuilderdigest.com and the other is Houzz, meaning your listing is even farther down the page than anticipated, and claiming that top spot will be even more challenging. However, if you have several good reviews, you could potentially show up in the map feature, which is present even before the #1 spot on Google. Stokeman Luxury Homes has 21 five-star reviews on Google, giving them the top spot on the maps feature.
In summary, ranking #1 is always good, but sometimes there are better spots to strive for to get your business name seen before a user ever scrolls to the #1 spot. Companies who have paid for ads or have good reviews will show up at the top of the list, knocking those who don't farther down the Google ranking.
Why Google Reviews Are Important Trust Factors for Home Builders
If the above section wasn't enough to convince you why reviews are important for SEO and ranking potential, there are even more reasons for home builders to obtain good reviews: they build trust. Trust is an important factor for customers looking to build a home and spend hundreds of thousands of dollars with your company. If your business can't gain a consumer's trust, it won't be able to land a deal.
Reviews instantly make your business more (or less) trustworthy. If your business has more than a few reviews from various projects in various timeframes, consumers who are researching will feel more comfortable knowing you're a legitimate business with happy customers. Now the trust factor is only viable if your reviews are good reviews (4 and 5 stars for Google). If you have poor reviews (1 or 2 stars) they can decrease your credibility as a home builder and drive away potential customers.
How Home Builders Can Get Google Reviews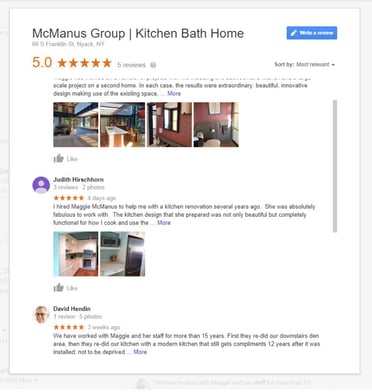 Now you know why Google Reviews are so important to home builder SEO success, but how can you get your customers to leave you good reviews on Google? The first step is to provide excellent service to every customer, every time. Treat every customer with respect and if any problems arise during your interactions, take care to address them so the customer is satisfied.
Consider adding a review system into your sales process. For example, many home builders have a final walkthrough of the home with the owners. Ask for a Google Review during this process. Explain to the homeowner that you are so glad they love their new home and how much it would mean to you and your business if they would share their experience in a Google Review. You can also make it a part of your follow up process. Most builders also include some type of home warranty. When you check in on your customers, add a link for them to write a Google Review.
Here's how you can create a direct link for your clients to review your business on Google:
Step 1: Go to Google's Place ID Lookup Tool
Step 2: Enter Your Business' Name
Step 3: Copy Your Place ID (About 25 Letters and Numbers)
Step 4: Enter Your Place ID Into the Following Link - https://search.google.com/local/writereview?placeid=YOURPLACEIDHERE
Step 5: Send to Your Customers to Write a Review
How to Respond to Google Reviews as a Home Builder
Keeping your Google My Business Listing active is important to the overall scheme of your SEO, and responding to the reviews you receive on Google can help keep that profile active. Even if someone writes a bad review, you shouldn't ignore it. This is a time to address the matter publicly and show that even when your company messes up (we're all human, it's bound to happen) you can own your mistakes and make them right in the eyes of the customer. Here are 5 steps to help you respond to customer complaints:
Listen to the customer's complaint
Understand why they are upset
Respond to the customer's complaint
Deliver what you promised
Revisit the customer's complaint
Good reviews are much better and much more fun to respond to, but make sure you respond to every review in a timely and acceptable manner. Check your Google My Business listing weekly so you don't miss responding to any reviews. Thank the customer for leaving a review and thank them for working with your business. Express your happiness that the customer is happy and add any personal details you can from your experience working with the customer.
When it comes to reviews, remember quality over quantity, but many good reviews is also important to your SEO and ranking in Google. Ask your customers for Google Reviews by incorporating a review request in your follow up process. If you're looking for more information on SEO and Google rankings, visit SEO for Contractors Builders and Remodelers.