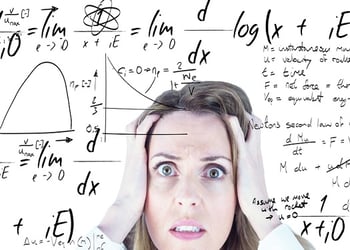 There are times when trying to figure out how to use your website to generate qualified leads can feel overwhelming. While there are a number of "moving parts" in the process, we'd like to simplify the equation for you.
Using your website to generate real leads you can use can be as simple as: 1 eBook + 1 call to action + 1 landing page = 1 lead.
Not too bad, is it? Here's how it works.
1 eBook: An e-Book is a short, simple guide (around 4 to 7 pages that covers a topic of interest to your prospects. You could title it something like: Creating the Perfect Kitchen. In it, you provide simple-but-helpful tips about things such as design, budgeting, materials, common mistakes, how to select a remodeler, and the remodeling process. You want to answer common questions that remodeling prospects have. You don't sell anything. You simply provide information that can help your prospect make a better decision. And you're going to give this eBook away for free.
1 Call to Action: It's not enough to have this resource on your website. You want people to interact with you. That means having a call to action—a clear direction to "download this helpful free eBook!" You could (and should) have an image on several pages within your website that visitors can click on. That will take them to a landing page (we'll explain that in a minute). Or, you may talk about kitchen remodeling in your blog. When you do, create a link to that same landing page. Your link could be something like: "If you'd like additional information about kitchen remodeling, click here to download our free Creating the Perfect Kitchen eBook." That link takes visitors to the same landing page.
1 Landing Page: Your landing page for your eBook is a stand-alone page on your website with an image of the eBook and a very short, succinct description of what's inside (bullet points are best). Click here to see an example of a landing page for an eBook for remodelers. On your landing page, you'll want a form that collects the prospect's name, email address, and (maybe) phone number. This is what the prospect gives to you in turn for the eBook
1 Lead: Why do we call this a lead when someone downloads an eBook? First of all, they have demonstrated that they are interested enough to download and read additional information. Second, the prospect has interacted with you. Third, the prospect has given you the means to get back in touch (you have a name and an email address).
It's really a pretty simple formula. Granted, it's not an overnight exercise or a "one-and-done" arrangement. You may not connect the first time you call a prospect when he or she downloads an eBook. You'll have to learn to walk the line between providing enough information and giving prospects too much at once (here's a helpful post on learning how to do that). Still, it's a fairly straightforward process. If you'd like to talk to an inbound marketing expert about how to make it happen, we invite you to contact us.