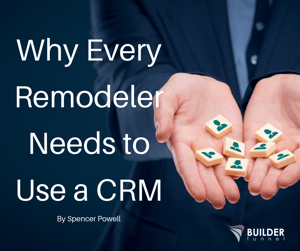 As a remodeler you use a lot of different tools to deliver great results for your clients. The thing is, however, that your business isn't just about designing and delivering great remodeling results. A big part of your business is about getting contacts, leads, and prospects — and turning them into customers.
There is another tool that can help immensely with this extremely important part of your remodeling business. Customer Relationship Management (CRM) software can help you manage the information you need to stay on top of so that you can spend more time doing the remodeling you're good at.
What is a Remodeler CRM Database?
A CRM database, or Customer Relationship Management database, organizes all of your contacts and helps you keep track of where each person is in your sales funnel.
Why is a CRM Important for Remodelers?
Having a CRM allows your business to continue to nurture leads and help them move through your sales funnel to become customers. It doesn't matter how good you are with a drafting pen, a hammer, a saw or a drill; if you're not generating leads and turning them into customers, you can pack up your tools and call it a day. A CRM helps you stay on top of your leads and funnel them through your sales process by sending them information to help them in their remodeling journey and eventually get them to hire you as their contractor.
Do Small Remodeling Companies Need a CRM?
Sometimes when remodelers check out the latest marketing intelligence for their industry they can feel left out. That's particularly true when the information marketing experts talk about gets into topics such as CRM. It can be easy to think that that kind of marketing sophistication is for the big boys. What if your remodeling business does less than $1M in sales a year? Is a CRM overkill? Do you really need it? The short answer is yes.
It's probably true that a somewhat smaller remodeling company doesn't have the same volume of business (and the same number of customers and prospects) as a larger business. On the other hand, smaller firms often have smaller staff. The office staff at a smaller remodeling company often take on multiple tasks (scheduling, payroll, fielding phone calls, ordering materials, etc.). The result is often that marketing efforts get pushed to the side. A CRM can help your staff get more done, faster.
Instead of sorting through paper files or multiple spreadsheets, you have contact information, records of interactions and marketing efforts, and even detailed notes if you want — all in one easy-to-access place. One of the beauties of CRM is that it not only helps you manage your marketing efforts, but it enables you to do a better job managing active clients.
You can even automate certain functions (such as follow-up emails) so that you don't have to remember them — or even spend time creating and sending out each one. If anything, a CRM is even more critical for smaller companies because it can save time.
How Much Does a CRM Cost Remodelers?
Naturally, some smaller remodelers wonder about the expense. Does spending money on a CRM system really pay off? After all, most remodelers work on pretty tight budgets. But according to a Global Customer Service study CRM returns an average of $8.71 for every $1 a company spends. That's pretty impressive! There are plenty of options for different CRMs for those in the construction industry, here's a few:
HubSpot
The HubSpot CRM is free and gives you several options to use your CRM including contact management, contact website activity, companies, deals, tasks and activities. The HubSpot CRM is also able to integrate with Gmail and many versions of Outlook. This free tool even gives you access to the HubSpot Community where you can get support.
Salesforce
According to its website, Salesforce is a customizable CRM software that enables businesses of any size to manage all aspects of customer relations. Salesforce has a free trial and various plans for businesses of different sizes. This CRM starts at $25 per user per month and includes lead management. The more advanced the plan, the more features available to you.
MarketSharp
MarketSharp is a marketing management tool with several levels. The lowest level costs $85 per month as well as a one time Implementation fee of $500. MarketSharp includes a variety of features including contact management, searching and filtering, lead recovery marketing, repeat and referral marketing, calendar and scheduler, activity, and much more.
What a Good CRM Should Do for Remodelers
1. Keep Track of Leads
It doesn't do you a lot of good to generate leads if you don't know who those leads are or what kind of interaction you've had with those people. A good CRM system can help you organize your leads and keep track of what you've done to follow up.
2. Manage Contracts
It's important to keep on top of exactly where you are in the process with a client. CRM software can put all the important contractual documents and decisions in one place — at your fingertips.
Review Revenue Forecasts: You don't have to wonder about what your revenue stream is going to look like down the road. A CRM system can help you visualize it so that you can make plans based on data — not guesses.
3. Get Easy Access to ALL Lead Notes and Data
Keeping track of a physical paper trail isn't optimal. And who wants to haul folders of paper around and risk losing information? CRM software allows you to store all pertinent information for each customer in one place, as well as important metrics to track the effectiveness of your marketing — where it's easy to access and use (often from any place you want to access it).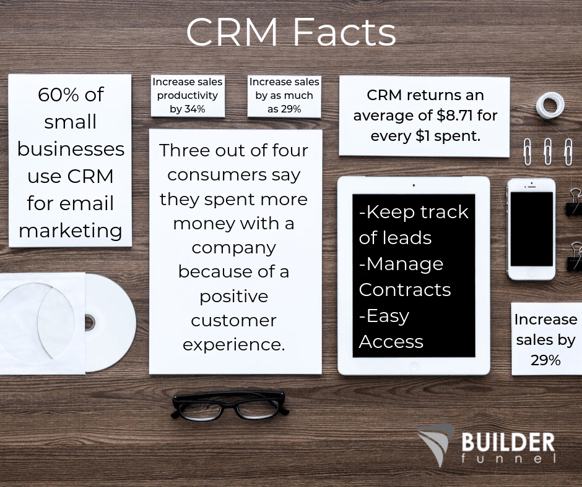 What Can a CRM Plan Do for Remodeler Revenues?
According to Salesforce.com, a CRM can:
Increase sales by as much as 29%
Increase sales productivity by as much as 34%
Improve forecasting accuracy by 42%
The folks at Salesforce.com aren't alone in touting the impact CRM can have. Not long ago, Big Contacts reported that:
Three out of four consumers say they spent more money with a company because of a positive customer experience. (Source: Global Customer Service study)
CRM returns an average of $8.71 for every $1 spent.
Sixty percent of small businesses use CRM for email marketing (Source: Marketing Charts)
If you're in the remodeling business, you have to manage a lot more than just the sites you're working on. You also need to be able to manage your contacts, prospects, leads, and customer information. A good CRM system can help you do that efficiently so that you don't miss opportunities — or spend too much time and money reproducing your efforts.