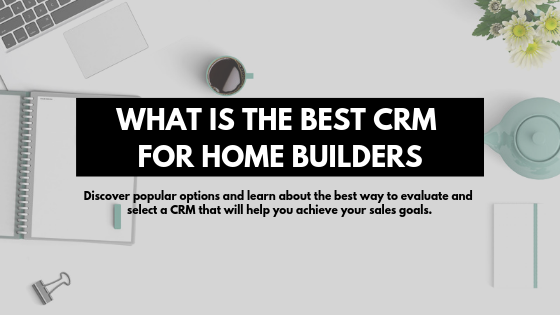 There's a lot of talk out there about various Customer Relationship Management systems or CRMs and there are a ton of options to choose from when it comes to a CRM for your home building business. Do you go with a system that is nationally recognized and has great support? Or do you go with a smaller company that is specific to your industry? Or maybe you're looking for one that integrates with your project management system. There are a lot of options and factors to consider, which is why we've taken the time to break down some popular CRM options and their features. We'll also talk about the best way to evaluate and select a CRM that will help you achieve your sales goals. Here's what we'll cover:
What is a CRM?

What are some common choices for CRM?

How do you evaluate a CRM? (integrations, features, etc.)

Making the decision on your CRM. (the ideal scenario)

The Best CRM (the one you and your team actually use)
What is a CRM and What Should It Actually Do for You?
Before you can make an informed decision about your CRM system, it's important to know what it actually is and what it should do for you. A CRM is a customer relationship management system that organizes your contacts, including prospects, customers and other connections. It also tracks important marketing metrics. Within a CRM, you should be able to organize your contacts into different lists so that you can prioritize your leads and send messages to various segments of your database. In addition, your CRM should track your sales pipeline so that you can see where different leads are in your sales funnel. It should help you answer questions such as:
How many are at the first visit stage vs. the contract stage?

What is your sales projection this month based on leads at the contract stage?

How many touches are my sales team members performing for each lead?
Many CRM systems are now adding marketing functions such as the ability to send email blasts and set up lead nurturing emails (an automated series of emails). They can also provide you with data on which prospects and leads are clicking on emails and which prospects are not.
All in all, your CRM should track all your sales activity including one on one follow ups with leads and where they are in the sales funnel.
Related: Why Every Remodeler Needs to Use a CRM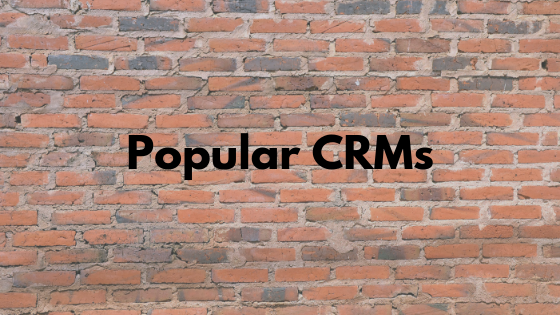 What are Some Common Choices for Home Builder CRMs?
Now that we know what a CRM is and what it should be doing, let's look at several CRM companies that we see many home builders selecting (both clients and prospects). The goal of this section is not to do a full evaluation of features and pricing. It will be a quick re-cap of the platform and how it might be a good fit for your business.
Salesforce is the big player in the industry. If you're looking for unlimited features, the ability to customize your dashboards and everything else, this is going to be a great choice. Salesforce also has an API available which means you can integrate it with other systems such as a marketing automation system or a project management system (assuming there is an API on the other end as well).
Infusionsoft is growing quickly and is a hybrid between a marketing automation platform and a CRM system. Marketing automation typically focuses on creating automated email nurturing sequences that drip on your leads and prospects over time. InfusionSoft has advanced lead nurturing capabilities as well as ecommerce.
Property Base is a real estate specific CRM that is built on the Salesforce app exchange. This may be a good option for those of you looking at Salesforce.com because it has integrations with many common marketing tools and was built with real estate in mind.
HubSpot's CRM system is fully integrated with their marketing automation system and has been available since 2015. The price is right too...free! As a HubSpot Partner, we use this system ourselves and for our clients who are all in the building or remodeling business. It has many of the features you'd expect a CRM to have including reminders, notes section, the ability to create deals and segment lists. Plus, if you integrate Hubspot marketing tools, you get even more functionality from the CRM.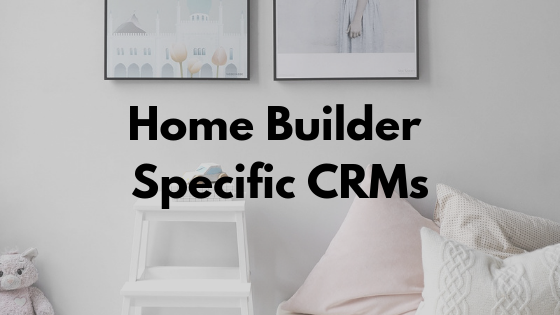 Home Builder Specific CRMs
The following CRMs were built just for home builders and allow you to capture leads on your website with forms and have much of the same functionality mentioned above in terms of lead nurturing capability, list segmentation, one to one and one to many follow up campaigns.
Lasso is a CRM software custom-built to make it easier to capture, nurture, and convert more prospects into purchasers. Today, builders who use Lasso on communities regularly see conversion results improve.
Top Builder Solutions is a technology specifically designed for home builders and new homes sales that will quip your team with everything they need to capture, nurture and close every opportunity. Some of the features include lead and prospect management, customizable follow-up plans designed to meet your specific business needs, email marketing and automated follow-up emails.
Constellation Home Builder Systems allows you to manage the entire sales pipeline and build valuable customer relationships from sale to referral. This platform integrates with your entire ERP system, generates, acquires and nurtures customer leads by capturing then guiding sales agents and home buyers through the entire sales process, automates financial calculations, and more.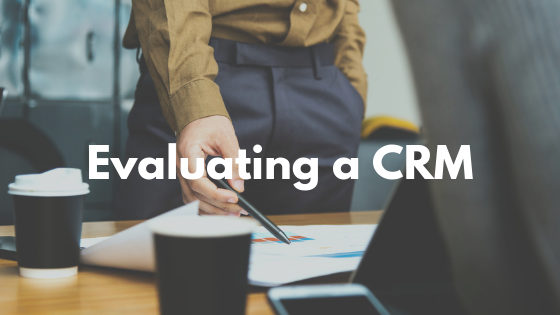 How Do You Evaluate a CRM? (Questions to Ask)
Now that we've looked at some common choices for home builders, what should you look for in order to make the best decision for your company? Below, I've bulleted out several items and questions to consider:
Is it easy to use?

Does it integrate with any other systems you're using? (does it have anAPI)
Example: Email tools such as Mail Chimp or Constant Contact

Example: Marketing Automation tools such as HubSpot or Marketo

Example: Project Management tools such as Co-Construct or Build Tools
Does the price fit your budget?
Does it have the basic features you need right now?
Does it have additional features that you will need in the future?
What kind of training do they offer?
What does the on-going support look like?
Can see yourself or your team committing to use it?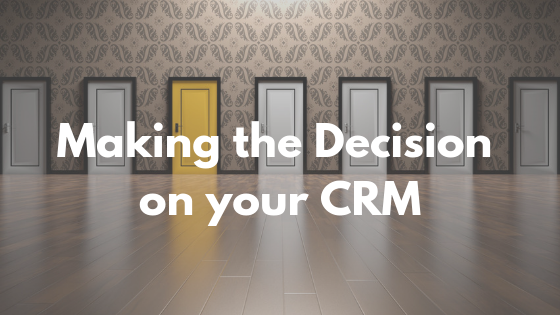 Making the Decision on Your CRM
Now that you've looked at several options, asked yourself and these companies some questions, it's decision time. What should you choose? Ultimately, I can't make that decision for you in this blog post because I don't know what your existing systems look like for marketing, sales and project management. However, I'd like to give you a few general guidelines.
Make sure it integrates with a marketing automation system (even if you're not using marketing automation today). This is where marketing and sales are trending and you don't want to miss out on the opportunity to streamline your process and better nurture leads.

Make sure it gives you the kind of reporting you want to see so that you can measure your sales pipeline and improve your sales process over time. Consider what is important to you and your business and go from there.

Make sure it has all the basic features you need in terms of follow up reminders, email capabilities, and lead stages. (almost every CRM listed above should be able to fit these criteria)

Make sure it fits your budget now and will also fit your budget if you add salespeople or your business grows in other ways. Think about contact limits, user limits, and other factors that may limit your CRM in the future.
My Opinion
Above, I've done my best to give you an unbiased view on CRM system for home builders and how you can evaluate them. However, I figured you might want to know what I think, knowing that it will be a biased opinion and that I don't know anything about your goals or current systems.
I think you should sign up for the HubSpot CRM. It's absolutely free for every user on your team, has all the basic features and functionality and it integrates with HubSpot's Marketing Automation platform. Full disclosure: we are a HubSpot Platinum Partner and we use their software to power our own website as well as all our client websites. However, their marketing automation platform isn't required to use the CRM.
In addition, the free CRM has a sweet set of sales tools that cost $10/month per user that allow you to track email open and clicks right from Microsoft Outlook. Imagine sending a contract over to a prospect and getting a pop-up notification on your computer and smartphone that tells you when they opened it. Pretty slick!
The Best CRM
Ultimately, the best CRM is the one you and your sales team will actually use. After all, a CRM is just a tool. If I buy a hammer, nails, a saw and some lumber, a house won't be built in front of my eyes. I actually have to use the tools. It's the same with a CRM. If you use your CRM (no matter which one you select), it will be infinitely more valuable than "the best" CRM that doesn't get used. If you're interested in learning more about how a CRM and marketing automation platform can help your business succeed, schedule a 15-minute call with me and we can take a look at what would be best for you and your business.