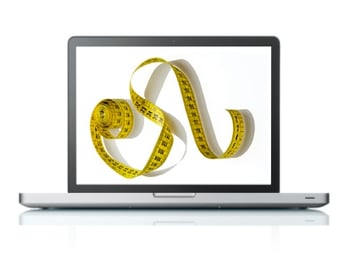 Home remodelers know the wisdom of the old adage: "Measure twice; cut once." Accurate measurements are absolutely critical for good remodeling work. The same is true with the marketing efforts to promote your home remodeling business.
When you engage in marketing activities it's extremely important to measure the right things and to have accurate measurements. Otherwise you're just throwing your marketing money away. These days, the majority of your marketing efforts will be focused on online efforts (because that's where your prospects are looking). So, what online marketing metrics should you be tracking?
There are certain things that ought to be a top priority when it comes to measuring your online efforts.
Traffic: It's imperative that you know how much traffic you're getting on your website. How many people are visiting? How many people are reading your posts (blogs, Tweets, Facebook posts, etc.)? If there's no traffic, nothing is going to happen.
Leads: How many of the people visiting your site become actual leads? Your goal isn't (just) to get people to read what's on your site, but to engage with you. You need to convert visitors and readers into leads.
Qualified Leads: Not all leads are created equal. You need to know which of your initial leads qualify themselves as good leads by requesting more information. Those are the kind of leads you want to pursue and turn over to your sales department.
Sales: It seems pretty obvious, but you do want to know how many people end up being paying customers. It won't happen without the other things mentioned above, but it really is the ultimate measure.
There are also some secondary metrics that you should be tracking. By themselves, they don't guarantee success, but they can be strong indicators of how well your top-priority efforts will perform.
Organic Traffic: How are potential clients finding you? What kinds of topics appeal to your clients that are driving them to your site (if they don't already know your company)?
Social Media Traffic: How many people are looking at your posts on social media platforms such as Twitter, Instagram, or Facebook? This helps you decide which platforms make the most sense for you to pursue.
Email Open and Click Rates: It's great to send out emails and post things on your website, but you need to know if prospects are actually reading them and taking action. This helps you do more of the things that work and eliminate things that don't work.
Keyword Ranking: You'll want to find out what specific key words or topic are bringing prospects to your site. Are you presenting your strengths by using the same criteria that your prospects are searching for?
Landing Page Conversions: You need to know how effective your landing pages are. If you send prospects to a specific landing page, are they completing a form and giving you their contact information (and becoming leads)? Or are they bailing once they hit your landing page?
Again, when you evaluate your marketing efforts, it's important to measure the right things (the things that lead to you getting customers) and that you have accurate information so that you know which steps to take next.
To be honest, at Builder Funnel we've talked to a lot of home remodeling companies who don't know the answers to those questions—and aren't sure how to find accurate answers that will help them promote their businesses better. One thing we offer is a free Remodeler Inbound Marketing Assessment that takes a look at your existing website and provides you with some basic answers to some of those questions so that you have a baseline for deciding what to do next.
You wouldn't dream of starting a remodeling project without taking accurate measurements first. If you want to remodel your marketing efforts, you'll need to do the same thing.