As a remodeler, you know the wisdom of the old adage, "Measure twice; cut once." Accurate measurements are absolutely critical for good remodeling work. The same is true with your marketing efforts to promote your home remodeling business.
When you engage in marketing activities it's important to have accurate measurements and to make sure you're measuring the right thing to begin with. Otherwise you're just throwing your marketing money away — and for what? These days, the majority of your marketing efforts should be focused on online efforts (because that's where your prospects are looking).
So, what digital marketing metrics should you be tracking? Here are the marketing metrics that matter when measuring your online marketing efforts: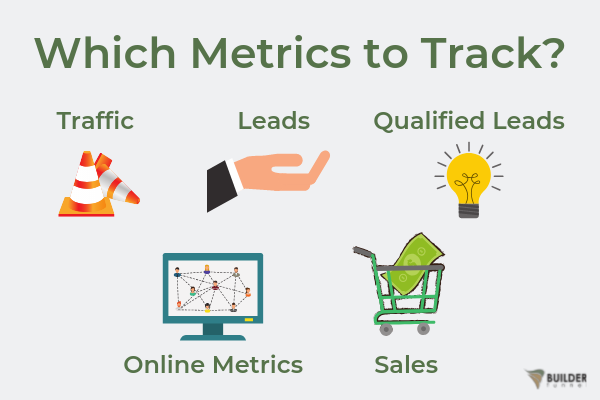 Traffic
It's imperative that you know how much traffic you're getting on your website. How many people are visiting? How many people are reading your posts, blogs, Tweets, Facebook posts, etc? If there's no traffic, there's no people. If there's no people, there's no business.
Leads
How many of the people visiting your site become actual leads? Your goal isn't just to get people to read what's on your site, but to engage with you also. You need to convert visitors and readers into leads.
Qualified Leads
Not all leads are created equal. You need to know which of your initial leads qualify themselves as good leads by requesting more information. Good leads are those who are financially qualified, within your service area, and willing to work on a reasonable timeline. Those are the kind of leads you want to pursue and turn over to your sales department.
Sales
It seems pretty obvious, but you do want to know how many people end up being paying customers. It won't happen without the other metrics mentioned above, but it really is the ultimate measure of success with your marketing efforts.
Other Online Metrics to Track
There are also some secondary metrics that you should be tracking. By themselves, they don't guarantee success, but they can be strong indicators of how well your top-priority efforts will perform.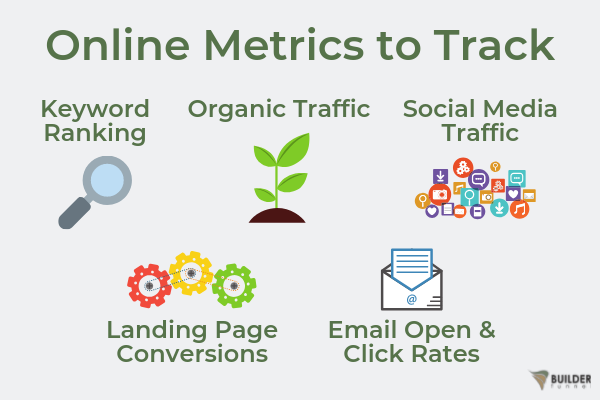 Organic Traffic
Organic traffic refers to when visitors come to your website as a result of unpaid search results. So how are potential clients finding you? What kinds of topics appeal to your clients that are driving them to your site (if they don't already know your company)?
Social Media Traffic
How many people are looking at your posts on social media platforms such as Twitter, Instagram, or Facebook? This helps you decide which platforms make the most sense for you to pursue.
Email Open and Click Rates
It's great to send out emails and post things on your website, but you need to know if prospects are actually reading them and taking action. This helps you do more of the things that work and eliminate things that don't work.
Keyword Ranking
You'll want to find out what specific keywords or topic are bringing prospects to your site. Are you presenting your strengths by using the same criteria that your prospects are searching for? You can if you ensure your site is optimized for SEO.
Landing Page Conversions
You need to know how effective your landing pages are. If you send prospects to a specific landing page, are they completing a form and giving you their contact information (and becoming leads)? Or are they bailing once they hit your landing page?
How to Track Your Online Metrics
When you evaluate your marketing efforts, it's important to measure the right things (the things that lead to you getting customers) and have accurate information so that you know which steps to take next. But it's just as important to have the proper tools to measure your metrics. Here are a few of the best tools for remodelers to track their marketing efforts.
1. Google Analytics for Remodeler Marketing
A Google Analytics account is a must for remodelers who want to track their digital marketing efforts. Google Analytics can track most of the metrics mentioned above, including traffic, keyword ranking, and goal conversions.
2. Hubspot for Remodeler Marketing
Many remodelers choose Hubspot, which tracks information from leads who visit your website in order to organize it into manageable data that is available at a glance. This doubles as an effective marketing tool because it tracks most of the important metrics mentioned above, including traffic, open and click rates, and much more.
Beyond a CMS and Analytics tool, be sure to utilize a quality CRM to manage your sales process. Learn more about the best CRM's for remodelers and how they could be useful for your sales and marketing teams.
Or schedule a consultation with Spencer to talk about how your remodeling company can improve the success of marketing efforts and track it all.
You wouldn't dream of starting a remodeling project without taking accurate measurements first. If you want to remodel your marketing efforts to align with your marketing goals, you'll need to do the same thing, but in the digital landscape.