In the online marketing world in which we operate, it's not uncommon to run across articles (and ads!) that urge you to "Optimize Your home builder website!" We've even posted articles about it ourselves because it's just as important for home builders as it is for any other business. Search Engine Optimization (SEO) is, indeed a critical element of online marketing. But let's demystify at least part of this "optimization" thing. It's really about making sure you get the most out of your website and that you're reaching the right people with your message.

So what are some of the essentials to make sure that the search engines (the things that help your prospects find you on the web) have the best chance of doing that? There are certain elements that should be included on every page of your website in order for the people who are searching to find you. Here's a quick overview of construction website ideas.
Related: What Online Metrics Should Your Remodeling Company Look At?
Page Title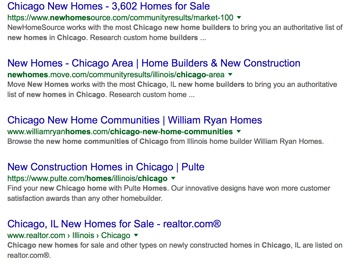 Your page title is the big blue link you see when you get Google search results. For instance, if you did a search for "new home communities in Chicago" you might get something like what you see here. Google reads the page title (along with the other elements below) to determine what this page is about. The more relevant your page title to your homebuyer's search, the better chance you'll have of getting found.
URL
Your URL is one of the most important elements to optimize. Many home builders don't have SEO friendly URLs. Many home builders structure their URLs like this: www.homebuilder.com/pageid=47 but that kind of URL doesn't mean much to people searching—and it really doesn't tell Google anything either. Instead, see if you can use something along the lines of www.homebuilder.com/available-new-homes-community-name-chicago-il.
Headers (H1)
This is another piece of information Google uses to figure out what your page is about. So you might want a header that along the lines of "new homes at Wrigleyville in Chicago because it describes both what's on the page and also where the homes are available.
Image URLs
We all know the importance of using great photography on home builder websites, but it's not just the pictures themselves that are important. It's how Google recognizes them. Google doesn't really "see" pictures; it sees the description of the picture. Naming your photo "available-new-homes-in-Wrigleyville" is much more helpful than "DSC007.jpeg" as far as helping Google and customers to find you.
Body Text
You should write the copy on your site to specifically talk about the things people are searching for. I'm talking about "keyword phrases" here. But the idea isn't to have your keyword phrase ("available new homes in Wrigleyville") appear 10 times. That's called "keyword stuffing" and not only will it irritate your readers, but Google will also penalize you for that. Write naturally but emphasize those things you know people will look for.
Meta Descriptions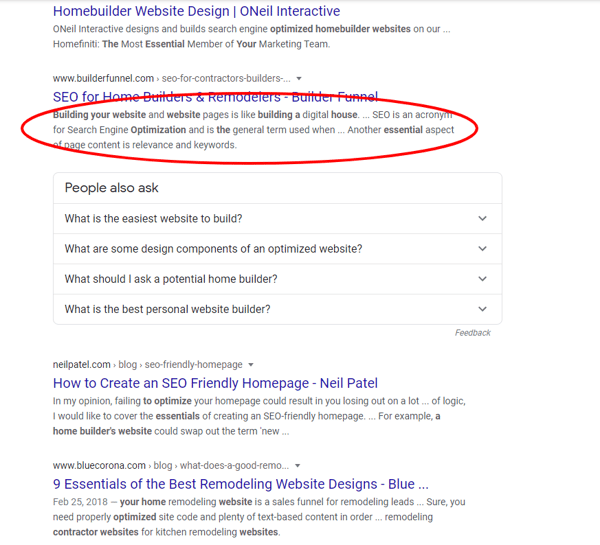 This is the description that appears right below the blue link. This is what will entice a prospect to click on your page for information. Make it clear and short and try to use your keyword if possible. Think of it as, "Here's what you're going to find if you click this link."
Is there more to optimizing your website? Sure, but these are some of the essentials. If you focus on doing just these things, you'll be miles ahead of many of your competitors. Having a website doesn't mean anything if the right people aren't finding you. These essential steps will get you way down the road.
If you'd like to delve into this in a bit more detail, I'd encourage you to view our power page that describes everything you need to know about SEO. It's got even more information on how to make sure your home builder website is attracting the right prospects for your business.