Let's start with the basics. What is marketing automation? Marketing automation is the use of any software that automates your marketing actions. Think emails, social media posts, and other steps that you may take to communicate online. Automation helps you reach more people in less time, and helps you tailor your content to your customers, allowing for higher quality leads and a robust sales pipeline. Creating your automation brand will without a doubt make your life easier, without compromising the authenticity of your content.
So, how can you use marketing automation to your advantage? And why does it make sense for a remodeling company? Let's take a look at the different ways automation can help your business thrive:
Using a CRM
When you use your CRM to its full potential, it can give you incredible insights you wouldn't be able to see otherwise. A CRM (customer relationship management) system allows businesses to manage relationships and interactions with both customers and potential customers. In order to use automation to your advantage, you need to put a few things in place, namely, a CRM with accurate data. I like to think about CRM's like I think about high school: "you get out of it what you put into it". When your data is clean, ie: fields are consistent, data is current, one record per customer, etc. your marketing efforts become that much more efficient.
>> Want a Free CRM Audit? Click Here
Accurate Data
To effectively measure the efforts of your sales team, accurate reporting is crucial. Your sales team needs to follow up with prospective clients at the right time, not just when they happen to remember to give them a call. By placing contacts in the appropriate stage of the buyer's journey, you not only keep yourself organized, you have an accurate picture of your pipeline at any given time.

Why is this important? An accurate pipeline is crucial in all industries, but even more so in the remodeling industry. Accurate forecasting is essential for annual revenue projections, labor, scheduling vendors or trade partners for projects, and more.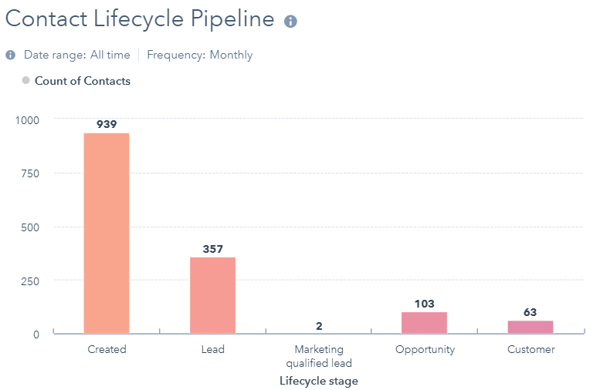 Due to the protracted sales cycle of the remodeling industry, your team must be able to accurately track the data in your pipeline. If you feel like you have lots of opportunities on the table but cannot keep track of what leads are where you run the risk of losing them along the way.

You can accomplish this by taking the time upfront to ask qualifying questions- like 'where did you hear about us?" or including lead status or the life cycle stage in their contact record. Are they still in the research process? Worried about financing? Disqualified due to budget or timeline restraints? The more information we have upfront, the more useful it becomes later down the road. Remember- you get out of it what you put into it. Take a look at a sample contact record below.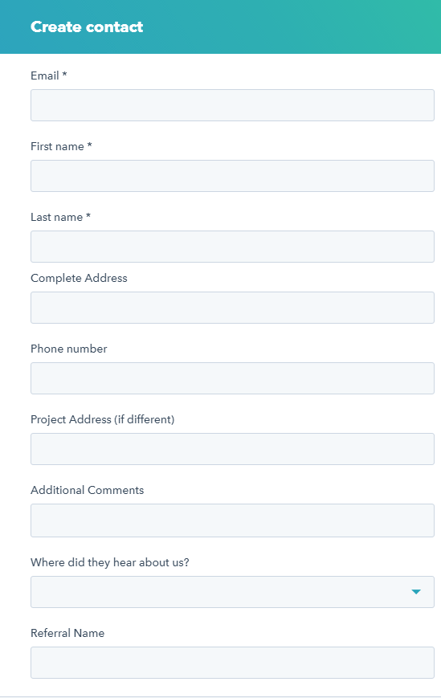 The information provided in the initial qualifying call is incredibly significant when it comes time to look at deals lost, revenue expectations, and more. By keeping accurate data records, you can tailor your content to the specific needs of your qualified customers, and stop wasting time on leads that are ultimately futile.
Long Lead Cycles Need Nurturing
Unlike a product you would buy on Amazon, or a service that can be performed in a quick amount of time, like a car-wash or a haircut, the remodeling industry is inherently rooted in a long sales cycle. Deciding to remodel your home takes a considerable amount of research. Potential clients are pouring over your photographs, Googling your business, reading reviews, and analyzing your website for clues on how you conduct your company. Remodeling is extremely personal and a decision to remodel ones home is not taken lightly.

With financing considerations, work and school schedules, and other 'life moments', remodelers can best engage with their prospects by keeping them engaged at various points of the buyer's journey through lead segmentation, and workflows.
Lead Segmentation
When it comes to the remodeling business, segmenting your leads is a crucial step in the nurturing cycle. Lead segmentation allows you to file your contacts into categories, and subcategories of smaller groups within your database. By placing contacts with similar interests together, you can tailor your content directly to their tastes and preferences. This can be done by type of remodel, budget, timeline, etc.

For those in the remodeling industry, like design-build firms or general contractors, you know that not everyone who comes across your site is interested in one particular thing. You offer plenty of services, so why create the same email for each customer? Lead segmentation allows you to break down your leads by the service they are interested in.
>> Example: When a prospect visits your website and fills out a form, you can ask them what they need help with: kitchen, bathroom, additions, you get the idea. If they select 'kitchens' you can automatically add them to a list that is comprised of warm leads - all interested in remodeling their kitchen. From there, we can send the entire list of leads specific content around kitchen remodeling. The prospect remains engaged and time isn't wasted sending them information about a service they aren't interested in.

Whether you choose to nurture your leads through email or by attaching them to campaigns, segmenting your leads allows you to send highly targeted AND specific content to a more narrow audience, further nurturing them through the buying process.
The Power of Workflows
A workflow is simply a series of orchestrated (and repeatable) events that happen after a user has completed an action. Workflows are an incredibly useful way to eliminate redundancy in daily tasks and save you (and your employees) a considerable amount of time. By completing a series of emails that you can send to a prospective client at a time of your choosing, you can stay top of mind for several weeks, without having to remember to follow up.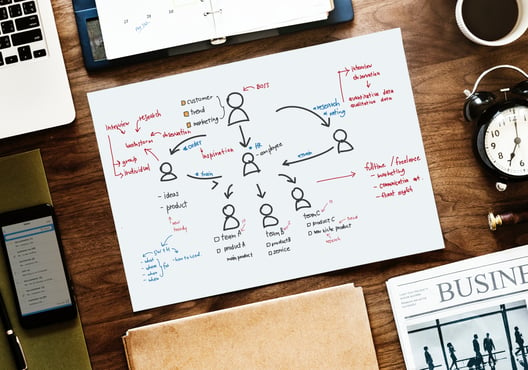 Workflows are also beneficial from a customer perspective- by including various resources and pieces of information in your communication, you are aiding them in the buyer's journey, which is ( not-so-coincidentally) the whole point of inbound marketing. If you can direct your leads through the buyers journey by providing helpful information along the way, you have a better chance of not only turning your lead into a customer, but turning that customer into a promoter.

At the end of the day, marketing automation helps you save time, reduce or even eliminate day-to-day redundancies, and keep your potential customers engaged through a series of carefully thought out personalized content.

For more information on how marketing automation can help your remodeling business thrive, shoot us an email. We're happy to help.