For a few years now we've been using our marketing automation tool to in pretty traditional ways. We track leads, generate sales and manage all of our content marketing efforts. In an effort to bring more value to our clients, we also use it as a substitute for managing their warranty systems and customer work flow. They've been operational for a few years now and have helped our clients avoid additional costs.
Here's how they work:


Warranty System for Home Builders
Most home builders have a warranty through which they guarantee the functionality of certain appliances and other general structural elements. For a person building a custom home from a local builder, this is one of the biggest selling points: not having to work with a corporate giant to get a leaky window fixed, for example.
Warranty systems are also pretty complex and time consuming to maintain for home builders, but the tasks for servicing a warranty repair are somewhat repetitive in nature.
We used some basic functionalities in HubSpot (which are standard to most marketing automation software) to create a way to upload, manage, and close out a warranty request -- all of this happens with only two manual clicks from the internal team.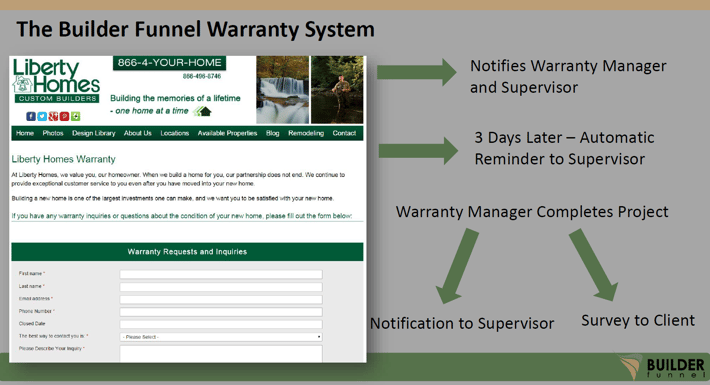 Step 1: The homeowner fills out a warranty form on a static landing page.
An automatic email is sent to the Warranty Manager and Supervisor for the request.
Step 2: The Warranty Manager changes the form submission from "open" to "working" once work on the request has begun.
An automatic email is sent to the homeowner, letting him or her know the order has been opened and they will be contacted soon.

An automatic reminder email is sent 3 days later, prompting the Supervisor to check in with the Warranty Manager.
Step 3: The Warranty Manager changes it from "working" to "closed."
An automatic email is sent to the Supervisor to let him/her know the work has been completed.

An automatic email is sent 3 - 5 days later to the homeowner to complete a satisfaction survey.
Using this setup has some additional benefits for our clients. First, they can run lists to see the volume of open vs working vs closed warranty requests are in queue at any given time. Secondly, they give our clients an open opportunity to develop an ongoing relationship for potential handyman services in the future.
Overall, this system took about two to four hours to set up for us, but if you're just starting out with marketing automation, the time could increase by a few hours.


Customer Log-In Workflow
Home builders typically have a tremendous amount of documentation and questionnaires for new clients, and often times they use a separate online product to manage these. For a few of our home builders, we tweaked how we used marketing automation so it could work as a basic stand-in. Here's the basic structure of the system:
Step 1: The home buyer receives an email with a custom link to the website where they login and choose the community they're building in.
We use form fields here to filter information so the home buyer will only see forms that apply to them.
Step 2: The home buyer fills out the forms online, submits them and then receives an automatic email with community-specific HOA and housing documents to complete as well.
This system is admittedly very simple and probably doesn't apply across the board since the passwords are generic and anyone could fill out the forms. So it's important that only non-critical information is used in this system. Overall, it's an effective way to prompt homebuyers to fill out forms, not to mention it also gives us (the marketing folks) a way to automatically change their lifecycle stage to "customer."


Marketing Ingenuity & Beyond
As the online marketing industry continues to be saturated with more products and services, our ability to streamline that experience for our clients is a high priority. What other ways have you used marketing automation to provide more value for your clients?