We launched the first-ever State of Remodeler Marketing Report and we want to make sure you get the facts on what's happening in the industry and how you can improve your remodeler marketing.
Download the full report to get all the info, takeaways, and insights on where you should be spending your time and money next year. Here are eight stats from the 2019 State of Home Builder Marketing Report that might have you questioning your marketing and sales practices.
Remodeler Marketing Priorities

#1. In 2019, 80% of remodelers said their priority over the next year was to convert leads into customers.
Converting leads to customers is imperative in any business, so it's understandable that it is a priority for most remodelers. If you're seeing a ton of leads come to your website or even stop in to learn more, but not a whole lot signing contracts and becoming customers you may want to consider more follow up, such as a nurture sequence.
This will help keep your brand at the top of consumers' minds as they move through the buying cycle. If you're providing the right type of information, a nurturing sequence should also build a relationship with your prospects and increase your trustworthiness.
#2. The top-rated sales priority for remodelers is increasing the number of sales for their remodeling business.
Another seemingly obvious priority in the sales department is increasing the number of sales for your remodeling business. In order to close more sales in the coming year, you likely need to source more leads or close a higher percentage of your leads. Generating more leads for your remodeling business can be simple, but simple isn't always easy.
Want more help? Check out our blog Website Lead Generation For Remodelers to get started increasing your leads and sales in the future.
#3. 67% of remodelers said their company's top inbound marketing project priority was growing SEO and organic presence.
Another priority to keep in mind this year and in the coming years. SEO and organic presence are more important than ever as consumers continue to flock to the internet with their researching and questions about remodeling.
There are several ways you can boost your SEO and organic presence, but one simple way to get ahead with Google is to optimize your website through user intent. For example, when a user lands on any of your website pages, do they know who you are, what you do, and why the user should continue browsing your site?
Remodeler Marketing Challenges

#4. Traffic, leads, and proving the ROI of marketing efforts all tied for remodelers' top marketing challenge in 2019.
We already talked about generating traffic and leads, but how do you prove the ROI of your marketing efforts? It's a question many remodelers struggle with, but it shouldn't be difficult if you have the right tools. With digital marketing it is especially easy to track the ROI of your marketing dollars because everything is captured in the CRM. A tool that allows you to see and analyze the different touch points a customer has made with your marketing materials in the time that they've become a lead.
After capturing this data, it becomes a matter of looking at the numbers to understand what they mean and tweaking your marketing to perform even better.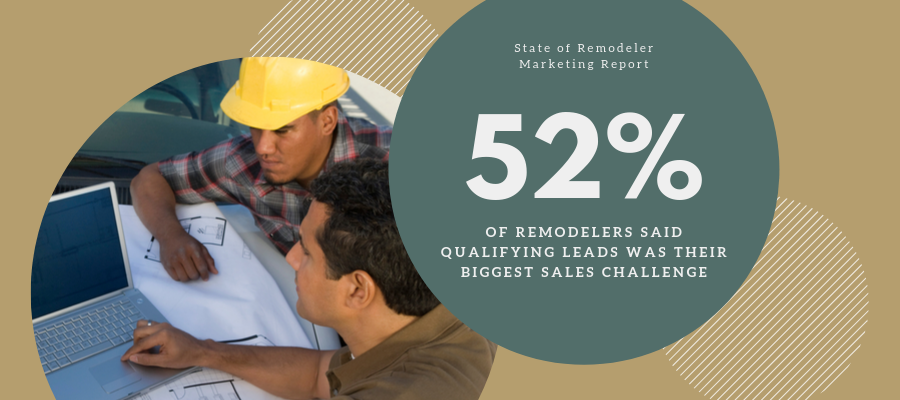 #5. Qualifying incoming leads was the biggest sales challenge for remodelers in 2019.
If your remodeling business also struggles with pre-qualifying leads, think of ways to combat that in the coming year. For example, if you talk to leads and they seem like a great fit until you start talking about price, consider educating consumers on what it costs to work with a high-quality remodeler like your business.
Many remodelers are hesitant to talk about cost because it's so difficult to tell what a remodeling project will cost until they see the space. This is a valid concern, but you would be educating consumers with examples and ranges, not giving them a quote. Talking about cost will help leads self qualify and save you time.
Remodeler Content Marketing
#6. 45% of remodelers have never posted a blog to their company website.
Do you know the age-old saying "content is king"? Well, that may be true in a sense, but now more than ever before, content is a baseline. All businesses are publishing content and if you're not publishing content to your remodeling website, you're missing out on several opportunities. You can use your blog to qualify leads, draw more traffic to your website, build trust with prospects and so much more.
#7. Only 34% of remodelers post to social media several times per week and 9% NEVER post to social media!
Social media may not be your biggest website driver or lead converter, but it's still important for brand awareness, recognition, and customer delight. We understand that social media takes a lot of time and effort, but if it can help keep you on the top of consumers' minds, it may be worth it.
If you truly don't have the time for curating social media posts, check out our Done For You Social Media program, where we compile social media posts specifically for remodelers for Facebook, Instagram, and LinkedIn.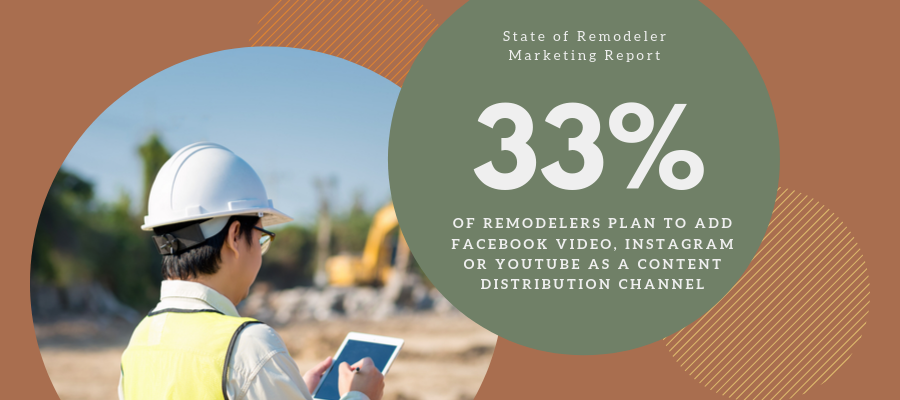 #8. One-third of remodelers plan to add Facebook Video, Instagram, or YouTube as a regular content distribution channel.
Here at Builder Funnel, we see photos and videos consistently outperforming simple text posts on social media and website pages. In the remodeling industry, images and video are paramount as your service is heavily visual and relies on what you can do for your clients. If you're not sharing photos and videos of your work, consider adding this practice to your content marketing in the next year. Professional photos are best, but iPhone photos are also acceptable.


Read the full State of Remodeler Marketing Report and see where you should be spending your time, money, and effort on marketing in the coming year. If you have any questions about the stats or how you can utilize this knowledge to better your business, leave us a comment below.