Some remodelers and contractors try to take the approach of having something for everyone. The problem with this approach is that not everyone is going to be a customer. In fact, some may not even have interest in or be able to afford the services that you provide. So what can you do to make sure you are targeting the right audience with your marketing communications and content plan? Learn how to define your target audience!
Define Who They Are
The first thing to consider when defining your target audience is who they are. Start off by looking at your previous customers and assess their:
Background:

Look at their occupation and length of time in position. Also consider if they have children or pets, if they rent or own their home, and what their spending habits are.

Demographics:

Consider their age, gender, marital status, financial status, location, hobbies, and shopping preferences.

Goals:

Do they want to build a new home or remodel their current home? What kind of budget do they have?

Challenges:

Are they limited by budget? Do they lack experience with the home building or remodeling process? Do they have a busy lifestyle with little time to complete projects?

How can you help?:

Consider how your service can help them to overcome their challenges.
You can use this information to create buyer personas. A buyer persona can help you understand who an individual is, how they live their lives, and if they would have interest in your contracting or remodeling service. Here is an example of a buyer persona: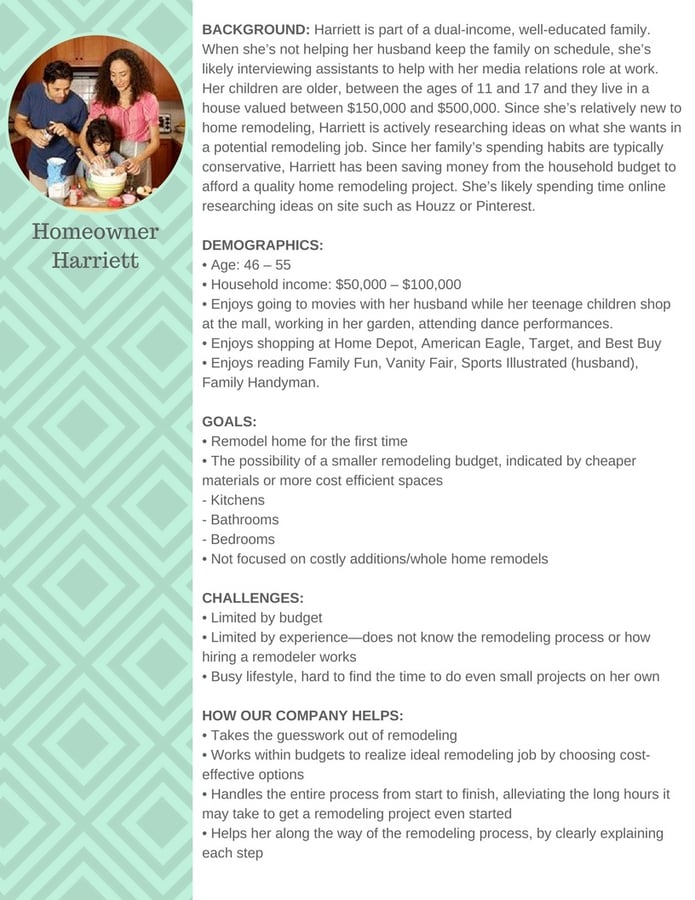 So why are buyer personas important? They tell you which individuals you should target based on their background, lifestyle, and challenges. It is important to understand who your target audience is, so that you don't waste time trying to appeal to someone that may have no interest in your offerings. For example, a single female in her early twenties renting an apartment in Los Angeles, CA and making less than $50,000 annually is not likely to become a customer of a luxury kitchen remodeler. While she has the potential to become a customer one day, she shouldn't be included in the target audience as she doesn't presently own a home and her salary could not support the purchase of an upscale kitchen remodel.
[Related Reading: 8 Ideas for Your Next Home Builder Blog Post]
However, a divorced male in his late fifties that owns a multi-million dollar estate in Malibu, CA and makes more than $750,000 per year would presumably have interest in completing a high-end kitchen remodel. He has the income to purchase an extravagant new kitchen, so a luxury kitchen remodeler would want to include him in their target audience.
What's their Crucial Problem? Or Need?
Next, you will want to consider what would be the most crucial problem or need for your target audience. Consider the key problems or needs that brought your previous customers to your business. Do you notice any similarities? If so, create a marketing strategy focused on informing your potential customers how your service would fulfill that problem or need. By understanding what attracted your previous customers to your business, you will be able to recognize how to motivate new customers.
Where Do They Get Their Information?
Do they get their information from the newspaper or social media? Do they rely on the reviews posted on particular review sites prior to making a purchase? Are they listening to podcasts or watching certain television shows? Do they spend time on specific blogs every day? It is important to consider where your target audience gets their information so that you can choose the right channels to deploy your messaging. If your target audience spends more time on Instagram than reading the local newspaper, you will want to use Instagram as your channel to reach your target audience.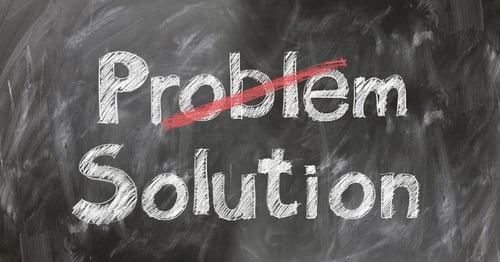 How Does Your Service Solve Their Problem?
It is important to focus on telling your potential customers how your service can help to solve their problem instead of just informing them of its features. Consider what benefits would speak directly to your target audience and highlight them in your messaging.
For example, consider a business that offers home remodeling services. They would want to focus their messaging around solving the issue of finding a licensed and reliable home remodeler. This kind of message is effective because it speaks directly to the problem that your target audience is facing.
What Makes Them Skeptical?
If you are putting out messaging or advertisements that are filled with outlandish claims, people are going to have reservations about your service. For example, if you are a remodeler and you publish messaging with ridiculous claims like "We can remodel and create your dream home in less than a month", people are going to become skeptical of your services. While remodeling an entire home in less than a month sounds incredible, it is not likely as some permits can take weeks and even months to be issued. re
Who Do They Look to For Advice?
Consider who your previous and potential customers trust or look to for advice. Is it is a specific expert, a celebrity, or a brand? Maybe it is a magazine or lifestyle blog that they follow religiously? In any event, it is important to examine who or what your target audience trusts as a reliable source. For example, if you are a home remodeler in Texas and your target audience looks to Joanna Gaines from HGTV's Fixer Upper for their design ideas, you will want to learn about her home designs. This will give you a better understanding of how to connect with your target audience.
Although defining your target audience may take some effort, it is one of the best things that you can do to ensure that you are targeting the right audience. Don't waste time trying to appeal to an audience that may have a lack of interest in your services. Have questions or comments about defining your target audience? Comment below!