Social media is an essential form of marketing today. In fact, people often discover businesses through Instagram, and most users follow at least one company. To help some of those users discover and follow your contracting remodeling, or home building company you'll need to create consistent and engaging content.
With 1.074 billion users on Instagram who spend an average of 53 minutes per day according to Oberlo, you have the potential to engage with copious amounts of people to garner new leads for your contracting, remodeling, or home building business. Over 70% of businesses in the United States are on Instagram, so you need to make sure your company's posts stand out!
We know that coming up with creative Instagram post ideas to connect with your audience can be challenging, so we're here to help! Here are 7 Instagram post ideas for your contracting, remodeling, or home building business. If you're also looking for Facebook post ideas, head to this blog!
1. Post Project Features
Have you built a new home, completed a renovation, or executed a general construction project that you are exceptionally proud of? Find some beautiful or unique features from some of those projects and share photos of them. Give your followers a little blurb about the project or those unique features.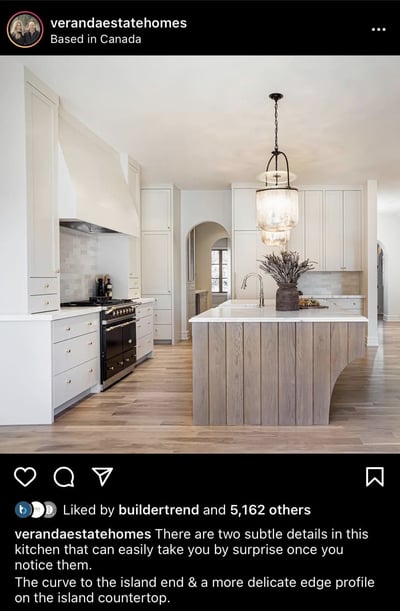 2. Post Video Tours of Your Projects
On average, videos perform better than photos do on Instagram. If you can get a good video to show off your projects, it can be great content for your Instagram profile. Videos will let your followers get a better and more immersive view of your full project. While these videos will be on your grid like other posts, it also offers a unique opportunity to populate your Instagram Reels and IGTV.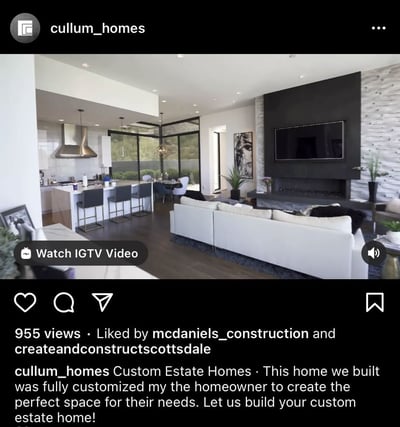 3. Post "Before & After" Photos
Seeing the final results of a project is always great, but seeing before and after of the transformation is even more impactful. Before and after photos are most effective when you can compare images of the blank slate to the final product. This type of post might be more applicable to remodelers, but contractors and home builders can use an adaption of a before and after post as well if you take pictures throughout different stages of the process.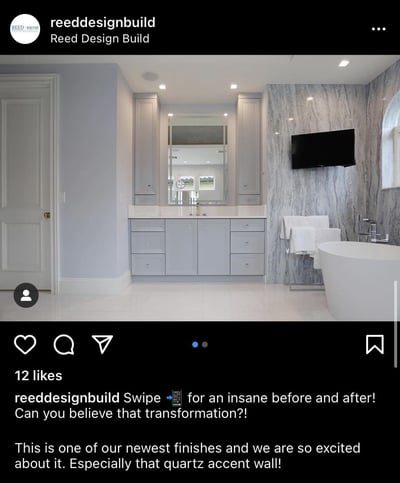 4.Post Giveaways
A great way to engage with your followers on Instagram is by offering a giveaway. You can make the giveaway as big or small as your contracting, remodeling, or home building business can afford. Ask people to follow your account, like your post, and tag a few friends in the comments for an entry like the example below. Posts like this can earn your company some extra followers and engagement.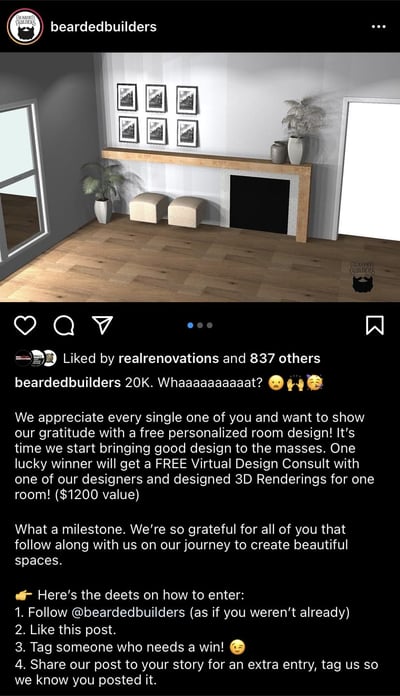 5. Post Client Testimonials
Do you have past customers who left amazing reviews? Share those great reviews on your Instagram! You can make a simple graphic with a quote of the review like the post below, or you can take it a step further and film a short video of your clients saying it themselves. To get some extra content to pull from for these types of posts, encourage all of your clients to give you reviews after your projects!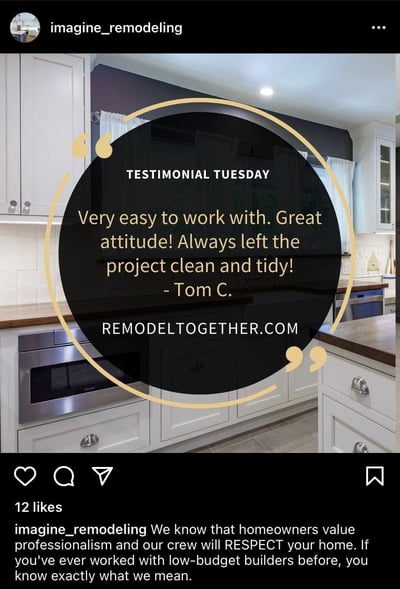 6. Post House #Goals
Whether you're a contractor, remodeler, or home builder - I'm sure that you have some completed projects that you're proud of! Share photos or videos of your favorite projects that you think are #kitchengoals, for example, like the photo below.
7. Post About Your Team
Sharing highlights about your team and company is a nice way to keep your Instagram personable. Tell us how the company started, or give shoutouts to your team on their work anniversaries. These types of posts are also let your followers and potential leads get to know and trust you.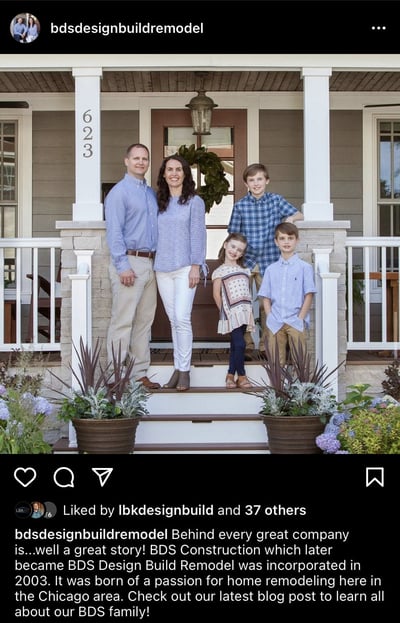 Final Thoughts
Now that we've given you a few ideas, we hope that you can utilize them to connect with new leads on Instagram. Make sure to keep your posts clean and consistent to please the eye of your followers. If you want to browse some great profiles of home builders on Instagram, check out our list here! Let us know what you think of these post ideas and how they work for you! Feel free to comment and share any of your own ideas too!