What are the new trends in home builder marketing? In order to best know how to market a construction company, it's good to know what the other guys are doing.
To answer all your questions on the subject, the new State of Home Builder Marketing Report for 2020 is now live!
We thought we'd list some of the most interesting stats to help you evaluate your own marketing and sales goals and methods for 2020 and beyond.
Download the full report to read all of the unlisted stats and answers and get the full low-down on the current state of marketing and sales in the home building industry.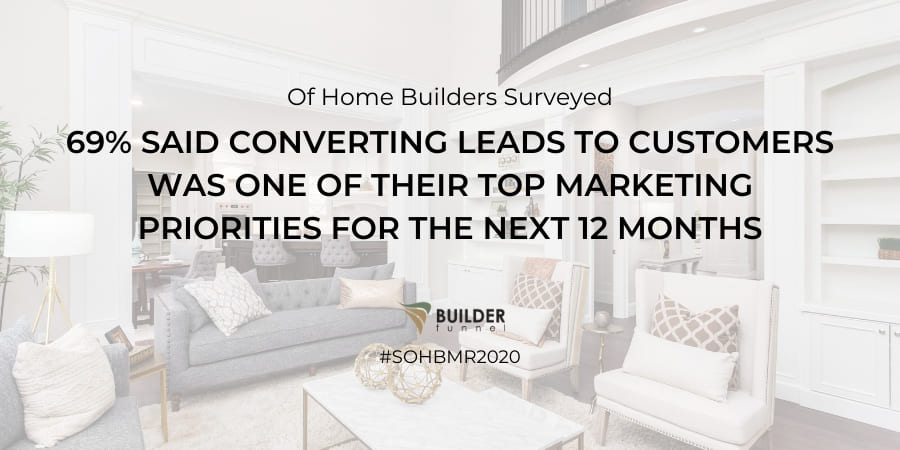 Home Builder Marketing Priorities & Challenges
1. 69% of home builders said converting leads to customers was one of their top marketing priorities for the next 12 months. 50% of those surveyed also said growing traffic to their website was a top priority.
2. 43% said generating traffic and leads was their top marketing challenge. Another 43% also said proving ROI on marketing activities was their biggest challenge
3. 71% of home builders felt their organization's marketing strategy was effective — 29% said not so much.
4. When asked what their primary approach to marketing was, 19% of home builders surveyed said they did not know. Half, on the other hand, said inbound marketing.
5. The perception people say is the biggest impediment to adopting inbound marketing is that it's too difficult to measure, according to 26% of those surveyed.
6. 18% of home builders said they will spend more than $1 million on marketing over the next 12 months. But 21% said they'd spend less than $25,000.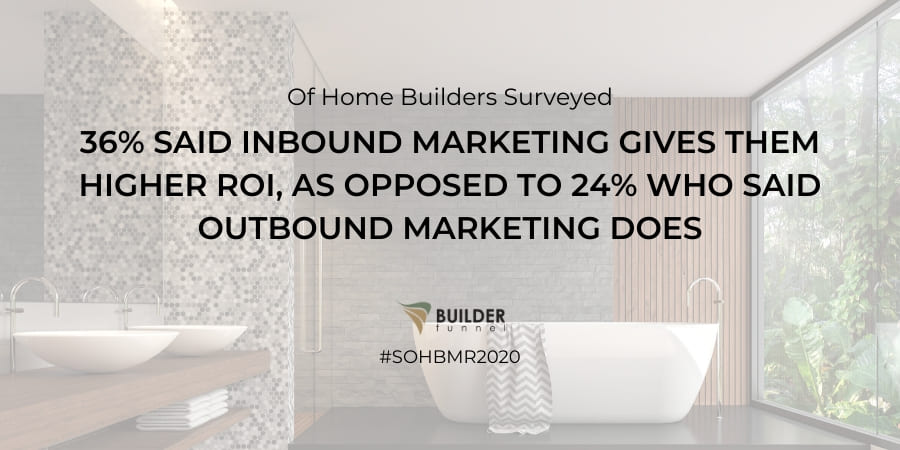 Home Builder ROI & Analytics
7. Between inbound marketing and outbound marketing, 36% of those surveyed said inbound marketing gives them higher ROI, as opposed to 24% who said outbound marketing does.
8. 43% say they check their analytics weekly, but 21% say they only check once per month.
9. A whole 7% of those surveyed said their website does not generate any leads.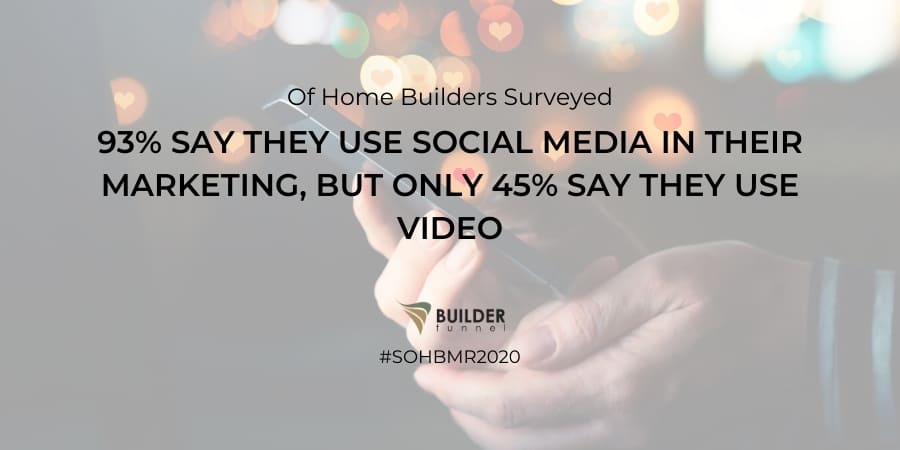 Home Builder Content & Strategy
10. 93% say they use social media in their marketing, but only 45% say they use video.
11. More than half of those surveyed said using online tools and creating interactive content was a top priority for the next 12 months. On the cutting edge, 9% said podcasts.
12. The largest answer group, at 42%, said they post to social media several times per week.
13. One third of those surveyed said they post blogs 3–4 times per month.
14. 61% of those surveyed said they would use Youtube in their marketing in the next 12 months. Over half said they would use Instagram.
15. 30% of those surveyed said they thought paid advertising was the most overrated marketing tactic.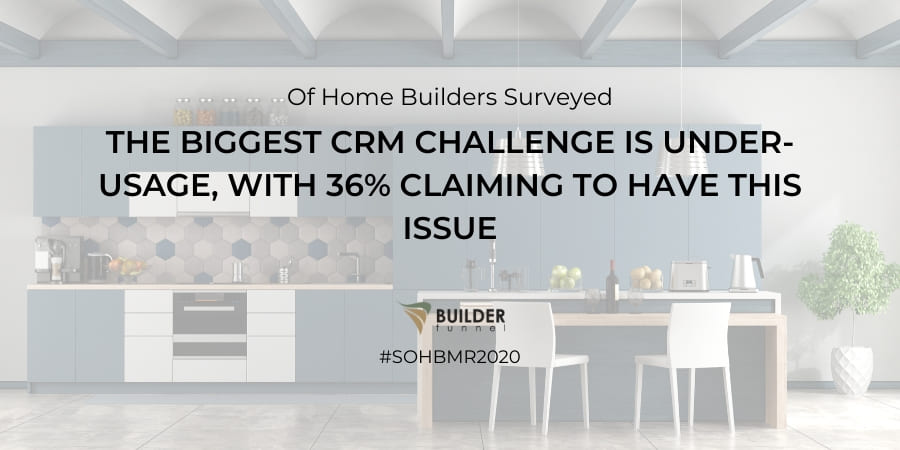 Home Builder Sales & CRMs
16. 39% of those surveyed said inbound practices provided the highest quality leads for their sales team.
17. 48% of home builders said their top sales priority for the year was increasing the number of sales.
18. 42% of those surveyed said closing leads was their biggest sales challenge.
19. 12% of those surveyed said they do not use a CRM system at their company.
20. The biggest CRM challenge those surveyed have is under-usage, with 36% claiming to have this issue.
Summary
We hope each of these bites of information will get you thinking about new marketing and sales ideas for your home building business.
For more stats, key takeaways, and our advice on what and where home builders should be spending their time, money and efforts, download the full 2020 State of Home Builder Marketing Report.