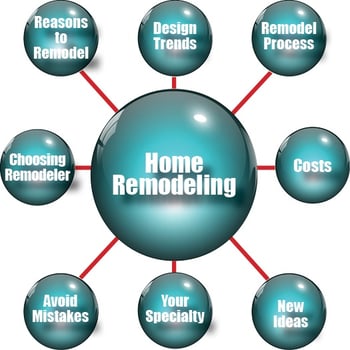 There has been a lot of talk about search engine optimization (SEO) and content marketing for years. Some marketers have tried valiantly to unravel Google's algorithm so that they can rank higher in organic searches. Others have tried to crank out increasing amounts of content on websites in an effort to get noticed.
For a lot of home remodelers (and other professionals!), it's been a bit confusing. Part of the reason is that the algorithm Google uses to rank content is constantly evolving. It's actually becoming more intuitive. Trying to "game" Google's system is pretty much an exercise in futility.
There really is a simpler way for remodelers to think about content and SEO, so that they can create the kind of content on their websites that gets noticed and read—and generates more qualified leads! It involves creating more content that people actually want. What a concept! Here's a look at how it works.
It really comes down to thinking in terms of what you could call "topic clusters." The illustration you see here gives you a pretty good clue as to what this is all about. If the main focus of your website is "Home Remodeling" what you really want to do is identify all the different kinds of topics your potential clients will want to know about.
Here's why it makes sense. Most homeowners have questions about remodeling and they go to the Internet to find answers. But not everybody starts at the same point. People have different needs. There are, however, general topics that most of them want to explore before they are ready to sign a contract with a remodeler. If you want to engage with this group, you need to be talking about the kinds of things that interest or concern them. Then you can create content (web pages, video, blogs, eBooks, etc.) around those topics. Here are some examples.
Reasons to Remodel
Sometimes people want to remodel, but feel like they need a reason or a justification for spending the money. You could do a series of blogs that talk about things such as the need for space, safety issues, more convenience, or changes in lifestyle. All of those are legitimate reasons to remodel. And because people are different you can hit on different topics at different times.
Process of Remodeling
People know that remodeling isn't an overnight process, but many don't understand the whole process. By explaining it, you can help walk them through the process. This can eliminate confusion over timing and even pricing when it's time for a contract. And it helps set expectations for how things will be during remodeling.
Choosing Remodeler
For homeowners who have never remodeled before, this is a huge deal. Many people are clueless as to how to evaluate remodelers. Talking about it can take some of the fear out of the process. Plus, if you're truly helpful in providing this information, there's a good chance you'll make the "short list" when it's time to choose.
Costs of Remodeling
A lot of remodelers get nervous when someone suggests talking about costs up front. They are afraid that prospects might get scared away, or that someone will try to hold them to price mentioned online that doesn't match the scope of the job they are actually doing. You don't need to publish a price list. But it's helpful for prospects to have a range of costs. It helps weed out the people who want a full kitchen remodel for $5,000. You don't want to spend time pursuing those people anyway.
Avoiding Common Mistakes
Homeowners have heard plenty of remodeling horror stories. If they can find information that keeps them from making the same mistakes that other homeowners have made, they love it. Plus, it makes them feel good about themselves for having dodged a potential bullet.
Ideas for Remodeling
Homeowners are always on the lookout for new ideas for making their homes more comfortable and livable. When I saw "new" it doesn't have to be cutting edge. It can be something they never thought of before. Or it can be a new way to solve an old problem. Sometimes homeowners just need someone to give them an idea to get the ball rolling.
Your Specialty
If your remodeling company has a specialty—something you do especially well, or something that nobody else in your area does—you'll want to make sure you talk about that. Having a unique sales proposition is the best way to stand out from the competition. Maybe your specialty is master bathrooms. Perhaps you're particularly good at additions or at creating new space in older, smaller homes. Talk about that on your website and in your blog. It may be just what potential clients are looking for.
This isn't an all-inclusive list. These are all great topics, but this isn't an all-inclusive list. Figure out what prospects in your area want to know about and then provide them with helpful information about those things. That is what will draw prospects to your website and to your business.