You may have seen 'Live Chat' while browsing the web before. Usually, a friendly looking face pops up in the corner and says "Hi! How May I Help You?" or something to that effect. Live chat allows you to reach customers at their peak interest and offers a friendly voice to answer any questions they may have - and point them in the right direction.
Much like a greeter in a brick and mortar store, live chat can help your business stand out as personable in the age of information overload. This is what live chat looks like on our website: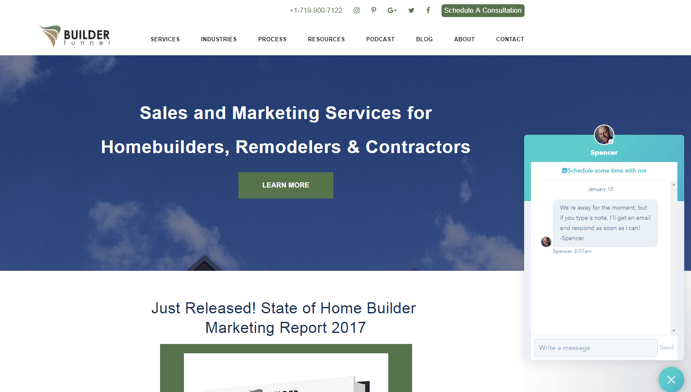 Although live chat has proven itself to increase conversion for some businesses, it's important to ask if live chat is right for your business.
Ask yourself a few questions:
Does my style of business lend itself to live chat?

Would I use a live chat if it was presented to me?

Do I ignore the message pop up and keep browsing?

Or do I stop and ask my question?

Do other remodeling businesses (my competitors) use live chat?
Since there several things to consider. We weigh the pros and cons of live chat below.
The Pros
Tap Into The Buyer's Journey
By intercepting a potential customer at various stages of their journey, you can gain valuable insight into their thought process. Are they new to your site? Are they just browsing? Comparing apples to apples? Direct them to an eBook or another top of funnel piece of content. Are they considering your service? Can you answer any important questions they may have? As a remodeling business, live chat is one more way to provide the information they need to make that decision.
It's Convenient
According to an article last year by INC., 42% of consumers say that they prefer live chat functions because they don't have to wait on hold. For those who prefer electronic communication in the early stages of the buyer's journey, live chat is an invaluable resource.
Extra Competitive Edge
Live chat is one more way to connect with your customers faster, which may give you an edge over your competitors. For those with service-based businesses, ie: custom homebuilding, design-build remodeling, etc., live chat provides another opportunity to showcase the personality of your business, which may boost your company over your competitor's. Since there is no tangible product to sell, you must rely on the personality of your team and the quality of your work. An introduction via live chat is certainly a way to make the intangible, tangible.
The Con's
It's a Time Commitment
If you are going to employ a live-chat feature on your website, someone needs to be in the office and available to answer questions. Most services have the ability to adjust available hours accordingly, but it is important to understand the time commitment needed to field potential chat requests. If you are a small company or lack a dedicated customer service representative/office manager, you may rethink live chat. If you are constantly away on job sites, this may not be a good sales tool. As a side note, you can always turn the live chat off when no one is available. If you're always away, this may send the wrong signal.
Alienating the less Tech-Savvy
Consider your target audience. Are the majority of your potential customer's tech-savvy? Do they understand the inherent reasons why they would communicate via chat and not over the phone? It's important not to alienate your target audience. If they don't understand the mechanism behind live chat, they might be dissuaded from doing business.
Mobile Reach
Take a moment to think about how much of your audience reaches your site on a mobile device or a tablet. Can you ensure that the live chat feature works across each platform? If it does work on mobile or tablet devices, is it integrated fully into your site or does it impede the site entirely? Think through the expectations of your users.
Did You Know: Average smartphone conversion rates are up 64% compared to the average desktop conversion rates. (CMS Report)
Ultimately, a live chat feature done correctly, will allow you to reach more customers in the most important stages of their buyer's journey, providing them with the answers they need to make a fully informed decision. But, it will depend on your business model, your staffing capabilities, and your willingness to embrace such a medium.
Do you use chat in your remodeling business? If so, how is it working? Let us know in the comments!