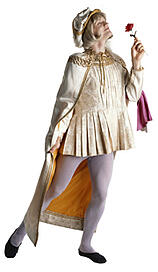 There's an old marketing adage that says: "People don't buy from businesses. They buy from people." It's just as true today as it ever was—particularly if you're talking about marketing to someone who is looking to build or remodel a home. But what does that mean in today's marketplace, when customers are "meeting" you online instead of face-to-face?
Developing your persona doesn't mean pretending to be something you're not. Your online presence (whether it's your website, a blog, or a landing page with a special offer) should reflect your company's personality. And this personality should be reflected in your offline marketing efforts as well.
Take a look at your website. Is it all about your plans and pricing and materials? Or is there some personality there? This doesn't mean your site should be all about you—it shouldn't. It should be about your customers and the questions they have about building a new home or remodeling their home. But the information you provide should sound like it's coming from somebody—not from an encyclopedia.
Does the look and feel of your website (and this includes your visuals as well as your copy) fit your audience? If you build high-end custom homes, your online presence—or persona—should reflect that. If you specialize in helping people remodel on a tight budget, the look and feel of your communications should reflect that.
One of the best ways to develop and convey your company persona is through a blog. A blog, by definition, is not a sales pitch. It's a conversation about a topic and it invites engagement. It's a chance for you to share helpful information (about which you are an expert) with potential customers and invite their response. It's a great way to let your personality shine through. And while you want to make sure the home building or remodeling information you share is accurate and helpful, you can do that in a more personal and casual way.
A blog—if properly done—can help you build trust. If you're careful to share helpful, accurate information (without slipping in a sales pitch), you can win the trust of home buyers and remodeling clients. Remember, people prefer to do business with people (and businesses) they trust.
What's your online persona? What sites have you been to that have earned your trust?