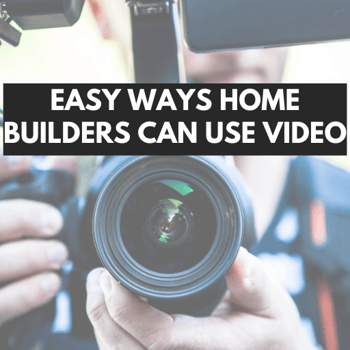 Video marketing is on the rise. In fact, the algorithm of most social media networks prefers video to still images.
We've talked before about the vital role that using video can play in appealing to prospective homeowners and generating new leads. Videos can be extremely effective in a number of different ways on your website and through social media.
Here are three easy ways you can start using video to market your construction business:
1. Photo Montages
If you have great photography already, you can maximize the impact of those great shots by using them in multiple ways. Show viewers a wide range of homes (and rooms within the homes) that you've worked on by compiling them into a video. One way to do that is with services such as Animoto, that enable you to use the great photos you already have to create "video" that grabs viewers' attention and shows off a wide range of your capabilities in a very short amount of time.
Click here to see how one builder used multiple images of different homes they'd built or remodeled to give prospects a feel for their design capabilities, their quality, and the breadth of their style capabilities.
2. Create a Video Slideshow from a Blog
If you've been writing blog posts, chances are you have a ton of valuable content hidden within your blogs. Re-communicate the message from your blogs by compiling important information into short video slideshows. This is a great way to drive traffic to your website and blog while capitalizing on the power of video marketing.
3. Repurpose Existing Video Content
Old content can be repurposed to create eye-catching video mashups, showcase old projects, before & afters, and more. Short video snippets can be combined to create long-form videos that are optimized for Facebook and YouTube. And Long video can be cut to short, one-minute clips that are optimized for Instagram.
The point is, you don't have to be Martin Scorsese in order to use video effectively on your home building website. In fact, chances are you already have existing content that can be used in multiple ways to maximize impact and make video part of your marketing strategy. If you're ready to take your video marketing to the next level, read our blog 5 Ways to Use Video in Your Home Builder Marketing Efforts.