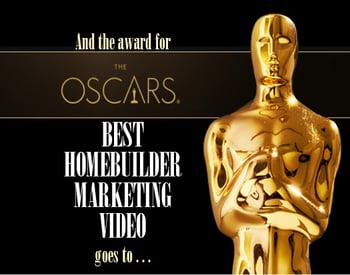 The last time we checked there isn't actually a category for "Best Home Builder Marketing Video" at the Academy Awards. But if you're not using video to promote your home building business, you may be missing out on some great opportunities.
Videos can be extremely effective in a number of different ways on your website. Some are fairly obvious (and you've probably seen them quite a bit). Others may be areas you hadn't considered before. Here are five ways you can tap into the power of video to engage prospects effectively.
Video Tours
This may be the most common use of video on home builder websites, and it's easy to see why. Some prospects have a hard time envisioning what the finished product will look like when they're just looking at floor plans. While great still photography is essential, a video tour allows viewers to move from room to room. They get a better feel for the layout and flow of a house and will be better able to gauge if it's a good fit for them. And not to be manipulative, but feelings are important. Deciding on a new home is an emotional as well as a logical decision.
Photo Montages with Music
If you already have great still photos, you may want to assemble them into a photo montage that's accompanied by music. It's similar to a video but can often be done with less expense. It's also an effective tool if you want to show a neighborhood or multiple homes. One hint is to keep the level of the music down so that you don't irritate viewers.
Testimonials
In the home building business we live by referrals and testimonials. If you have delighted clients who come across well on camera, a casual interview about why they chose you and what the experience was like can be very powerful. Script your interview ahead of time so that your clients know what you're going to ask them. That gives them a chance to think about their answers ahead of time.
Staff Interviews
Often builders will have a "Meet the Team" section on their website. While your carpenters and framers may not want to sit down for a video session, your front office staff (the people your clients will be in touch with anyway) can use an opportunity to set a warm and welcoming tone. It's always good to be able to put a name with a face—and a personality. It can make your staff feel more approachable.
Answering Common Questions
Individuals considering building a house have lots of questions. You can set yourself up as a trusted expert and address some of the most common questions "face-to-face." You'll want to keep it short, but you'd be amazed how much helpful information you can pass on in just 2 or 3 minutes. You can also use these videos to address common customer objections in a relaxed, conversational way.

One final note: In order to be effective, videos need to be done well. That doesn't mean you have to have an award-winning presentation, but keep these things in mind: Make sure the images are good (good lighting, clear focus, and showing the important details). Keep the videos short (2-3 minutes should be enough). You don't want to rush (take your time going through a home), but don't wear out your welcome. Always include some kind of call to action at the end—whether it's to call, schedule a visit, or to request additional information.