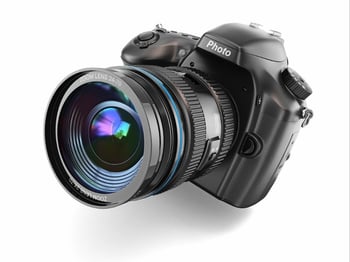 Whether it's your home builder website, blog or printed marketing materials, there's no denying that you need great marketing photos. The great news is that lately, it's easier than ever to take pictures anywhere, thanks to smartphones and tablets with high resolution lenses.
The bad news is that in most cases, even with those devices, if you do get any pictures from work sites, they're grainy, out of focus, and not suitable for marketing purposes.
Here's how you can make sure you get the snaps you need, without having to hire a professional:
Taking Better Pictures
Whether you're sending your in-house photographer out with a smartphone or a digital camera, there are several ways you can improve their shots quickly and easily:
Encourage close-ups. When you take a picture close up, there can be no doubt about the focus, but large, panoramic or scenic shots can be tough to figure out, particularly on a chaotic work site.
Avoid the built in zoom. In most cases, the digital zoom settings on your phone or camera will only degrade the image quality. Take them full size, and then use desktop software to crop and zoom where necessary.
Avoid preset filters and effects. Again, it's better to just take the shots, and then edit them on a desktop program than it is to apply mass market finishes to your pictures.
Invest in a portable tripod. One of the main reasons that amateur pictures are ruined is an unsteady hand. A small tripod that you can set up anywhere will eliminate that problem.
Avoid flash. Take pictures on days when natural light is enough to give you what you need. Most built in flashes are yellow or orange, and they can ruin the look and feel of your pictures.
Clean your lens. Invest in a little bottle of lens cleaner, and use a soft cloth to clean off the lens on your camera or phone.
These may sound like very basic tips, but usually, if you stick to the basics, you get better results.
Finding Time to Take Pictures
One of the other big problems our homebuilder marketing clients complain about is that they can't find the time to take pictures, and that entire projects go by without any progress photographs being taken.
Your project management meetings can help. On most builds, you will have meetings on site every week or at least every two weeks. Designate that the time to take photos of your progress, and you will be assured that you get regular pictures of the process.
Sharing Pictures with Marketing
Finally, there's the issue of making sure that marketing pictures make it onto your blog or your printed marketing materials. The best way to do that is to set up a shared folder, either on your network if you tackle some of your marketing in-house, or better still on a service like Dropbox where you can provide access to third party marketers. The easier it is for everyone to access, edit and use the pictures you take, the more visually diverse and successful your marketing materials will be.