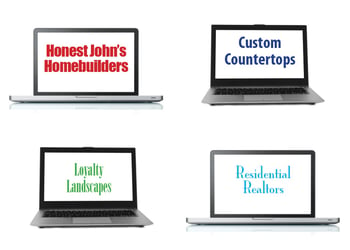 Depending on where you live, construction may slow down a bit during the winter months. But If you want to be busy building homes in the spring, you've got to keep your marketing efforts going strong now.
And when it comes to marketing, many home builders overlook a built-in opportunity to extend their reach. One way to do that is to collaborate with your vendors and partners. How does that work?
Potential home buyers have lots of questions about the home building process. Not all of them have to do with construction. They are looking for information about countertops, landscaping, design, finance, etc. If you have trusted partners and vendors, work with them to link your website to theirs. How does that help you?
Your potential client may not start his or her search on your site (they may not even know about you, yet). Maybe they are looking at plans or designs. If you have a designer or architect you work well with, talk about getting an article on their blog that links potential home buyers back to you. The same thing can work with a vendor who supplies cabinets or flooring. Offer to provide content for them on their site—and reciprocate by allowing them to contribute something to your content. That way you approach potential clients from multiple angles.
It also helps to enhance your credibility. If someone sees countertops or cabinets that they really like and then see your company mentioned as a builder, it's a believable endorsement.
It's important to remember that your prospects are looking for more than just a house. They're looking for expertise and ideas. Help them find the information they're looking for in other areas of the process. They'll remember that help when it's time to actually talk about a contract for a new home.
If you work with vendors and suppliers that you trust, promoting what they do can actually end up helping you. Don't be afraid to share—as long as you know you 're dealing with trusted partners.