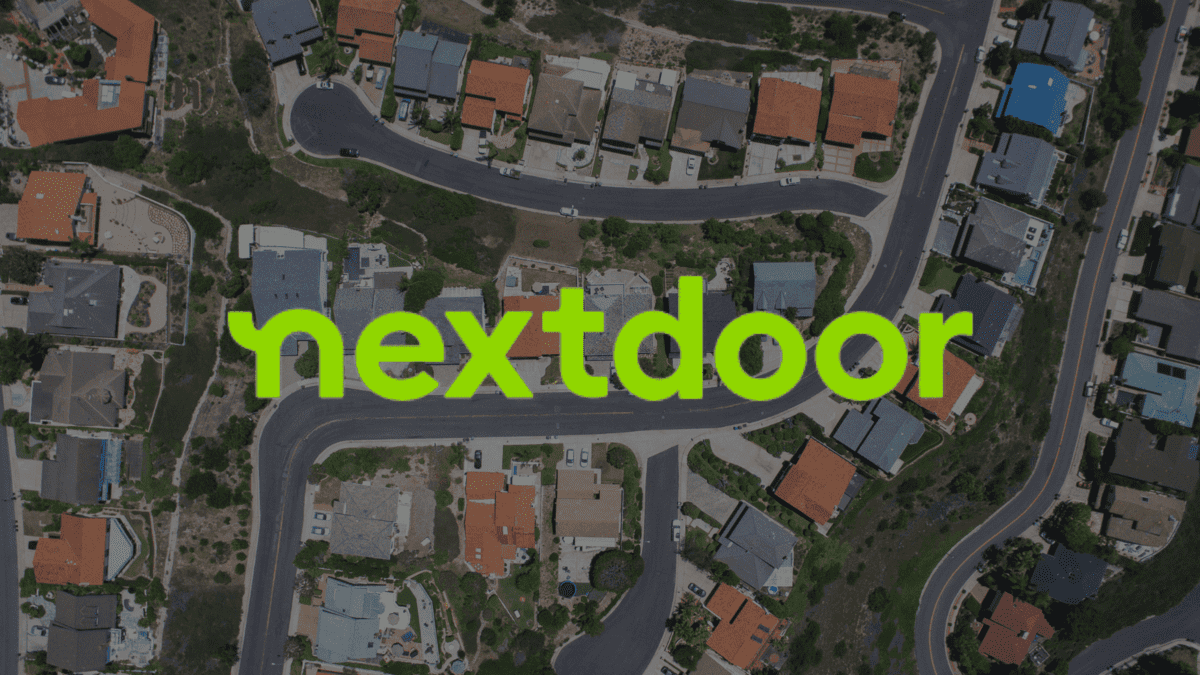 Do you have a business profile on Nextdoor for your contracting, remodeling, or home building business? Nextdoor is a great way for local businesses to connect with people in their neighborhoods to promote their services and offer deals. Should your business be on Nextdoor? What is the best way to market your company on Nextdoor? In this blog, you'll find everything that you need to know about having your contracting, remodeling, or home building business on Nextdoor.

What Is Nexdoor?
Nextdoor is a social network for people within local neighborhoods to connect and exchange information about the community. Users can offer advice about local businesses, share news, or just become friends with other users who live nearby. Additionally, businesses, nonprofits, and public agencies in your neighborhood can use the app to engage with their communities and participate in relevant discussions on the platform. Nextdoor is currently available in 11 countries including the United States and Canada. Ultimately, the goal of the platform is to make the world a kinder place by providing this platform as a space for neighbors to help each other out.

Nextdoor for Contractors
Nextdoor is a great place for contractors to gain awareness within their community. You can spread awareness of your contracting business simply by engaging with your community on the platform. Posting and commenting on posts in your Nextdoor community will show that you are engaged in the neighborhood. While you should make posts to promote your business and services, you'll also want to make sure to engage with users who post about your company or services. Remember, Nextdoor is all about helping your neighbors!

Nextdoor for Remodelers
If you're willing to invest time into Nextdoor as a remodeler, it will be a great way to develop a relationship with your community. As you contribute more in Nextdoor neighborhood discussions and the community gets more familiar with you, other users on the platform will be able to tell that you care about the community as a whole, not just about making money. This should make your company top of mind when people are thinking about hiring someone for their next remodeling project. Additionally, previous clients might have an increased likelihood of hiring you again because of your involvement with the community on Nextdoor.

Nextdoor for Home Builders
As a home builder, you can utilize Nextdoor by connecting with the communities that you like to build in. If you have a good reputation as a company that likes to engage with that community, it could encourage residents of that neighborhood to refer your company to their friends and family who might be looking to move to a custom home in that area too! Being involved with your community's Nextdoor page will be another selling point that you can talk about when you are meeting with potential clients to convince them that it is a great community that you're proud to be a part of.

Creating a Business Profile on Nextdoor
Creating a business profile on Nextdoor is completely free! You can only create a profile if you are the owner, employee, or authorized business representative for your company. Here are the steps you should follow to create your profile:
You will need to log in or sign up for a personal account which you can do here. If you plan on sharing the login information for the business account with other employees, then make sure to create a profile that is separate from your personal profile.
Once you are logged in, search for your business by typing in the company name and address. If your business does not show up in the results, you will have the option to add your business to the platform.
Add in your company contact information.
Select the category that best describes your company's services.
Create or claim the page, and you're all set! Then it's time to optimize your Nextdoor profile.

Nextdoor Business Profile Tips
Once you claim or create your business profile on Nextdoor, there are a few things that you can do right away to set yourself up for success on the platform.
Add your logo. Try to use a square image of your logo!
Upload a relevant cover image that is no larger than 10MB.
Insert a blurb in the story section. This should tell users a little bit about your company.
Upload recent and relevant photos to have a photo gallery of work for users to browse.
Here are some other tips for managing your Nextdoor business profile for your contracting, remodeling, or home building business:
Encourage your past clients to give your company recommendations on the page. Nextdoor recommendations are a way for clients to leave positive reviews and encourage other users to consider your business. Make sure to reply to these recommendations to show further engagement.
Plan consistent posts for your page. We recommend posting at least twice a month, if not on a weekly basis. Use these posts to share more about your company, community engagement, and services.
Keep an eye out for posts that mention your company or services like yours, and engage with any relevant posts.
Consider becoming a Neighborhood Sponsor for your community to spread more awareness for your company.
There are certain things that you are not allowed to do on your business profile. For instance, you are unable to join groups or contribute to trending topics in the neighborhood. We recommend using your personal profile to do those things. Using your personal profile to join relevant Nextdoor groups or contribute to popular topics will help you earn a friendly reputation that can reflect positively upon your company too!
Be careful when spreading the word about your company on your personal profile though! Promoting your business from your personal profile on Nextdoor is prohibited.

Nextdoor Business Posts
Posting on your Nextdoor business profile is essential if you want to see results from using the platform. To create a post, you just have to click the plus sign next to "Create Post or Local Deal." Then, merely enter the text for the post you want to create and add a title to describe it. You can share posts about your services, your team, company history, community involvement, recent projects, or anything else that you want your community to know about! To maximize engagement, try to use photos for most of your posts and find ways to make the content personable.

Nextdoor Neighborhood Sponsorship
Becoming a Neighborhood Sponsor on Nextdoor comes with many benefits! This is ultimately an advertising program for businesses. For a monthly fee, you can get advertisements placed on the platform for people within a chosen area. Your advertisements are customizable but will automatically populate on the platform for users. You will also be able to ensure that your posts get in front of people in the chosen ZIP code(s) that you target, and other users will be able to message you directly with questions if you are a Neighborhood Sponsor. The fee for being a Neighborhood Sponsor varies based upon location.

Nextdoor Advertising
Nextdoor is perfect for advertising your local contracting, remodeling, or home building business. Nextdoor allows you to promote local deals and events to users who are within 30 miles of your business. If your market expands further than 30 miles from your business, you can advertise on Nextdoor as a brand instead of creating a local business profile (we recommend trying to stick to a local business profile).
Once you have your local business profile you can basically advertise your business for free by posting consistently about your company. If you would like to pay a little bit to advertise your company on Nextdoor, you can use Local Deals. The cost for posting Local Deals varies based upon location, but the average cost is $75 for a Local Deal with the lowest price being $3.

Marketing on Nextdoor
Marketing your local contracting, remodeling, or home building company on Nextdoor is similar to how you market your business on other social media platforms. The main aspect of marketing on Nextdoor is making posts from your company page and sharing any upcoming events that you might have. There are some things that make marketing on Nextdoor unique, such as:
As a local business on Nextdoor, your post will be published in front of everyone within your community, rather than only in front of your followers. In other words, you are automatically connected with people in your neighborhood!
You should make marketing posts on Nextdoor on a bi-weekly basis. Nextdoor analyzed performance data from business posts and concluded that posting every two weeks receives good engagement. We recommend this as a minimum!
The goal of the platform is to create a friendly community and to make the world a kinder place. Keep this in mind and use this goal to motivate the types of posts that you create. Try to make your business seem like a friendly neighbor!

Local Deals on Nextdoor
You can create Local Deals on Nextdoor using the same plus sign that you click on to create a post, then follow these steps:
Click on "Offer Local Deal"
Select the type of deal that you want to run. The options are percent off, fixed discount, buy one get one free, or custom deal. For contracting, remodeling, and home building, a custom deal will probably be the best option.
Give your Local Deal a relevant and intriguing title.
Enter a description of your Local Deal. This description can include what your business does, extra details about the deal, and how customers can redeem the deal.
Choose a plan for your deal. You can either pay for a subscription that will automatically renew your deal every month, or you can pay a one-time fee to have the Local Deal advertised for a chosen period of time between a week and a month.
Add a photo to your Local Deal. Make sure to choose a photo that is related to your business or the deal. You can even create a quick design on Canva to use instead of a photo.
Choose your target neighborhood(s) for your Local Deal.
Complete your order, submit your post, and you're all set!
After your Local Deal is up and running, you can review the performance of the post in your insights on Nextdoor. This will show you the views, clicks, and saves that your Local Deal receives.

Final Thoughts on Nextdoor
So, should contractors, remodelers, and home builders be on Nextdoor? We think you should as long as you are willing to invest time into the platform and show how your business is a friendly neighbor. If you can use Nextdoor to highlight ways that your company and team are giving back and making the community a better place, marketing your business on Nextdoor could be really beneficial!