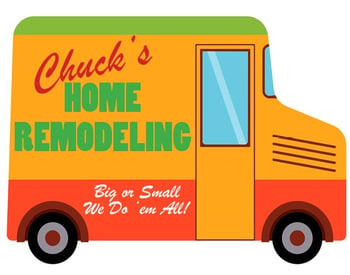 We interact with reputable remodelers day-in and day-out. One of the most common questions these remodelers ask is: "How do we distinguish ourselves from our competitors?"
Sometimes that question gets a bit more specific, when professional remodelers are faced with competitors who don't have the same overhead (and also don't have the same skill set, experience, resources, and knowledge). In short, we sometimes hear remodelers ask: "How do I compete with 'Chuck-in-a-Truck"—the one-man operation who always comes in with a lower bid?"
Our two-word response is simple: You don't!
It's important to understand why you don't compete with "that guy." You're really not after the same clients. Any homeowner who is seriously considering "Low-Price Chuck" is really not your potential client. Any homeowner that bases his or her decision solely on price is not someone you want as a customer. It's not that pricing doesn't matter but you really want to pursue potential clients who have a bigger picture. And keep in mind that if you're quibbling over price before the contract is signed, that's not going to change once you start working.
Don't waste your time, energy, or resources trying to compete for potential clients you really don't want. Instead, you should focus on the things that set you apart as a remodeler. That means offering advice and insights on how to get great results when doing a home remodeling project. That plays to your strengths. It allows you to position yourself as a remodeler with credibility and experience.
It's important to figure out who your real audience is. You can do that by creating a "persona"—a representation of what your ideal remodeling client looks like. That representation should include both demographic information (location, income, price range, etc.) and also psychographic information (what are their needs, wants, desires, etc.). You'll want to build your marketing efforts to appeal to that group of people.
Then you can take a look at your real competition (it's not "Chuck-in-a-Truck"). How are they positioning themselves? What do they talk about? How are you different or better?
Another way to approach that is to request a free marketing assessment that looks at your current website and also shows you how you're doing compared to the competition in your area. You can actually see how your company is stacking up against your real competitors.
When it comes right down to it, you can forget about Chuck and his truck. His clients are really not your clients, and he's not really your competition. Figure out who your ideal client is and then make sure you're delivering the kind of content and information that will make those people consider you as a perfect provider of what they need.