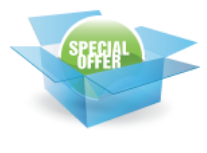 With the right methodology, creating an effective email offer can produce a strong return of investment yet many builders shy away from sending emails because they think it is too time consuming.
You can overcome this time restraint by following the steps below the next time you sit down to create an e-mail offer.
1) A Clever Title
If you want a prospect to open your email then it all comes down to the right title. The title has to be concise, but also compelling and attention grabbing.
Few people open emails that say something like "Free Consultation Click Here", but an email saying "3 Ways to Upgrade your Kitchen" grabs the recipients' attention quite a bit more often.
Spend this time brainstorming titles that will achieve the goal of getting the reader to open the email.
2) A Solid Offer
Make it personal and make it count. The more customization in the email itself the better, greeting by first name if your program allows is excellent. If not, don't sweat it; focus more on what they find within the email body itself. When you get to the body trim the fluff and give just enough information for someone to know what they are getting.
3) Make It Easy to Convert
The most important aspect to a solid offer is to make sure your e-mail links to a landing page that includes a few key elements. The most important element is a clear path for people to follow in regards to what the offer is, how it will benefit them, and what YOU want them to do, such as filling out a lead conversion form.
4) Send It
Once the email is sent monitor the open and click rates and evaluate how to improve future campaigns and then repeat these four steps.