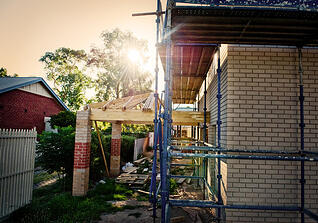 Summer's coming. It's wonderful, but not for business. Not only does everyone get into a vacation mood when the heat hits, but business takes a nose-dive too. In spring 2012, home improvement spending slumped for four consecutive months with an overall decline of 1.9 percent, according to figures from the National Association of Home Builders (NAHB).
What can you do this year to improve your lead generation ahead of summer and make sure you have enough work to see you through?
Here are a few inbound marketing ideas you can use:
1. Improve Your Exposure
Joining associations such as the National Association of the Remodeling Industry and getting listed on their website is a great way to get found by prospects. You'll get increased exposure to homeowners through NARI's advertising and the opportunity to bid for work on a level playing field alongside other contractors.
No more going it alone – you can tap into the association's extensive support structure for many of your business needs. Customers benefit from using NARI members because of the protection offered by its code of ethics. If you sign up now, you could still be in time to reap some of the rewards in time for summer 2013.
2. Boost Your Internet Marketing
Get online if you aren't already there. Internet marketing is the way of the future (and the future is now!). Back in 2011, research showed that 92 percent of American adults used search engines to find goods and services, so there's a good chance those numbers have increased by now. You simply can't afford NOT to be there.
And it's not just about having a website, although that's a vital aspect of inbound marketing. You need to optimize it for the search engines, which means building it according to best SEO and internet marketing practices and publishing new content regularly. If website design is outside your area of expertise, hire someone to do it for you—just get it done.
Then run some Google AdWords to fast-track getting your website found while the search engines get around to indexing it. Remember – you pay only for the clicks you get, so it's money well spent.
3.Follow Up Prospects
Follow up outstanding quotes. Yes, we know sales likely isn't your strongest suit, and not everyone can afford to hire sales people. Don't get discouraged, though; statistics show the average success rate for lead conversion is 45 percent. Nope, you read that right—45 percent. The problem is, most sales people don't follow up— the prospect doesn't sign immediately so they lose interest and move on.
In reality, once you've met with the potential client and submitted your quote, you've already done the hard part. Now reel in the business by:
Spending a bit of time reconnecting with the prospective clients you quoted in the last 3 months. Give them the chance to ask questions and voice any concerns. Concerns are a great reason to provide more information about former remodeling jobs you've done and offer references for them to contact.

Adding them to your email marketing list and nurture them by sending useful updates; when the time comes for them to do their remodeling, who are they most likely to turn to – the company that's been front on center on their email, or one they've never heard of before?

Letting them know your availability for the summer. It's an excellent reason to call up a prospect and tell them your slots for the next few months are filling rapidly, and asking whether they've given any more thought to your proposal. Tell them you'd like to schedule them early so you don't have to disappoint them when the time comes. This may jolt them into action and get them to revisit the idea of doing their remodeling work.
There's still time to bring in work ahead of the slump. Don't wait until the last minute and be one of the contractors sitting on the sidelines. Work on your inbound marketing lead generation now, and you'll be the one with a successful summer season.