If you are a contractor looking for ways to up your Instagram game or get ideas, you're in the right place! If you are wondering what you should focus on posting, the answer is Instagram Reels. You will notice a trend that the majority of these accounts are utilizing Reels and it is working extremely well for them. These contractors will give you ideas on what you could or should be posting, captions, and much more! To hear more about our thoughts on Instagram, check out this previous podcast episode!

Located in Acton, Ontario, Canada Canadian Woodworks does amazing woodworking. They consistently post content including IGTV videos, Instagram Reels, and photos. Their content typically revolves around giving educational content to the viewer or some of their beautiful work. Providing an educational aspect is a great way to grow your brand.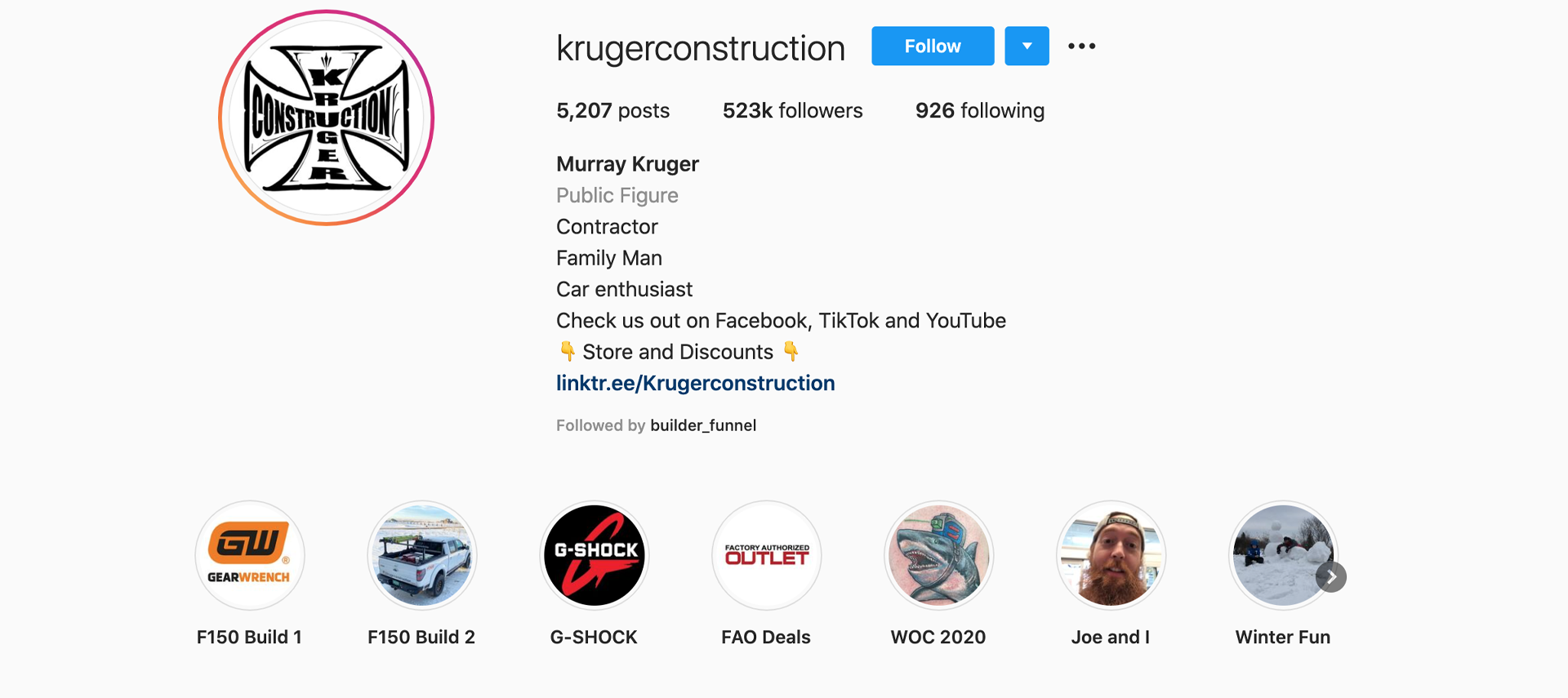 Kruger Construction is located Dalmeny, Saskatchewan, Canada. Similar to Canadian Woodworks, they also post educational content. They go about this through Instagram Reels, IGTV, and utilizing stories and story highlights.

Brian provides value to his audience through posting educational videos, pictures, and captions. He uses his own brand which offers a personal approach to the audience. If you are a business and have someone in front of the camera, your followers can associate a face with the brand. This helps build trust with your audience.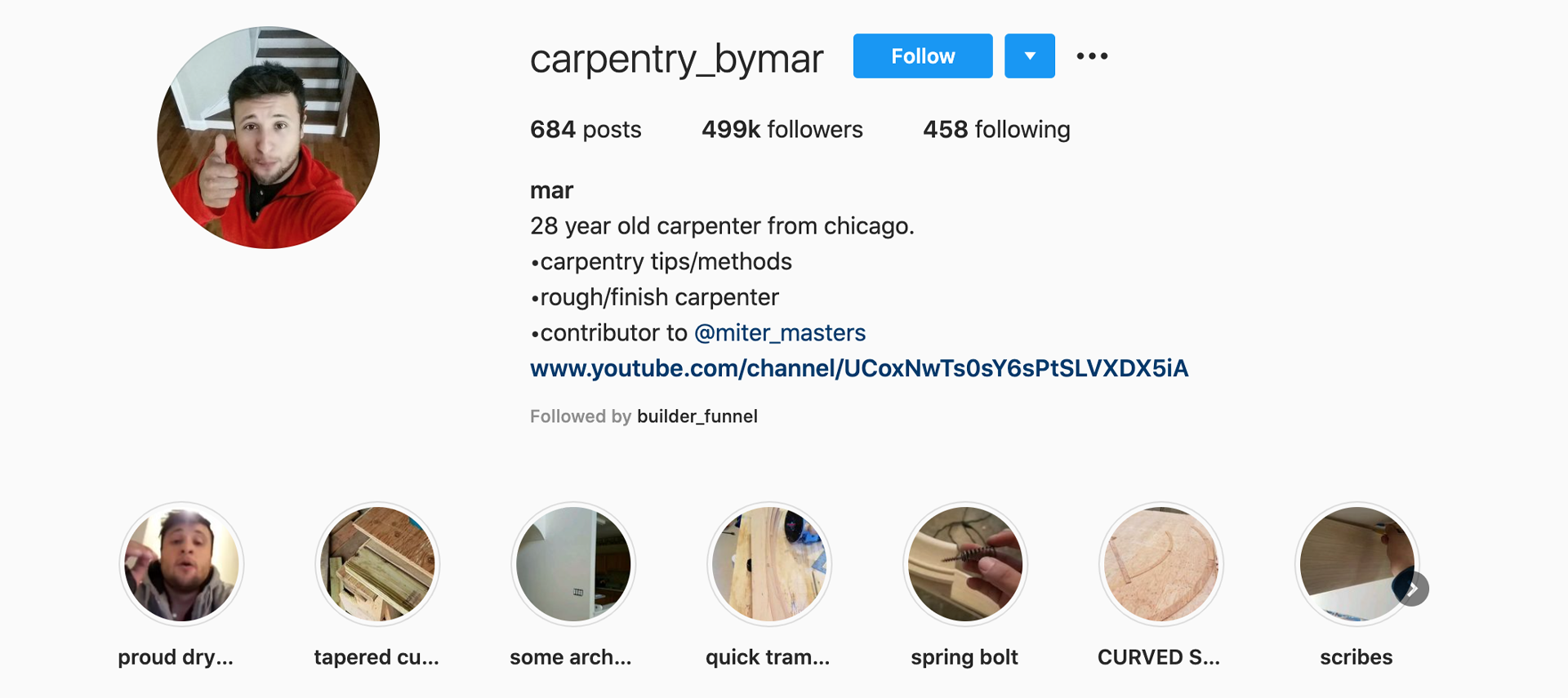 Mar is a carpenter who posts educational and how-to videos through Reels and IGTV. He walks through different projects that he is working on and shares how-to videos about the process of his projects. His videos keep you engaged and wanting to watch more.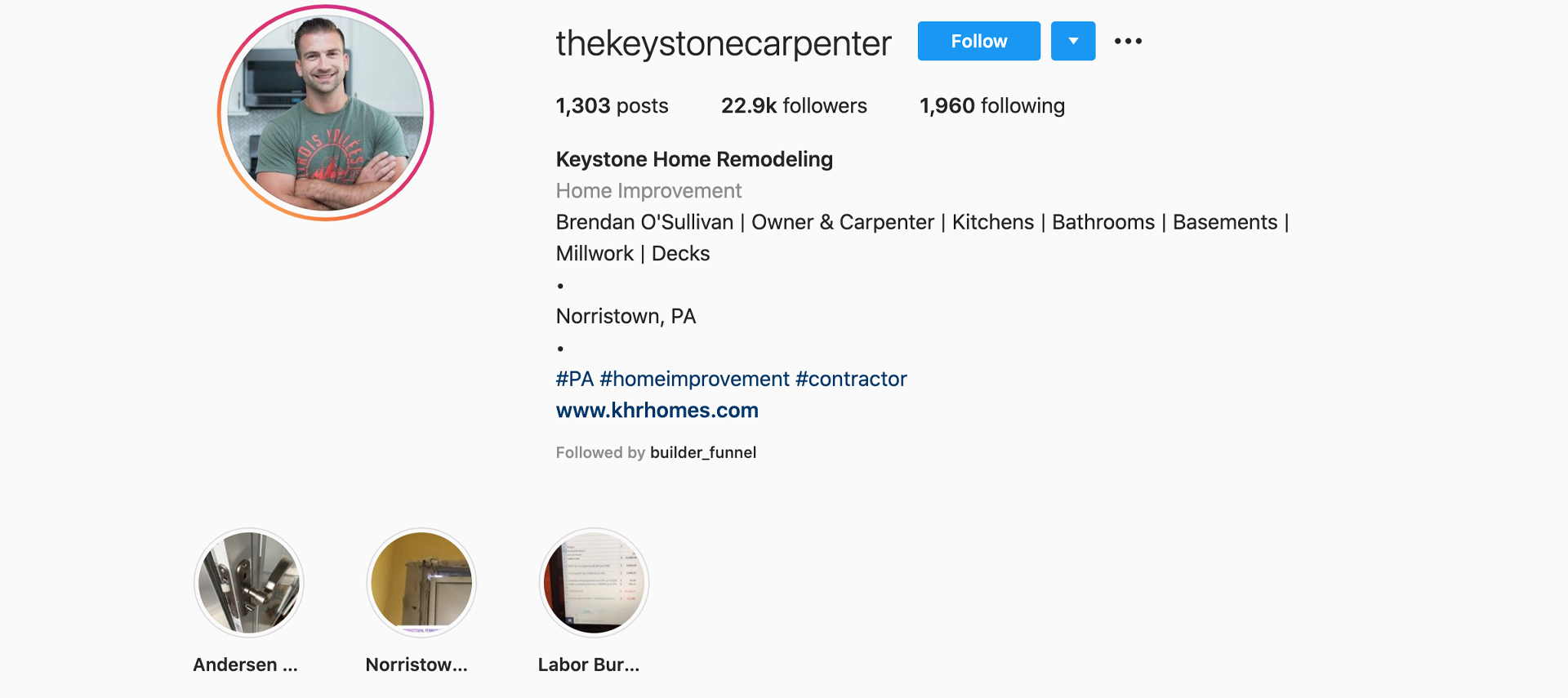 Located in Norristown, PA Keystone Home Remodeling does some amazing home improvement projects. When utilizing Instagram for marketing, Keystone typically sticks with videos, progress pictures of current projects, and close-up detail shots. These are great pieces to add to your profile to show the audience transformations of projects from start to finish.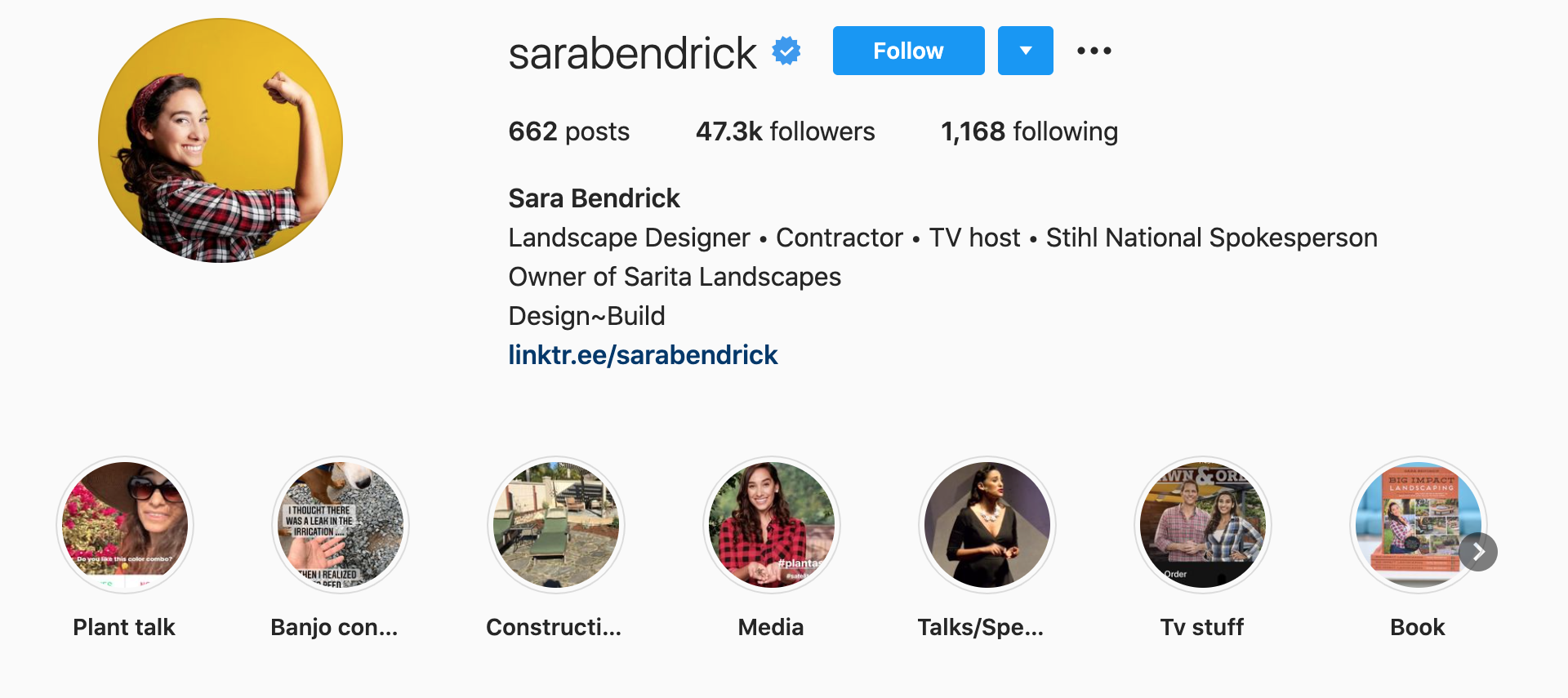 Located in San Diego, California Sara Bendrick is made to be in front of the camera. Along with doing amazing work with her landscaping business, she also does an outstanding job with sharing pictures of projects as well as Reels and IGTV, where she explains more about the projects and the process. Following her may motivate you to get in front of the camera and start recording!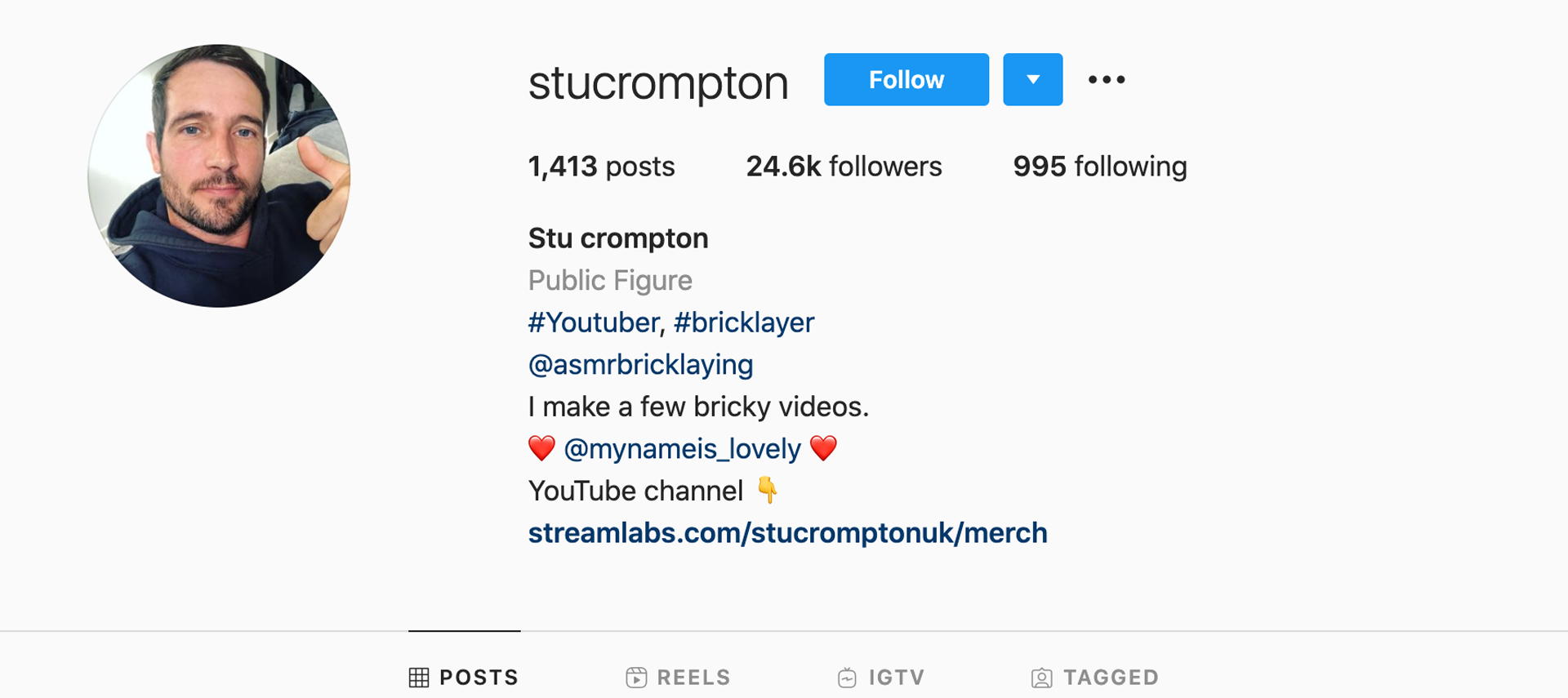 Stu Crompton is a bricklayer who has done a good job with his Instagram profile. Using all the formats Instagram provides, he posts a lot of videos which get a lot of engagement. A good portion of his video revolve around ASMR brick laying. Think of aspects of your project that you could also incorporate ASMR videos!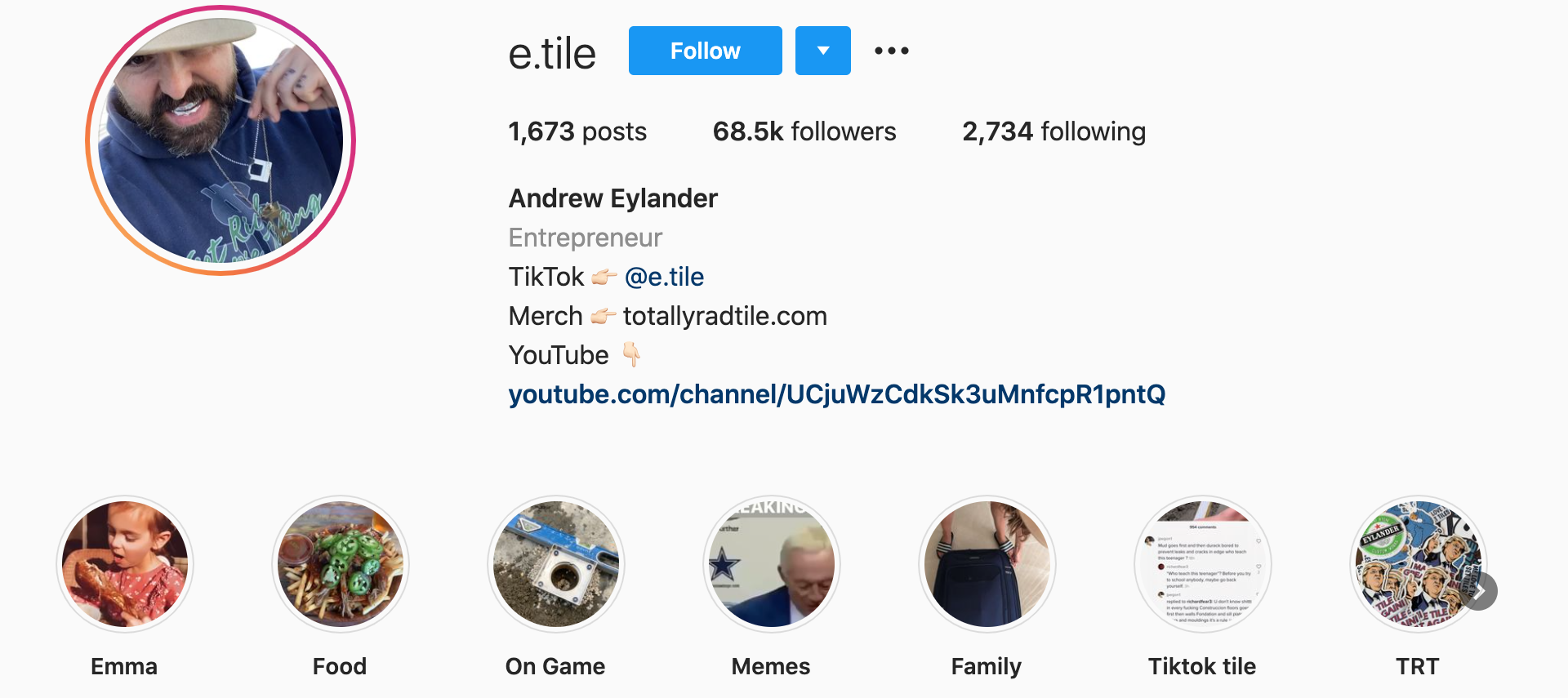 Andrew Eylander does tiling and showcases it amazingly through Instagram. He utilizes all of Instagram's features with Reels, IGTV, and pictures, but what generates engagement? He does walkthroughs of his projects, him working, and much more! You are sure to generate some ideas through his Instagram.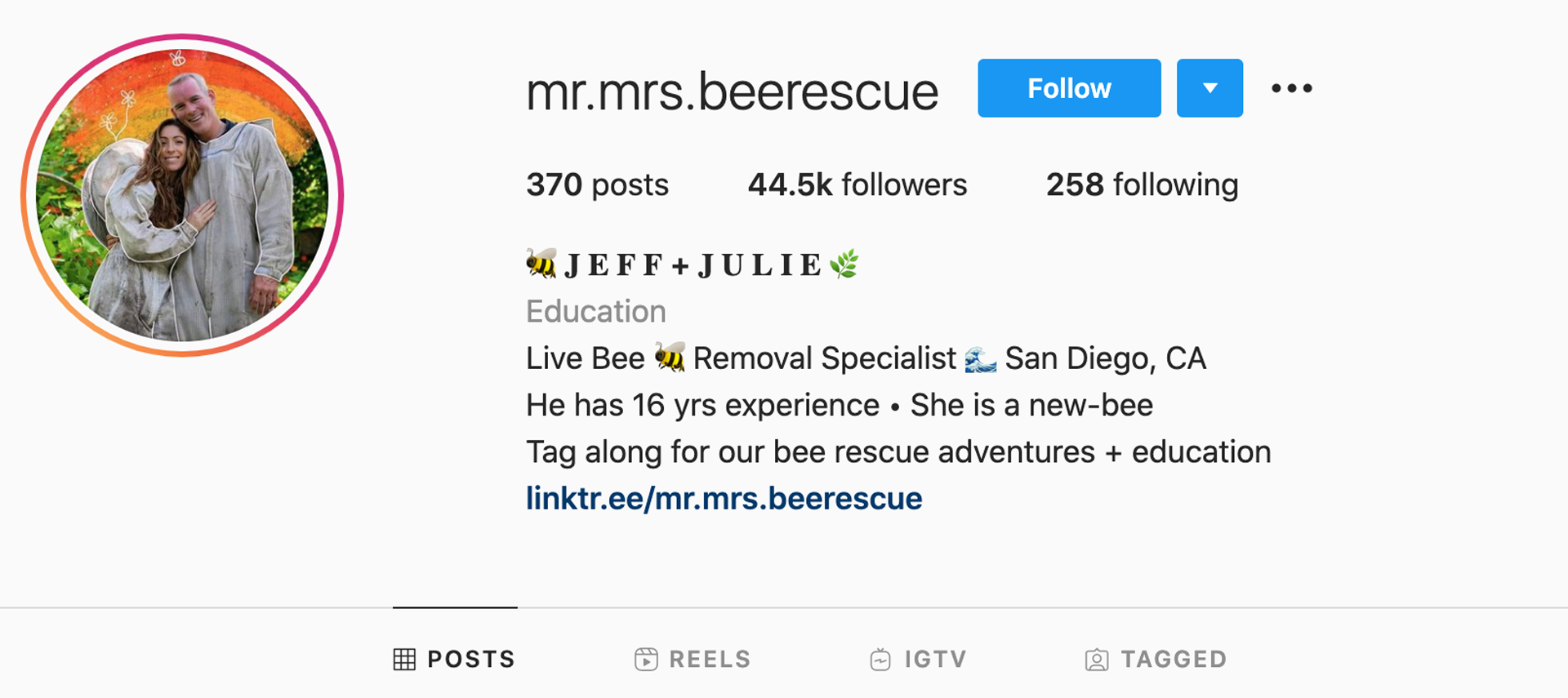 Working out of San Diego, California, Bee Rescue does exactly as the name sounds - they rescue bees. I mean, who wouldn't want to watch be videos and just get lost in all the content about bees that they are putting out? They educate on bees and remove them from unwanted places. Just watching some of the videos provides you with some bee ASMR.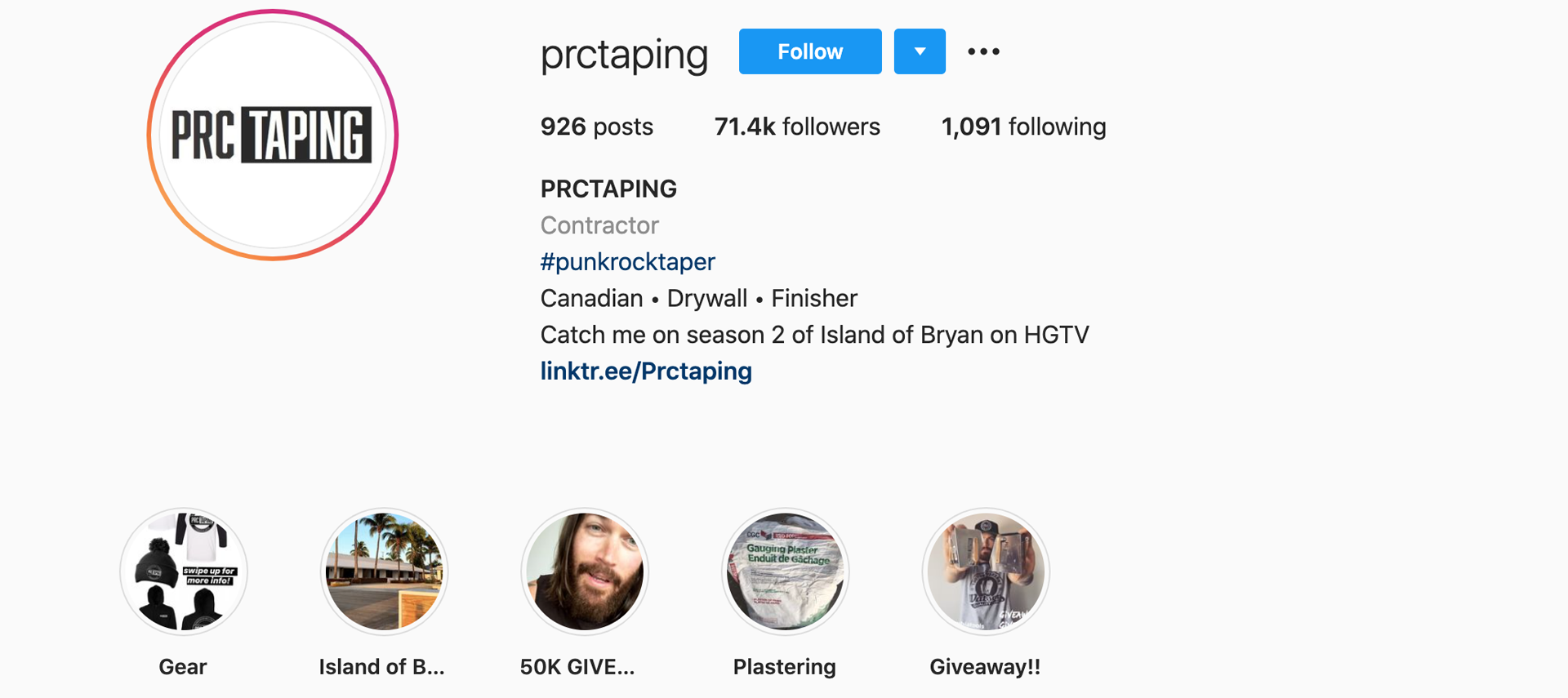 PRCTAPING is a Canadian drywaller and finisher and loves posting videos. He mainly sticks with Instagram Reels, but throws in some IGTV videos as well. Watching him drywall is rather satisfying and gets you hooked - you just want to keep on watching, are there any aspects in your business that would be able to do something like this?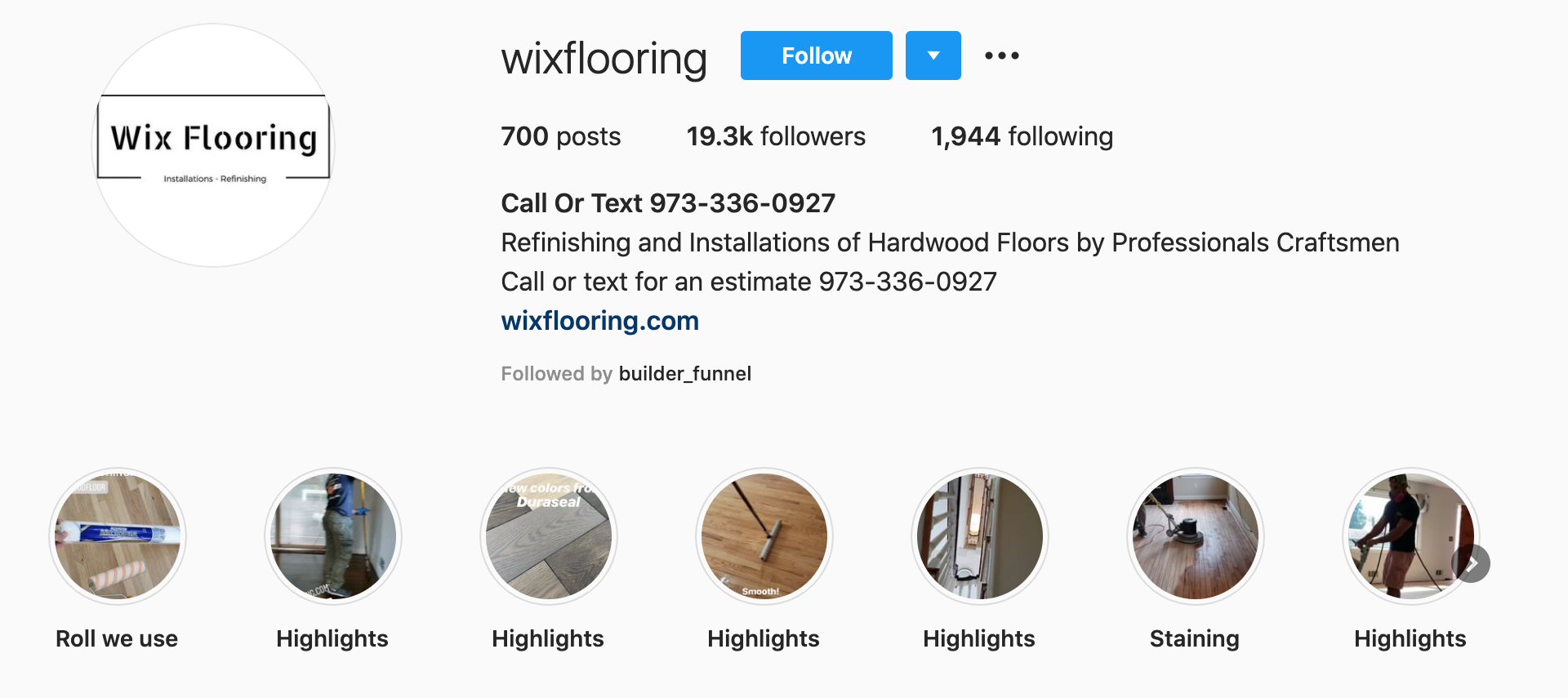 Working out of Newark, New Jersey Wix Flooring refinishes and installs hardwood floors. They post quick satisfying videos of their team staining floors or other things during their projects. Along with videos, they utilize the story highlights feature for the audience to pick and choose certain topics that they may be interested in seeing more about.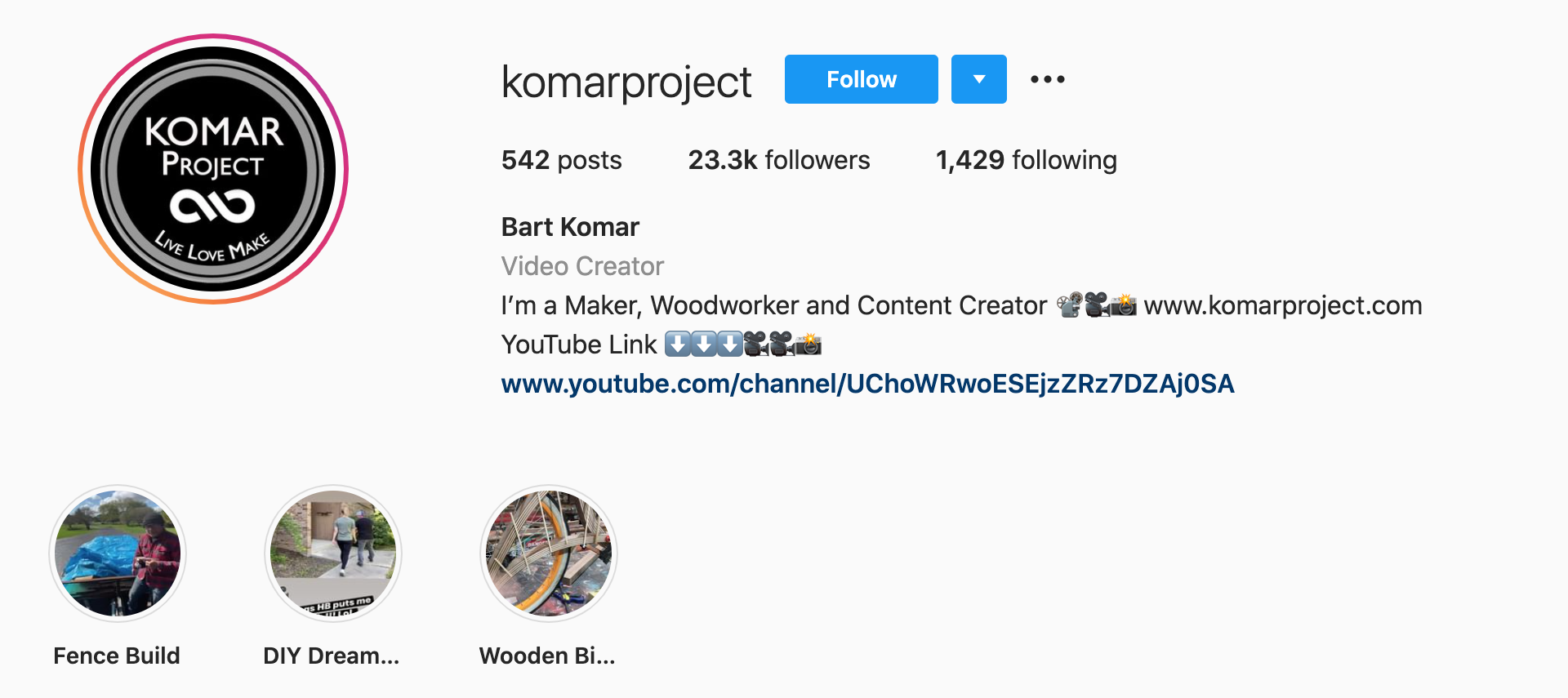 Located in Naperville, Illinois Komar Project makes Instagram fun and enjoyable. Primarily focused around woodworking, Komar really does well with posting videos. Not only is he posting videos, he is making them fun and sometimes goofy. Be sure to check this page out for some cool videos and helpful ideas on what you could be doing!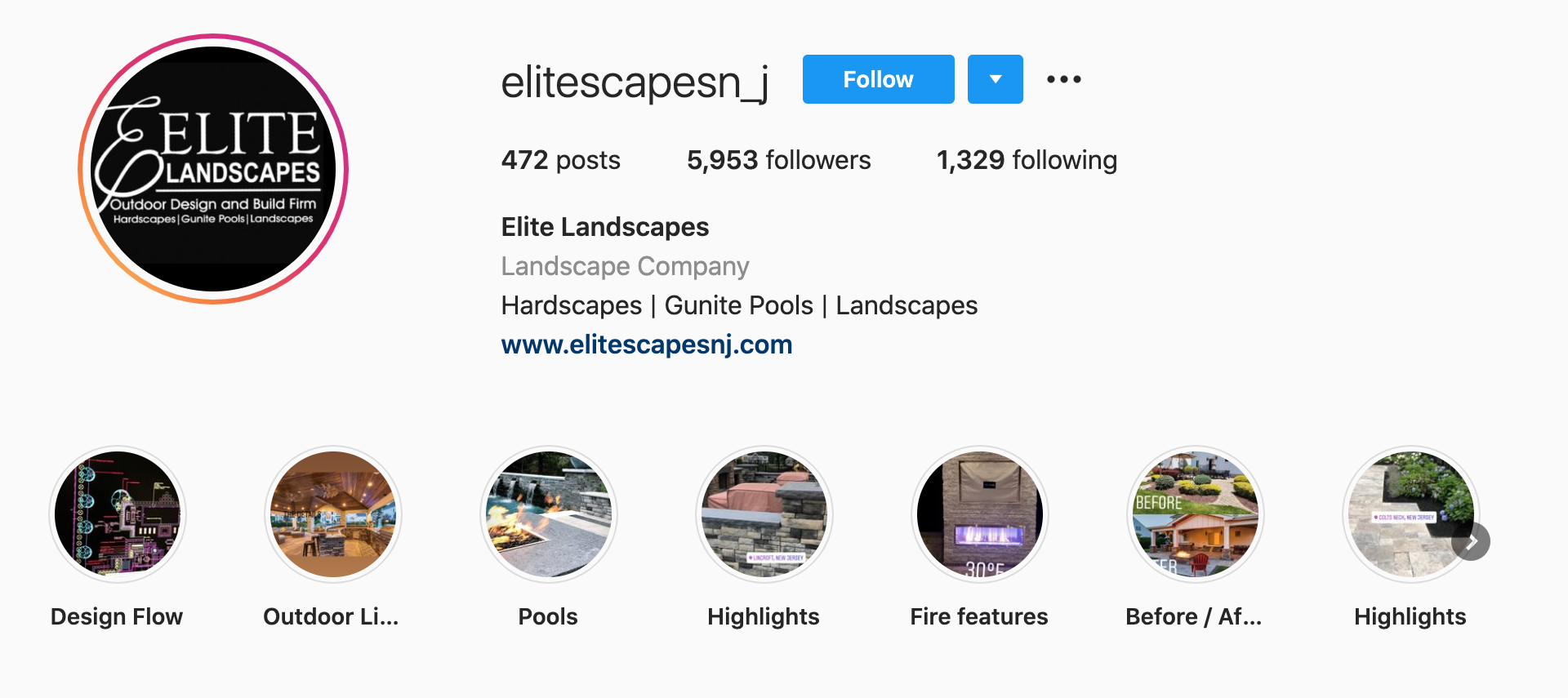 Located in Freehold, New Jersey Elite Landscapes specializes in hardscapes, gunite pools, and landscapes. Standing out from the crowd can be tough at times. Elite Landscapes uses a drone for photography as a great way to stand out. If you want to buy your own drone for pictures and videos or if you hire someone to help with your video, this is a simple trick to help stand out from the crowd.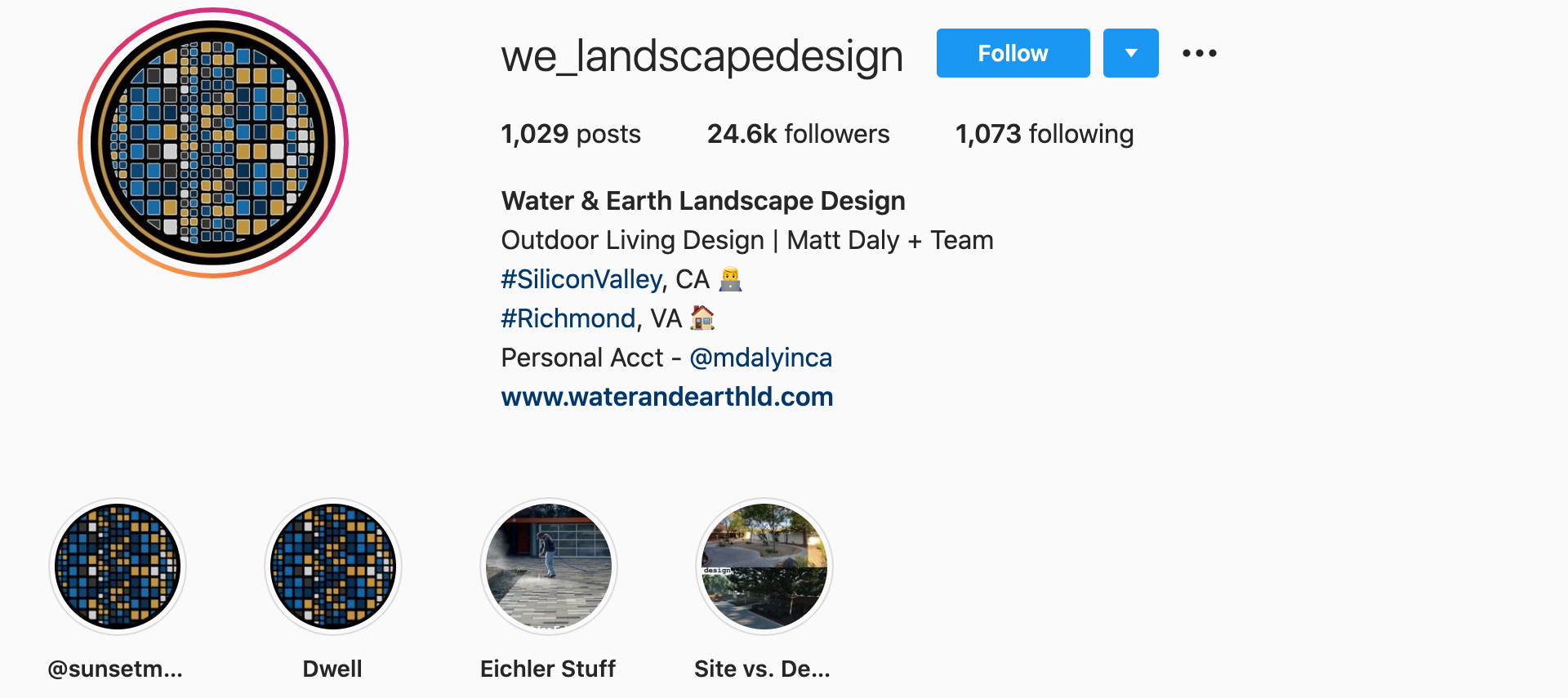 With two separate locations, one in San Jose, California and one in Richmond, Virginia Water & Earth Landscape Design posts content that is slightly different from the rest in this list. Cool unique posts that they go with are AM/PM and lunch/dinner posts. They take two separate pictures and then put them together - one in the morning and one at night. This gives you a good look at what their project looks like at different times of the day. Also, they post before and after photos which help us see the full transformation.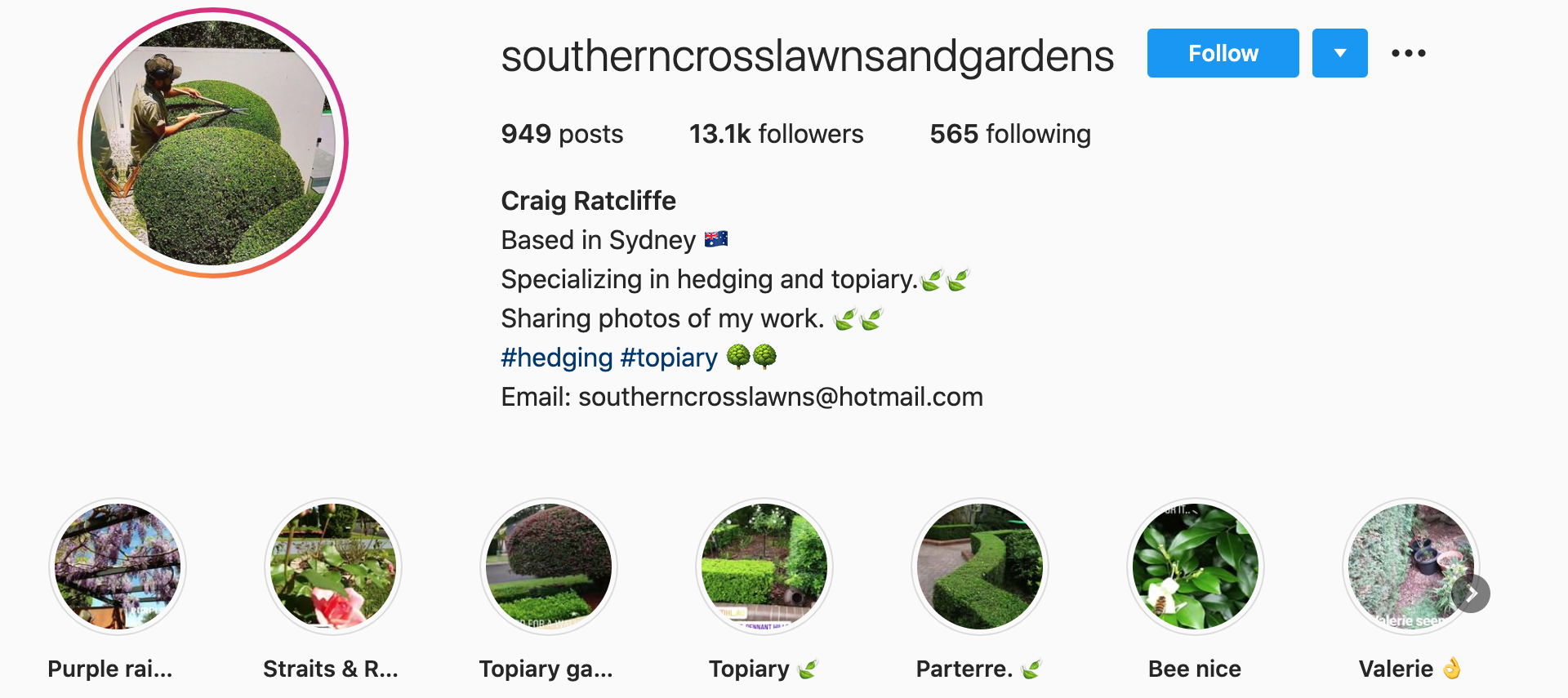 Southern Cross Lawns and Gardens is based out of Sydney and use Instagrams features to the fullest. Providing satisfying videos of time lapsed bushes, trees, and lawns getting groomed, keeps the user coming back. Their profile is really consisted with pictures of finished projects mixed in with the videos. If you are trying to grow and reach more people, you need to be posting consistently like Southern Cross Lawn and Gardens does.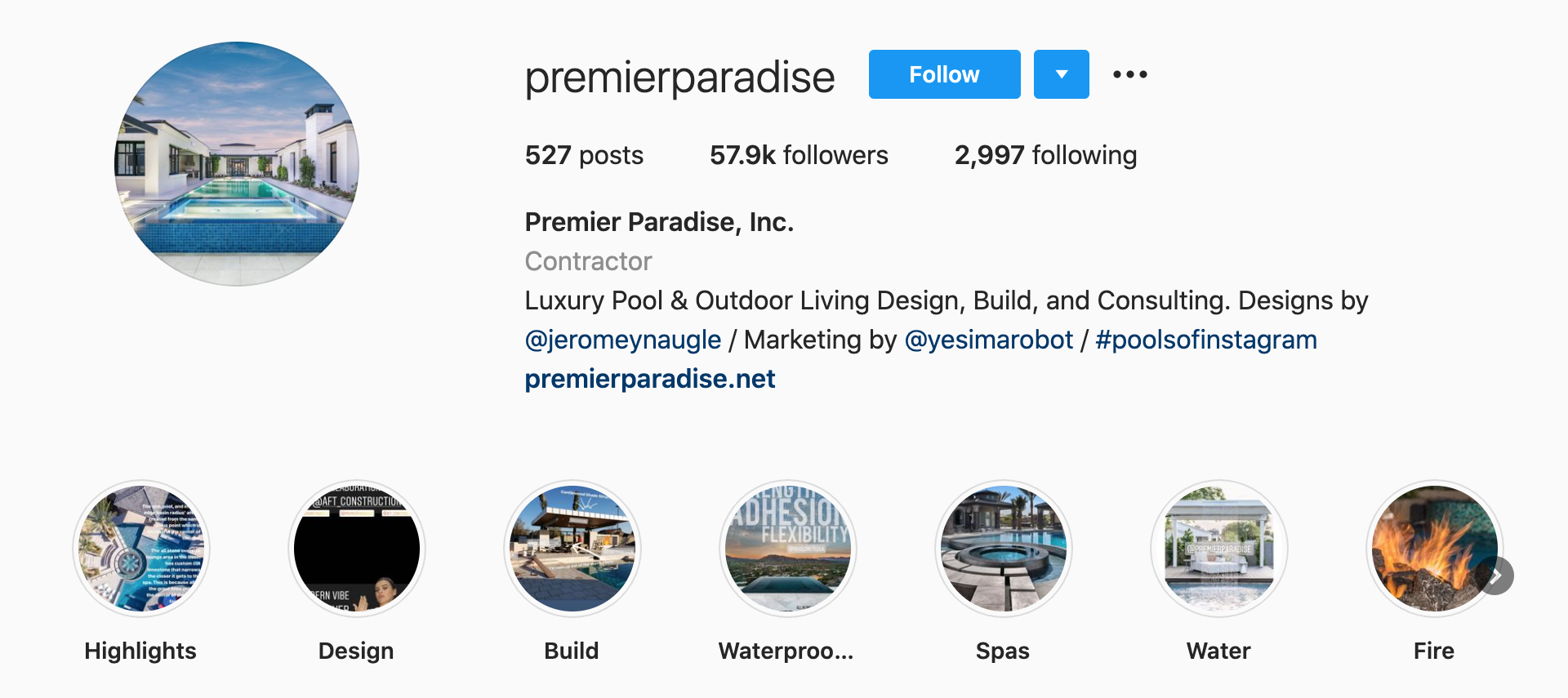 Building luxury pools and outdoor living designs in Gilbert, Arizona, Premier Paradise, Inc. does some outstanding work! With story highlights, IGTV, and gorgeous pictures of the pools and outdoor living areas they have done - their profile is beautiful. Additionally, they tag other companies and people that have helped with the projects. If you have extra companies or people that help out with your projects, it doesn't hurt to tag them, and they might share and spread the word about you.
Located throughout three provinces in Canada (B.C., Alberta, and Saskatchewan), BURNCO Landscape is doing an amazing job on Instagram. Taking advantage of stories and story highlights gives the audience easy access to navigate through potential topics they may be interested in viewing more about. They also have done a great job at utilizing Reels.
With these 17 different contractor accounts, there are numerous amounts of content ideas for you. A big repeating theme throughout the majority of the accounts seems to lie in the usage of Instagram Reels and satisfying videos. Is there anything in your business that you would be able to take a video of or potentially an educational piece of content?