Are you searching for the perfect remodeling company in Wyoming to transform your home? We're here to help! Builder Funnel is a marketing agency that works exclusively with remodelers, builders, and contractors so we know a thing or two about what to look for during your selection process! That's why we created this helpful list of pre-screened, hand-selected Wyoming remodelers. How do we do this? Learn more about our recommendations and screening process here.
Without further delay, you'll find two pre-screened remodeling companies for each of 5 largest cities in Wyoming below!
Cheyenne Remodeling Companies
If you're looking for a home remodeler in Cheyenne, Wyoming, here are two options to consider: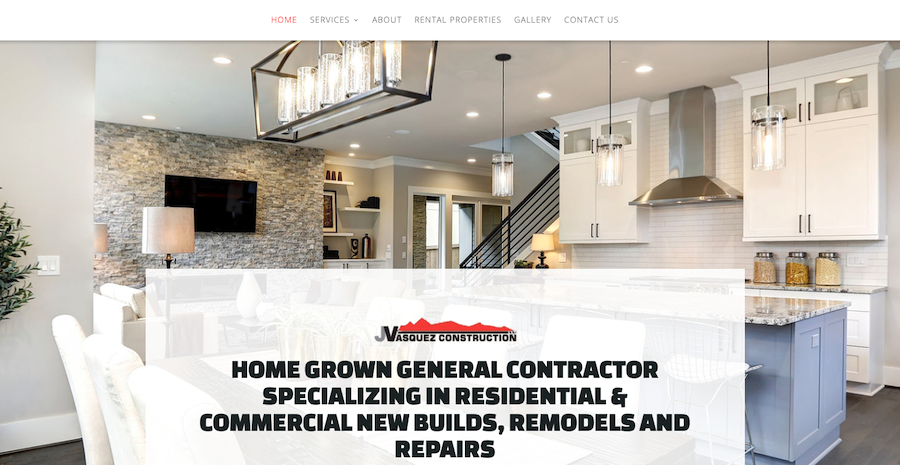 J. Vasquez Construction was founded on the principle of making construction affordable so their clients can create their dream homes. Their team serves both Cheyenne and Laramie, Wyoming with remodeling services. We chose to feature J. Vasquez Construction here because we could transparently access the company's reviews and project gallery. In addition, they have been in business for over 30 years and support their local community! We definitely recommend visiting their website to see if they are the right fit for your next remodel!

With over 30 years of experience, Hammer Time serves the Cheyenne, Wyoming area with high quality and attention to detail. As an award-winning company, they specialize in remodeling kitchens and bathrooms, basement services, new construction, and additions. Since Hammer Time was named the Best of Cheyenne for kitchen remodeling in 2018, we had to include them on our list! Head to their website to check out their project gallery and inquire about a free estimate.
Casper Remodeling Companies
After our research, here are two recommendations for remodeling companies to consider in Casper, Wyoming:
Regardless of your budget, JNL Designs and Construction will take a personalized approach to meet your custom renovation needs. JNL makes sure that they are there throughout the entire process from the first conceptualization until the very end. While they have their specializations, they are a contractor who you can work with for all of your renovation needs. Their success over the past 20 years is displayed through transparent testimonies on their website, a gallery of their projects, and a quality guarantee with a one-year limited warranty for their customers. If you have a remodeling project in Casper, check out JNL's website to see if they will be a good fit for your needs!
Wyoming Building Supply (WBS) is a distributor and remodeler. Their products and services are focused in kitchens, bathrooms, windows, and fireplaces. If you don't have an exact vision in mind for your remodel, WBS has state-of-the-art showrooms that can give you inspiration for various contemporary and traditional styles. WBS tries to save you money on your remodeling projects by using their decades of experience and expertise. Head to their website to view their supply and request a quote for your next remodeling project!
Laramie Remodeling Companies
If you are looking to hire a contractor for your remodeling needs in Laramie, Wyoming, check out these two companies!
Laramie, Wyoming is home to Rocky Mountain Contracting, a general contracting company that has over 20 years of experience with providing quality and affordable remodeling services to their community. By focusing on an incredible customer experience, Rocky Mountain Contracting sees success in their designing, planning, and execution of projects. They offer a sense of transparency with a gallery and testimonials quoted on their website. If you are looking for quality and cost-effective remodeling services of any scale in Laramie, Wyoming, this is definitely a place to check out!
With their top priority being high quality service, HyAltitude Contracting offers commercial and residential construction and remodeling services. Whether you are looking for a small project, or a completely new building, HyAltitude can help you out! They ensure that they can meet your expectations for any project in their first try by taking care of your home like you are family. You view their gallery on their website, and we highly recommend contacting them about your next project if you are impressed!
Gilette Remodeling Companies
Here are our best recommendations for remodeling companies in Gilette:
Gabriel Contracting is a family-owned business that offers services for drywall installation and repair, kitchen and bathroom remodeling, tile work, and interior painting. While they always strive to produce quality work, their customers have been the most important aspect of their company over the past 24 years of business. If you are interested in hearing more about Gabriel Contracting's services for your own remodeling needs, their website has a thorough gallery and several customer reviews to reference during your consideration!
Since 1971, R & L Contractors has been serving the Gilette, Wyoming area with various remodeling and building offerings for residential and commercial projects. Their family owned and operated business takes a personable approach with their clients while offering reasonable prices and financing options. By viewing their reviews and project gallery on their website, you can easily decide if they are the best option for your next remodeling project!
Selecting a Wyoming Remodeling Contractor
We hope you enjoyed Builder Funnel's pre-screened recommendations for Wyoming remodeling contractors to consider. Remember, our recommendations are only remodelers we recommend checking out further. We base our recommendations off of online information accessible to the public including, but not limited to, reviews, testimonials, license numbers, imagery, portfolios, websites, and social profiles, and have not personally worked with these companies.
How can you screen companies further? You can make sure they have a valid license for the work you're looking for, and ask for and check their references. In addition, look at various testimonials and reviews, browse their project portfolio, and learn more about their company's reputation. Check out this article on how to vet contractors for more information!
We hope you enjoyed this article on Wyoming Remodelers to consider for your next project! Until next time, remember to do your research, and Builder Funnel wishes you all the best in finding the perfect remodeler for your Wyoming home!