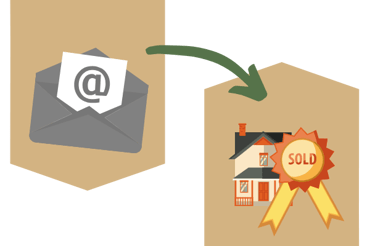 In a digital landscape where there are multitudes of third party marketing platforms that determine who sees your content and who doesn't, there is still an arena where you control your audience - email marketing.
I know about half of you just rolled your eyes because not 10 minutes ago you deleted at least one promotional email because it's not relevant to you. The good news is, you have also probably opened a promotional email recently because it WAS relevant to you. Therein lies the key to successful email marketing.
Email Marketing Case Study
Talk is cheap, but data is rich. Let's take a look at real data from a three email lead nurture series sent by a home builder from which 46 leads enrolled has yielded 2 closed deals in one month.
In this example, open rates are 1.5 times higher than construction industry average open rates of 45% and 2 times higher than overall open rates of 32%. (Source) The click rates are on par with industry average click rates of 20-30%. (Source)

Why did these emails work?
1. They are simple.
Excluding the greeting and signature, the first email is a grand total of 42 words composed into 3 sentences. There are only two clickable options; one to view the PDF and one to Schedule a Tour (which is in the signature).
It takes less than a minute for the recipient to read it and decide if they need to take further action. Because your entire message is shorter than a Twitter post, it comes across concisely.
2. They are timely.
This email sequence is triggered when a lead downloads the community eBook that showcases the floor plans and information about the area for people interested in building a home there. The first email gives them a link they can use to view the eBook at any time. It then ends with an "open door question" that gives room for the recipient to respond and start a conversation.
The first email is sent after 3 days of submitting the website form to download the guide. The second email is sent 7 days later. Then the final email is sent 9 days after that. This pattern of delays ensures your home building business stays top of mind but does not feel like Aunt Sally on Facebook.
Further, the last two emails are only sent if we know the recipient did not respond to the previous email already. If they did respond to a previous nurture email, they will not receive the remaining nurture emails.
3. They are personable.
The cherry on top with these emails is that they look and feel like the sales rep just wrote the email personally and clicked send.
If the recipient's first name is known, the email subject line and email greeting will address them by name. There is a smiling picture of the sender next to their name and contact info in the signature. And, again, because it is short, simple, and all text, it looks like it was hand-typed and manually sent.
As such, these email nurture sequences have influenced 2 closed deals from 46 total recipients in the past month. Nurturing your leads will keep your brand top of mind and encourage them to get in touch when they are ready.
Want to learn more? Schedule a 15 minute chat with Spencer »