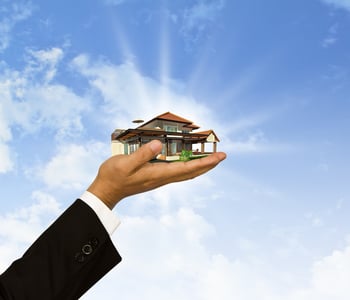 We've known a lot of reputable homebuilders who will bend over backwards to deliver a home that meets or exceeds their customers' expectations. They really work hard to give their customers exactly what they want in a brand new home.
But giving prospective customers exactly what they want (information)—can be a completely different story. Sometimes builders miss the boat entirely.
What does that look like? Call it "builder-centric" marketing. The information they provide for prospects is all about the builder: "We've been in business for 25 years; We've built 250 homes; We've won builder of the year in our community three years in a row."
That's not bad information, but it's not what your prospects are initially looking for. They're looking for ideas. They have questions about the homebuilding process. They want to know how to build the best home possible within their budget. They want to know what trends they should pay attention to (and which ones they can ignore) so that their home will continue to deliver comfort and value for years to come. They've got a lot of questions.
How can you address those questions? First, make sure you know what's important to your prospects. Have your sales and marketing teams ask potential clients what kind of information would be helpful. And make sure sales and marketing are talking to each other about this so that when marketing hands a lead over to sales, there's a record of what's important to the prospect (and what information he or she has already received).
It's also important to be transparent with your prospects. If you're a custom homebuilder, make sure prospects know you're probably not the lowest price in town. Talk freely and honestly about what you do. You may scare off individuals who are only shopping price—but those clients aren't your target audience anyway. If you keep trying to win clients whose chief criterion is price, you'll both be frustrated.
Find out what your prospects really want to know, and then give them an opportunity to access that information. Free, downloadable e-books and reports are a good way to do that. Make available to your prospects helpful information about topics that concern them; if they find the information valuable, they'll give you their contact details. Then you can follow up and ask if there's more information they need. That's how you nurture a lead until it's ready to be turned over to the sales team.
It's fine (great, actually) to talk about your experience and expertise. It's wonderful to be able to show prospects what you can do (pictures really can be worth a thousand words!), but make sure you're self-promoting in the context of giving your potential clients the information they want and need.
Bending over backwards to deliver the best possible house to your clients is well and good, but to win them as clients in the first place, you have to provide the information they want and need. First things first.