Google is always changing. If you are a digital marketing professional, or a small business owner then you know this to be true. Sometimes it feels like we are just guessing at what best practices are going to please "the Google gods" next.
Let's take a step back and take a look at why Google changes constantly. Despite popular belief, they don't change their algorithm and ranking factors just to make you go crazy. Instead, it is because Google is in a constant effort to adapt to the way we search and to continually offer the best results.
So with that in mind, I want to uncover a new best practice that our team believe will become the new norm in Search Optimization. It's called Topic Clusters.
First, let's look at how Google is changing.
Google's Desperate Attempt to Understand Search Intent
Most people search in different ways. When you might search for "Pet Shops" I might search for "Pet Stores." Same intent, but different keywords.
Google has been working since 2002 to try to produce the right results for synonyms. They evolved over and over again until in 2014, with the release of Google's update called Hummingbird, they made their results a ton better. With Hummingbird, Google was finally beginning to understand intent and decipher the many synonyms that people were using when searching.
Google Adwords Focuses on "Close Variants"
Another example of Google trying to match intent is through a recent change with Google Adwords.
Google made a major announcement on March 17th, 2017 on their Adwords blog. We are talking colossal. Google is no longer focusing on "exact" keyword phrases, but instead will focus on "close variants" of keywords.
So what does that mean exactly? You no longer have to have the exact keyword phrase in the exact order in order to display you Adwords. Google realized that the keyword "running shoes" and "shoes for running" are the same, and therefore will try to push your Ad to both search queries.
Of course, many are speculating that exact keyword phrases are probably still the way to go, but this changes things drastically for those spending money in Adwords.
As you can see, Google is continuing its quest to produce the best results.
Google's AI Named RankBrain
Another major development from Google is the creation of their Artificial Intelligence called RankBrain. This new AI was developed to help deal the fact that 15% of all search queries are unique queries.
Think about that! Out of the 2.3 million searches that people make on Google every second, 345,000 of those searches have never been entered into Google before! A big reason why this is the case is due to the rise in voice search meaning that people are now using more natural language to search.
This is where RankBrain comes into the picture. Since people keep coming up with new things to search, they developed an artificial intelligence that would deliver the right results regardless of what people search.
Best Practices for SEO Moving Forward
So now that we know 'why' and 'how' Google is changing, we need to adapt our SEO best practices.
Topic Clusters is a strategy to help you adapt.
With Topic Clusters, you start by building a core page on your website (also known as the "pillar page") which thoroughly covers the core topic that you are trying to rank for. Once that is built, you can begin building blogs or other content pages that link to that pillar page.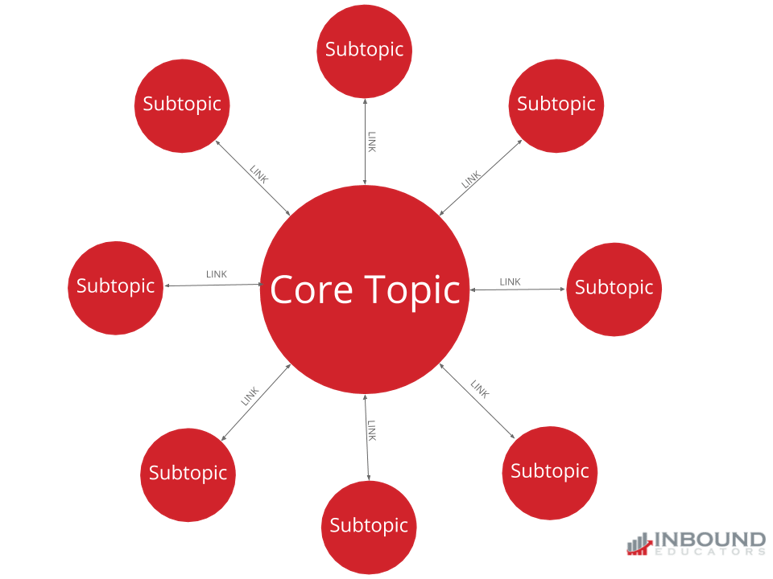 Click here for an in-depth guide on how to build Topic Clusters.
Not only does this create a very well structured website infrastructure that is easier for your users to navigate, it also send the appropriate signals to Google. In essence, instead of writing content that is trying to rank for specific keywords, you are trying to become the dominant authority on a particular topic.
Becoming the authority on a particular topic will help Google to serve your content on the top positions in Google regardless of the specific keywords typed or spoken. In other words, we need to go after topics instead of specific keywords so that Google will serve the best content based on the intent of the user.