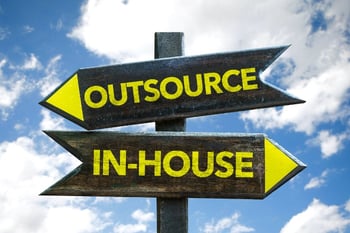 The word marketing isn't particularly long, but it sure does encompass many different elements. Everything from graphic design to proposal writing, public relations to event planning and plenty more besides falls into this arena. In fact, we've learned over the years that there may be a big difference between the specialties and capacity of one marketing company and the next.
There's nothing strange about that, and we've definitely experienced the same thing in our own business. There's an in between stage where you find yourself unable to wear so many hats, and when it becomes critical to find new solutions (or cut services or products from your lineup.)
The solution, in many cases, is selective outsourcing of marketing services, using a white label approach, where everything you present to your client is branded by your company, but you leave the elements you don't yet have the capacity for to someone else. Here are a few ideas we've found to be helpful to our customers.
Lose the Time Consuming Stuff
When it comes to inbound marketing strategy, there are few things that are more important than business blogging, and since inbound marketing is such a huge part of a broader marketing and public relations strategy today, it's something you simply can't ignore.
The trouble is that blogging takes time. It takes time to brainstorm ideas, more time to write posts, and then a whole lot of time to format and upload them. Rather than spend that time on business blogging for your marketing agency customers, you can outsource this time consuming task to a specialist, leaving you free to focus on other marketing efforts.
Hack the Learning Curve
When we changed the way we did business, it was by bringing people on board who already knew how to handle aspects of the business that we'd been struggling with, and no matter how small your business is, you can and should do the same.
Inbound marketing is a fast paced, ever changing part of the marketing world. It's growing and changing so fast, in fact, that there are new job designations being created all the time, before anyone ever creates college degrees to train people. Some of the best people in those jobs have learned on the fly, and while that's often the best way to get to grips with the topic, it's also a steep learning curve at first.
We've found that marketing companies who outsource parts of their inbound marketing while they learn more get the benefit of both worlds: happy customers who get a comprehensive marketing strategy, and being able to see it all happen first hand.
Selective Focus
Our inbound educators program is all about teaching marketers who haven't been involved in inbound how to master this critical element of the modern marketing plan, but we also want to let you know that there's no shame in faking it till you make it, and if you're still getting to grips with inbound strategy, business blogging, website design or anything else, outsourcing can certainly offer the opportunity to do that.
Whether it's a long term solution or just while you find your inbound marketing feet, this can mean all the difference, and help you find and retain more customers.