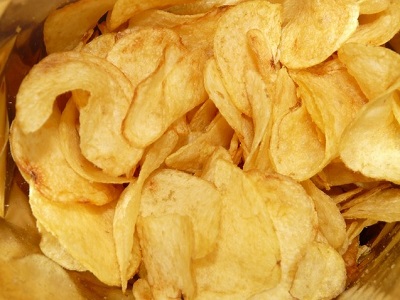 We've talked before about how getting your fans involved in your content can be a great way to increase your online presence and create buzz. However, you also need to be careful. The Internet can be a dark place, and under the cover of anonymity, people are often more likely to make trouble. If you leave a decision up to the Internet without carefully screening the results, you could end up the victim of practical jokes, or even sabotage.
Fortunately, as Lay's Potato Chips hosts their "Do Us a Flavor" contest, they appear to have kept a sense of humor about things. The contest invites users to create their own unique and even bizarre flavors that they'd like to see in a potato chip, then vote for their favorite. Not only will the winning flavor be given its own limited run, but the creator will win $1 million.
When they held the contest last year, the winner was Cheesy Garlic Bread, which beat out other flavors like Chicken and Waffles, and Sriracha. This year, some of the entries are less than appetizing.
Some of the more colorful flavor suggestions include "Blood of My Enemies," "Bucket of Tears," and "Frog?". It could easily lead to disaster for their brand. Fortunately, they seem not only to be taking it in stride, but turning the tables with a bit of ribbing of their own. On the brand's YouTube channel, they're releasing video responses to some of their favorite flavors—which include the silly ones as well as the serious. In response to "A Bucket of Tears," they wrote a brief jingle that asked, "Don't you think that tears would make a better dip?"
Some of the other videos feature actor and comedian Wayne Brady, reading people's flavors aloud and improvising songs about them. Another was released the day of the Grammy Awards and compared potato chip flavors to beautiful harmonies. So it's clear that they're OK with their fans not taking things too seriously.
The campaign may be a bit tongue-in-cheek, but it knows how to work content marketing effectively. The videos have succeeded in creating great buzz for the contest, as well as for Lay's in general. In addition, the contest is also heavily connected on social media, with users being asked to connect through Facebook before they submit their flavor, then to share their creation on Twitter afterwards. The entire campaign is designed to get their fans involved in every way possible, in order to generate interest and excitement over the flavors, build anticipation over the big reveal of the winner in April, and ultimately to create buzz about Lay's Potato Chips. And in that respect, they seem to be succeeding in spades.