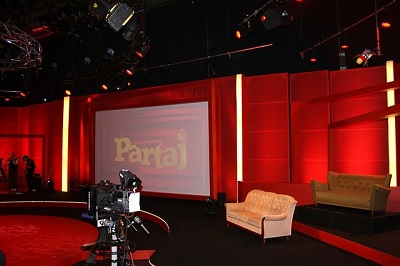 Here's a quick question: When was the last time someone you're connected with on social media shared a funny YouTube clip from a recent late night talk show? Chances are, probably within the last few weeks. Next question: Who was the host? Probably Jimmy Fallon. Possibly Jimmy Kimmel. Clips from both of their shows tend to go viral every so often.
Final question: When was the last time someone you're connected with on social media shared a funny YouTube clip from David Letterman or Jay Leno? Unless it was an interview with a celebrity that they really like, chances are, it hasn't happened lately, if at all. That's because the newer late night hosts tend to do something that the old guard doesn't: they tailor their shows to a social media audience.
When Jay Leno hosted the Tonight Show, he had a number of segments that he did regularly, like Jaywalking, and his collections of funny headlines. David Letterman has his famous Top 10 Lists, which he's done for years. These sketches can be a lot of fun, but they're also predictable. You might think they're pretty funny. But then again, so was the last one, and the one before that. It's nothing special. Just because you enjoyed it doesn't necessarily mean you're going to share it with your friends.
Jimmy Fallon and Jimmy Kimmel, however, have a different approach to their shows' content. They have regular segments too, but they also integrate one-off sketches that are unique and unexpected, grabbing the audience's attention—often integrating surprise celebrity guests as well.
Over the last few years, Jimmy Kimmel has blown up social media several times, with off-the-wall sketches about Matt Damon and Ben Affleck, as well as his epic Oscar spoof, "Movie: The Movie," which featured a cornucopia of some of the most respected stars in Hollywood doing ridiculous things and riffing on tired film tropes.
Jimmy Fallon has had perhaps even greater success in the surprise one-off sketch department, most recently with a farewell to his "Late Night" hosting duties (before transitioning to "The Tonight Show"), which featured a reuniting of the cast (and set) of the 90s show "Full House."
But the element of surprise is only half the battle. There's another thing that sets both Fallon and Kimmel apart in the talk show hosting department, both encouraging people to watch their shows and helping their content to go viral. They both integrate social media.
Fallon has a weekly sketch called Tonight Show Hashtags, wherein he starts a Twitter hashtag on a funny topic and encourages viewers to tweet their own awkward stories or amusing anecdotes, using that hashtag, which he then shares on the show. His hashtags frequently become trending topics, which means they're shared with all of Twitter, thus gaining even more buzz for his show. Kimmel goes a step further, encouraging his viewers to make YouTube videos based on a prompt, with the best of them being shared on the show.
So how does this apply to you? Well, you want your content to be popular, to be shared, and to generate buzz. So have content that's interesting and unexpected. This will grab people's attention and compel them to share it with their friends. Then, encourage them to get involved on social media and help you create content. This will get your audience invested in what you're doing and more likely to share and participate. You don't need your own late night talk show to generate buzz for your brand. You just need great content and a little creativity.