The joke that when you marry a service member, you're marrying the Army is true. When the Army says jump, you say, "How high?" When the Army says move, you say, "How soon?"
Both Carly's and my (Danielle) husbands are in the Army. And as both were almost simultaneously offered their dream jobs in different states from our dream jobs, it was a scary moment.
At Inbound Educators, we believe whole-heartedly in investing in our team. We believe in cultivating, collaborating, and co-working.
So when Carly and I were suddenly faced with long distance moves halfway across the country, Inbound Marketing Director Spencer Powell was faced with a difficult decision. Going from six team members in one room to six team members in two countries was daunting.
Here's the tale of how we increased our focus, efficiency, and team camaraderie all while increasing the distance between our desks.
---
It began with Carly moving to Tennessee and me moving to Virginia and then to Germany. And while it was unnerving at first, the whole team supported staying together.
We set pen to paper and began to set guidelines to help us all navigate having one third of our team remote. The biggest focus started out keeping our clients happy, but when we realized this would not be an issue, we refocused on keeping the whole team feeling like a team even when we weren't in the same room.
Here's our step by step guide on how we've not only made this move possible, but ROCKED it.
Step 1: Ensure constant and continual open communiation.
We knew that in order to stay on top of tasks and to keep the camaraderie at a high level, we needed to maintain continual open communication:
Trello: As firm believers in Trello for task and project management, we tightened up our Trello usage. Less about note-taking and more about organizing project information, data, and due dates, any team member could jump into a Trello board to help out and know exactly where a project was and what was needed next. This helped largely with team time management due to time zone fluctuation.
Slack: Beyond just project management, however, we needed a way to quickly and easily communicate. Sounds like email, right? Well, with different time zones and frequent immediate needs for clients, it was much easier to have a full conversation via a direct chat platform than a thread of 17 2-liner emails that were difficult to track.
Facebook Messenger: The Account Managers and Inbound Marketing Specialists typically sit down and brainstorm or prioritize tasks once a week. Not being able to sit side by side in a conference room hasn't been a damper yet with the help of Facebook Messenger Video Calling! Through the Messenger App, our whole team can group video call and watch company announcements, meetings, and in-the-moment collaboration with a simple touch of a button.
Step 2: Stay engaged with the team daily.
It was easy to assume that the top priority we would need to focus on as a team would be ensuring that all deadlines and expectations are exceeded for our clients during the transition period of learning remote styles. We quickly realized, however, that our team was essentially incapable of letting client matters slip. So the focus quickly shifted to ensuring that our team always felt like we were in one room working together, even though we couldn't be.
Morning Stand-Up Meeting: What used to be a quick 5-10 minute tradition every morning became the first daily touch point of our team with Carly and I being remote. With 2/3 of the team standing up in Colorado and the other 1/3 joining over GoToMeeting, we are all able to share our top three goals for the day. This helps us align our schedules and respect that everyone is still pulling their weight when it wasn't seen in person.
Client Services Meeting: Saying education is important to our team is like saying water is important to fish. We thrive on reading more, sharing knowledge, and improving ourselves and our services. To celebrate this culture, we pick a book to read together as a team and have a bi-weekly meeting in which we all discuss what stood out most to us and what we could implement within our own four walls. In 2016, we read seven books together as a team (you can see them here), and even more if you include our optional book club that several of us participated in as well! To keep this tradition strong, we implemented the bi-weekly meeting at a time that we can all tune in over GoToMeeting.
Jam Session: Every week, our team sits down for lunch together. It's as simple as that. Every other week, Spencer takes us out. The other weeks, we stay in and sit in a conference room together. We talk about our weekends, what's happening in our lives, and we learn more about one another. Half our team brings in an article that they read recently that interested them to share and spark conversation around trends, updates, and industry news. And even through GoToMeeting and across three timezones, it's still a great way to feel embraced as an important part of the team.
Scrum: On the weeks when we are not meeting to discuss our Client Services book, we meet to discuss our ongoing Scrum project. With GoToMeeting, the whole team is able to attend and share. We can celebrate in each others successes and work together as a team to push tasks forward. When we are normally quadroned into working with only the Account Managers and Inbound Marketing Specialists sharing clients, it's hard to work across the whole team without Scrum. This has granted us the opportunity to work with team members we wouldn't normally, especially while remote!
One-on-One Meeting: Over the past year, Spencer implemented one-on-one meetings as a means to openly discuss the team, the company, and our own personal goals. For the team in person, this means a half hour meeting in a conference room. For the team remote, this means FaceTime or Facebook Messenger Video Calling. No matter the method, the point is to sit down with no distractions and to have an open and honest conversation. These meetings lead to incredible discoveries in how to improve time management, learning new skills, and more!
Gratitude Slack Channel: Within Slack, we developed a group channel that allows us to share everything that we are grateful for. Despite any challenges the team, company, or team members as individuals may share, we love sharing all of our wins with the team. This channel is filled with touching pictures of our family, friends, pets, and anyone else we like to brag about. Because, truly, our team is incredibly grateful for everything we have to share, so why not share it together!
Step 3: Be transparent with your clients. Odds are they'll love you even more for it.
Sharing with Our Clients: We were immediately open with our clients about the changes. We needed them to know that everything would feel cohesive on their end and that the only transition would be on our end.
Sending Pictures:

And the more the team got used to the shift, the more we shared about. From sharing pictures of Carly's new home she bought in Tennessee to stories of my explorations of Germany and pictures of my newly adopted kitten, we began to share more and more with our clients. And, to our joy, every single one of them have been receptive to the change, supporting keeping the team together while allowing Carly and I to move with our husbands.

Expectation Management with Time Differences: We were open with the time differences we would be experiencing as a team. With Carly an hour ahead of the team and me eight hours ahead of the team, there was some pressure to make sure nothing slipped between the cracks for our clients. This was easily avoided with Trello, Slack, and our morning Stand Up Meetings, but we wanted our clients to know that we were aware of the transition and would pay close attention to deadlines.
Step 4: Discover efficiencies, time management, and new best practices.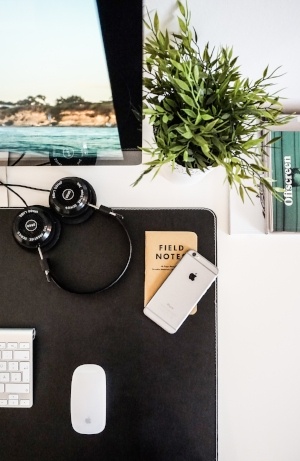 We quickly discovered that one of the biggest challenges was daily interruptions. Without being the in the same room, what might normally take a couple of minutes of discussion in person could take an entire afternoon of slow back and forth over email or Slack. This continual interruption while working on separate tasks was affecting both Account Managers and Inbound Marketing Specialists alike, so we worked together to develop a better way to work together while remote.
Pomodoros: For those not familiar with the Pomodoro Technique, it is a time management tool used to biohack the peak amounts of time the human mind can focus on a single task. We tapped into these time management hacks, ignoring any incoming emails or Slacks that came during each Pomodoro segment of focused work and responding to emails during the breaks allotted.
Taking Notes: We began taking notes on our optimal work times, days, and structures. We learned a lot about where we prefer working, when we get the bulk of our work done, and how to encourage creativity in ourselves. We used these notes to track and to improve our workdays - hours and productivity alike.
Step 5: Keep charging forward as a team with the same values, goals, and relationships that unified us from the beginning.
Client Care: Everyone on the Inbound Educators team takes client care very seriously. We are known for being thoughtful, creative, responsive, and professional. Having 1/3 of our team remote won't change that; if anything, it gives us the chance to highlight that!
Delivering Timeliness and Responsiveness: Our team is quick to respond and quick to find solutions. Time zones have made this even easier, believe it or not! Being eight hours ahead of the rest of the team, the whole first half of my day I get to focus on knocking out tasks for clients so that by the time they wake up, everything is taken care of!
Maintaining Continual Improvement and Learning: Our focus on getting together as a team to learn, discuss, and improve has only sharpened. Carly and I feel grateful to be a part of all of the learning and bring our A+ game to every meeting, and the team is in turn appreciative to still have us aboard and delivering as well!
Shuffling Meeting Schedules to Accomodate All: Working together and being able to attend all meetings is very important to us as a team. When Carly and I went remote, Spencer put in the effort to shuffle all of our standing meeting schedules so that we could both still attend every meeting. Between Account Managers shifting client call times and Inbound Marketing Specialists shifting daily work schedules to make sure everything is still done on schedule and work days overlap for communication and collaboration, our team has knocked this remote thing out of the park.
---
Every once in a while, a company is lucky enough to face a moment of clarity. Sometimes, at first, it feels like an obstacle. But when looking back with the benefit of hindsight, you can recognize it for it what it was: an opportunity to re-align values.
At Inbound Educators, our values have always been focused on delivering the best possible solutions to our clients and improving our team. And while going remote had the potential to disrupt both of those values, it instead strengthened them.
We suddenly had the opportunity to focus specifically on our relationships - within the team and with our clients. And since Carly and I have gone remote, our team and our clients have never been closer.
So, famous last words, if you are faced with a similar situation, I say go for it. You never know what amazing outcome your team can create together and bond over. And as I love to joke now, the sun never sets on our team.
Questions? Reach out to us to learn more about what we do!