Content Marketing has been a Marketing buzz word since roughly 2013. But since its quick rise to dominating the SEO and Inbound Marketing world, there haven't been any earth-shattering evolutions that transformed the methodology.
Until now.
Content Marketing is largely used in an effort to build the content of a website and drive more traffic to its relevant pages. The way people interact with search engines has changed over the years, as have expectations for results. Searchers expect to be able to search less and find more, and they also expect to be able to search the via speak (with Alexa and Google Home as literal examples).
So how do you develop your Content Marketing Strategy around evolving search techniques and expectations to continue to boost your SEO?
Topic Clusters Help Organize and Strengthen Your Content Marketing to Improve Your Searchability
As search trends move away from strictly keywords and begin to shift towards topics, the concept of "topic clusters" is on the rise. In short, topic clusters focus on a web of topics that are all interrelated and all commonly searched to solve for a need. These webs of topics are all connected by a topic pillar page where they are interlinked and referenced to help build a stronger foundation of knowledge for searchers looking for more answers with less research.
So how can you get started today with building your own Topic Clusters to boost SEO?
Step 1: Review Your Existing Content Pages
First, you will need to do a full audit of your existing content pages. What do I mean by "content pages?" Essentially, any page on your website that provides information about a specific topic and links to other related pages is considered a content page.
These content pages will then become the topic cluster "pillar" pages. They will stand to be the main source of information when someone is searching for that topic. From that page, all of your clusters will stem. They will be linked within that page and link to one another as well. But more on that in a little bit.
Step 2: Discover Your Topics for Focus
Once you have pulled a complete list of your existing content pages, you will better understand what your focused topics already are. It's always easier to modify your existing content marketing strategy and content rather than starting from scratch!
With this list of existing content pages and topics, you'll be able to better clarify where to focus. For example, if your website is about your photography business, some of your existing "pillar" pages may be Wedding Photography, Maternity Shoots, and High School Senior Portraits. Depending on which part of your business you are looking to grow more quickly, that is the "pillar" page that you would begin to focus on for your topic clusters.
Step 3: Brainstorm Your Topic Clusters
Once you have established which content pages are being transformed into "pillar" pages and established which topics to focus on, you can begin to brainstorm your topic clusters.
For our team, this process involves a conference room filled with bright minds, sticky notes, and a whiteboard for about 30 minutes. We wrote the topic on the whiteboard and began to brainstorm any "how what where when why who" questions we could around that topic.
Let's continue with the example on a photography business website. If you are looking to build your Wedding Photography side of the business and focus on that topic, then here are some sample topic clusters:
Where are the Best Wedding Photo Shoots?
How to Prepare for Your Wedding Photo Shoot
What to Expect When Working with a Wedding Photographer
When to Book Your Wedding Photographer
Why You Should Include Your Wedding Photographer in Your Wedding Planning
Who Manages Your Wedding Photographer on Your Big Day?
These topic clusters stem from the topic "Wedding Photo" or "Wedding Photographer." They aim to fill in the blanks when someone starts searching "wedding photo" on Google.
Step 4: Write Content Around Topic Clusters
Once you are done brainstorming your topic clusters and have picked 5-10 or more relevant clusters around your selected topics, you're ready to start writing your content!
The content will answer the questions that you uncovered in your brainstorm. If the question contains your topic and is likely a commonly searched question, it's already a perfect title!
The content you build around your topics will likely be best utilized as blogs. Blogs tend to be shorter (300-500 words) and they also tend to have conversion opportunities such as a Call To Action in the conclusion. This offers you the opportunity to encourage researchers to "Call for more information" or other relevant actions.
Blogs also are great for building links within your website and among one another.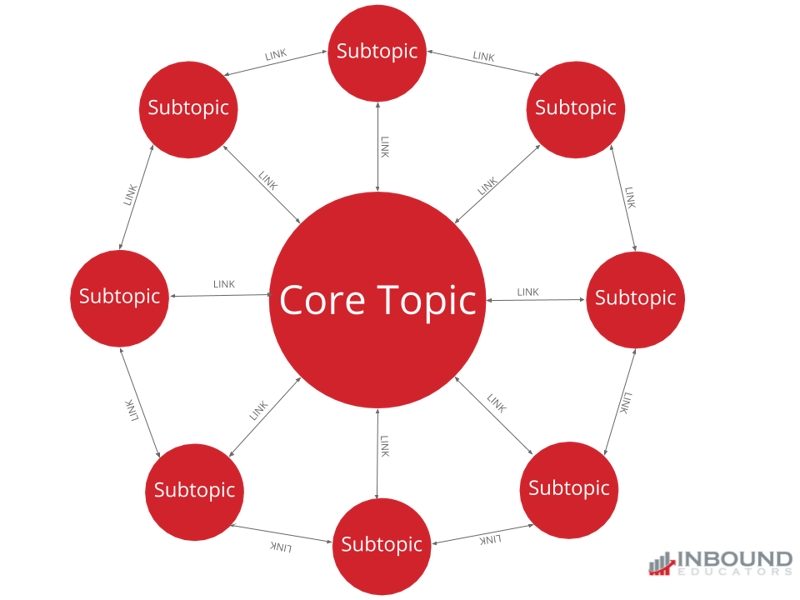 Step 5: Interlink All Related Topic Clusters to Boost SEO
Once you have built your blog content around your topic clusters, it's time to start interlinking your related topic clusters! This is a large part of what will effectively boost your SEO around specific topics.
By providing more links and relevant content, you are encouraging researchers to keep clicking through your website. You are building a web of relevant content. Each click deeper and the longer people spend on your website are major SEO ranking considerations for Google's search algorithm!
To accomplish this interlinking, you will begin with your "pillar" page. After you have created content around your topic clusters, you will be able to link your relevant topics directly in your "pillar" page. This content page will transform into the home base for your linked content. From here, you can link your blogs within one another as well, using links such as "Related: How Much Does Wedding Photography Cost?" within a blog.
Topic Cluster Success Stories
While Topic Clusters may not be the top trend for Search Engine Optimization yet, there is plenty of proof that it works.
As an example, I just adopted my first cat. Clearly, after raising two dogs, I know nothing about training a cat. So when doing some research on Google, I simply searched "train my cat." In this example, "train my cat" is the topic that I am focusing on. You can see in the image below that Google automatically generated clusters of suggestions that are related to my topic.

With the results Google generated, I gained not only ideas around what I can train my cat to do just from a glance, but I also learned that people actually train their cats to use the toilet. So, really it was win-win.
But in all seriousness, Search Engine Optimization is an ever-evolving field. Just like we have shifted away from Boolean Search efforts, searchers are shifting towards topics. The days of searching just keywords and scrolling through results are coming to a close. Now, searchers expect to type in a topic they want to know more about and to have Google generate relevant topic clusters - less research, more results.
Looking to learn more about Content Marketing and how to play catch up to modern methodology?