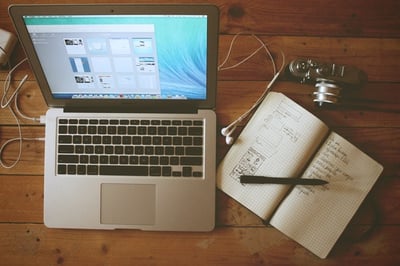 The power a website has to draw in new business is remarkable. It's just as important to have a great looking website as it is a store front. So here is how to design the perfect website for you or your company. Because honestly, these principles really work for any type of website.
Create Your Goals
Finding the main purpose of your website is the most important first step before you even get to designing the website. You have to know the goals of your website or you will be lost you'll just add content to be adding content. Some good examples are:
Sell Products or Services
Attract like-minded individuals
Find new customers
Educate
The list goes on. It's very important to start here. This will help you in organizing, creating content, and finding the flow for your website.
A great system to use to help you finesse your goals is the SMART goals methodology. It's "smart" to use the SMART system. This methodology helps you truly think about the goals you have set up and give them more meaning. The SMART system has never failed me to get what I need to be done, done.
Create Your Story
After learning your goals, it's time to develop your story. Why would people want to work with you?
First, you should figure out who it is you want to work with. Identify key types of individuals and what they like as well as main characteristics they have in common with you. These are called Buyer Personas. Find the people who seek what you are selling and find out what they like.
Then it is the perfect time to outline your unique selling proposition (USP). This will help you define what sets you apart from others in the space/industry you are looking to build your website. A lot like a mission statement, the USP helps you and your customers know exactly what your website is about.
After you have defined your persona and developed a clear Unique Selling Proposition, you can clearly write the story for your website.
You are probably wondering, "what about design?" – "isn't that the purpose of this blog?" We will get to that. Design is very important, however, you cannot have a beautifully designed website without words to accompany that design. Someone once told me that if you have nothing to say, then you don't need a website. I could not agree more. You must first focus on your content before building a website. Otherwise, you won't have anything for your website to say.
Your story comes first. Design comes second.
Find Design Ideas
Now that you have established content for your website, it's time to think about design ideas. Whether you decide to design yourself or hire a designer, you will need to decide on the look and feel you desire for your website.
Review website designs of competitors.
If you have a list of other people or businesses doing the same thing you are doing, go to their websites and make a list of pros and cons from their website.
There is a plethora of sources out there that you can use for inspiration.
This website is a wonderful source to find the latest designs for different Content Management Systems (CMS) and compare the platforms and other business pages.
It allows you to track intelligence and analysis of other's website changes. It can track the latest positioning changes, 3rd party reviews, webinars, new product releases, and other insights.
This website finds the best of web design and adds them to their showcase with the best getting some recognition. They also have a list of freelancers that you can contact if you decide to go in that direction.
While this is a place to download templates, it's very helpful to browse around and find ideas and layouts for your website.
This is another place to look at templates. They break down by categories as well, such as Food and Drink, Music, Photography, and much more. So you can get a glimpse at different industries and how they lay out their website.
Building a Wireframe
While finding inspiration, pull certain things you like on other websites and combine all your "likes" in order to "wireframe" your website. There is a great Google Chrome extension to help you with converting a site into a wireframe. You can also use paper to draw it out first if that works better for you.
The point is to have a clear idea of how you want the site to look and feel. Gain inspiration, see what's new out there, and then find your ideal website layout.
You should also think about UX or User Experience.
User experience is all about making a clear, easy, path for your user. There are things you may, or may not care about. But if your users aren't interested, there is no point.
That's why we mentioned the importance of story first.
Your story helps cut through the weeds. Then you have to make it visible enough for them to find it.
User experience deals with having the perfect copy in the perfect place to lead your users down a path.
Your visitors must feel compelled by the information you provide. It must be located in the right place, at the right time. There is that whole thing about Location, Location, Location. It applies to your website too.
You must have the right copy, in the right place, at the right time. It really goes back to the 4P's, if you ask me. Product, Place, Price, Promotion. This same principle is still very much alive today.
To Design Yourself or Hire a Designer
Once you find the desired platform, it's time to decide if it's something you can work in. If there are no changes to the "theme" you choose, then you are good. As long as you feel comfortable updating in a Content Management System (CMS).
If you don't feel comfortable making those updates or having things you want to change within the theme, and you aren't familiar with HTML or CSS, then I think you should find a developer. It will be better for you in the long run, and you will avoid a lot of headaches.
Find the perfect developer by asking a lot of questions in the beginning. You need a personality that understands what you are asking and the language you are using to describe certain items.
Now you are ready to build your website! I hope these principles help you in building your next website. I would love to hear how it turns out!