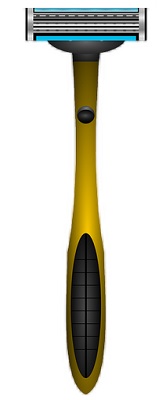 What can the right content do for you? In theory, just about anything. It all depends on how you use it. To get a better idea, let's take a look at one of the most innovative viral marketing campaigns to surface in recent years, and one of the most successful: Dollar Shave Club.
You've probably seen the video. Two and a half years ago, all of your friends were posting it on social media. Since then, it's been shown and talked about at countless marketing conferences and seminars all over the country. A charismatic and slightly sarcastic man goes through a warehouse full of razor blades while explaining the concept of the club: a new blade for your razor, mailed to you every month, for one dollar.
The concept of the video is simple and appealing, and explained in a very straightforward way. Anyone who's ever had to buy razors can relate to it and the deal offered is impressive and attention-grabbing. Not only that, the video is funny, hip, and just a bit bizarre. By the end, there's a machete, someone in a bear costume, and a dance party. They've already got your attention, but then they go all out to make sure that not only do you watch the video, but that you like it enough to pass it on.
Since its release, the video has amassed over 16 million views. An impressive number, to be sure, but as we've said time and time again, those numbers aren't the ones that matter. Plenty of video marketing campaigns have gone viral, but had very little actual impact on sales and revenue. So how does Dollar Shave Club fare when it comes to the numbers that really count? Well, within 2 days of the video's release, they had about 12,000 people sign up for the service. Within a year, it was over 330,000.
And as the numbers continue to grow, so does the company. They've released additional videos, additional products, and maintain an active presence on Facebook, Twitter, and Instagram. It's clear that founder and CEO Mike knows what he's doing when it comes to video marketing. He ought to—he previously created content for Nike, Gatorade, and other prominent brands. Through his know-how, Dollar Shave Club has built up its brand pretty much entirely online, and it's paid off tremendously.
So what does this mean for you? Well, if Mike can do it, what's to stop you from doing the same? Maybe you haven't run campaigns for Nike and Gatorade, but the elements of success remain the same. Grab people's attention and appeal to their needs. Keep the message simple and straightforward. But be unique, entertaining, or just plain bizarre enough that they'll want to share it with their friends. With a little hard work and a little creativity, you can create your own viral video marketing campaign that leads to success, not only in terms of hits, but in terms of sales.