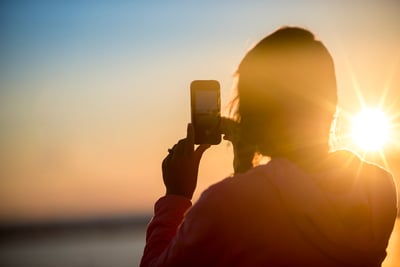 Inbound marketing is revolutionizing the marketing industry. However, there are still platforms where inbound marketing is less common. Instagram is one of these platforms. Fortunately for us, there are a few inbound marketers who are killing it on Instagram. So when you say you want to learn how to do inbound marketing on Instagram, just learn from the best! Check out these great Instagram inbound marketing accounts below.
HubSpot uses Instagram to promote the message of inbound marketing, support local businesses, and showcase their company culture. As the company that brought inbound into the light, they should be one of the inbound marketing savvy accounts you follow on Instagram.
Who says you can't post motivational quotes and marketing information on Instagram? Social Media Examiner has been doing this from the beginning, and they're surpassed 33,000 followers! Learn more about their marketing strategies on their Instagram profile.
From expert marketing advice to her personal life, Amy Porterfield is an excellent example of someone who utilizes inbound marketing to promote their business. On her Instagram account, she uses a mix of stylized photos and normal life photos. She then uses the captions to educate and promote.
Mari Smith is one of the leading Facebook marketing experts of the day. Although Facebook is her forte, she uses Instagram to promote her brand and motivate her followers. Check it out here.
These are just four different Instagram accounts that demonstrate inbound marketing strategies. Know other great inbound marketing Instagram accounts? Leave us a comment below!
I wish you all the best with your inbound marketing efforts on Instagram. Remember, the inbound methodology can be applied anywhere, even Instagram. And with few people actually implementing, Instagram is a great opportunity for you to step in and generate results for your business. So what are you waiting for! Create an Instagram account or utilize an existing account, and jumpstart your inbound marketing efforts on Instagram!