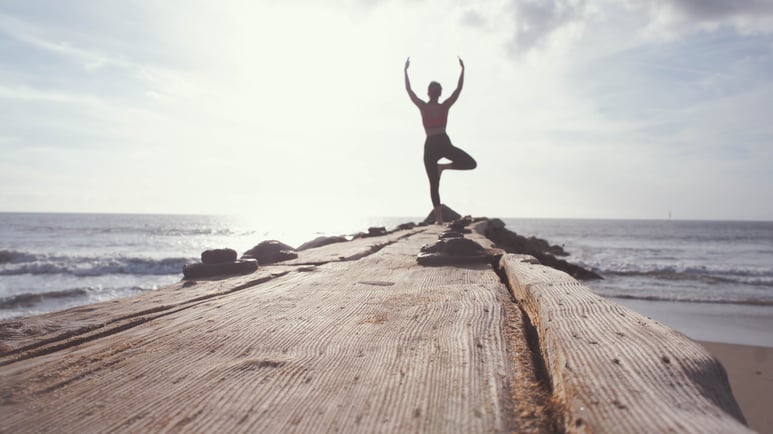 It's Tuesday morning. You're sitting at your desk, Googling. And before you know it, you've gone down seven rabbit trails, ranging from "what is USB-C charging" to "where can I buy USB-C chargers" and then somehow to "best donut shop near best buy downtown." And then all of a sudden, "Okay Google, where is the nearest parking structure by the Best Buy downtown???"
We've all done it. We've all begun by asking Google anything, and then the more we realize we don't know the right question to ask, the more questions we ask.
Google knows this. The way people search is constantly changing. Since the advent of searchability online, people have grown to expect to find answers quickly and easily. Whether they speak to search, type out full questions, or even search from different devices throughout the day expecting the same results, people have grown reliant on Google's results.
One of the ways Google has evolved its algorithms is by recognizing Topic Clusters as an important search engine optimization factor. Simply put, when trying to rank for keywords, marketers should instead be focusing on the bigger picture.
Keywords are still important, but the bigger picture is the topic that these keywords fall under. And once these topics have been established, content should be formed around the topics.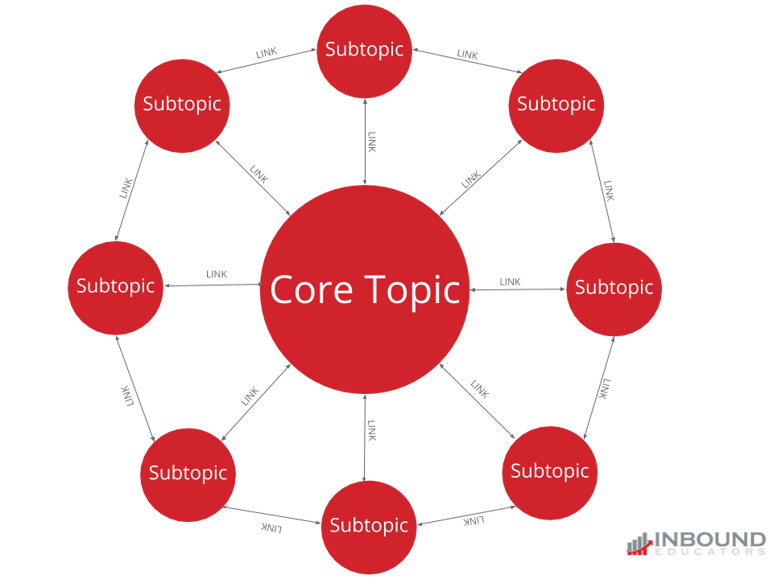 But what does this look like when put into use?
4 Everyday Examples of Topic Clusters
Let's start with a broad topic: yoga. It's a popular craze that's been sweeping the world lately for its health benefits (and fashion). There are so many different things people want to know about yoga.
But what happens when you need to break down the broad topic and you're not even sure where to begin?
Topic Clusters for Beginning a Buyer Journey
Keeping your target audience's journey of discovery in mind, let's start searching like they would. Imagining someone who is curious to learn more about yoga poses, they may begin by searching something as obvious as "yoga poses" with the hope of learning more.

Just by simply typing in "yoga poses," Google begins to populate searches. Imagine "yoga" as your topic and "yoga poses" as a sub topic. All of the searches that appear based on the search "yoga poses" are content written around (and therefore clustered around) that particular search term. That is your topic cluster.
Topic Clusters for Improving Search and the Buyer Journey
Let's look at another example from this same discovery journey. Maybe now, after discovering that there are yoga poses for kids, for two people, and for flexibility, your target audience has more questions. Next, they begin to search "yoga for" to see who else does yoga.

Now your audience is armed with all new topic clusters to sift through. You can see the power of topic clusters and just how they affect your SEO as a marketer.
Topic Clusters for Refining the Buyer Journey
The searcher is equipped with the possibility of narrowing their searches to any of the topic clusters and their content populated by their search "yoga for" or they can choose to continue searching more refined topics based on these results.
For example, now the searcher knows that there is yoga for runners. As a runner, the searcher immediately identifies with this topic. They then decide to narrow the search to this term, hoping to find even more content around it.

And just like that, your searcher sees what they've been looking for: "yoga for runners knee." Maybe they've had knee surgery before and now they know exactly what they should be researching when they weren't too sure from the beginning:
Is yoga safe for people with knee injuries?
What are some yoga pose modifications for people with knee injuries?
Is yoga good for people with knee injuries?
What kinds of yoga gear helps people with knee injuries?
Yoga for healing after ACL reconstruction surgery
Yoga to build strength around your knee
All of a sudden, a million new topic clusters open up for your searcher. Now the searcher has a better idea of what they actually want to learn more about.
They begin drilling down into the search results for this topic cluster. Then they start reading more and more content around the topic. They can then ask better and better questions the next time they search.
Topic Clusters on Other Platforms for Searching
Now, the next search may look more like this:
Because topic clusters aren't limited to Google. They're how people search - and they're everywhere. And never knowing where your searcher is in their buyer journey, you have to remember to meet them wherever they are in their search.
And since a lot of purchasing decisions are made in the moment, it's also important to meet your searcher on the go.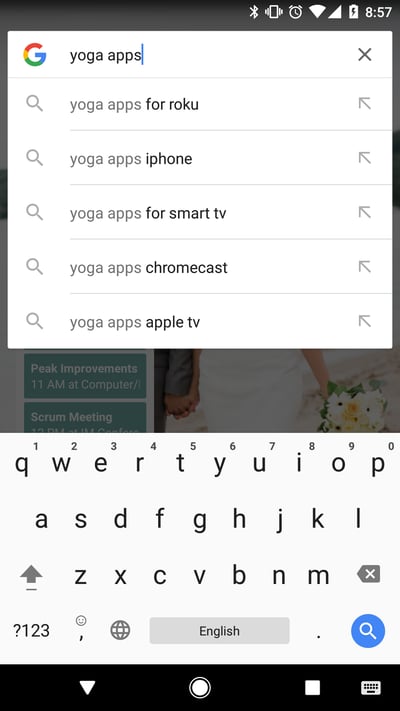 How can you be optimizing your website into topic clusters or improving your Content Marketing to boost SEO with topic clusters?
Download our free resource to learn more about this highly effective SEO tool!