By regularly checking website metrics we were able to catch and correct an oversight for Split Rail Fence Company in page development and design and increase traffic on their main service page.
Why?
We noticed Split Rail Fence's website page was under-performing for lead conversions on a page that should have been booming given the information and page views it was achieving each month. The page, a residential fencing page for the Colorado Springs and Denver areas, had a 3.1% view to form submission rate in 2018 and had a 0% view to form submission rate for the first quarter of 2019. Additionally, this page was producing a 0% submission to customer rate for Q1. These numbers were not up to par, so we evaluated the page to understand how to increase page views, form submissions, and customers from the residential fencing page.
Actions Taken:
Research and Competitor Analysis

Our first step to fix the low conversions was research and competitor analysis. To uncover the root problems of this page, we researched competitor residential fencing pages and compared information. We also researched location-based and user intent based keywords to see if there were major gaps in the keywords we were targeting. Lastly, we determined what questions users were asking and determined what information we could answer via frequently asked questions sections.

On Page Conversion Optimization

Next, we implemented additional on page lead conversion points. Previously, only one conversion point existed and was far too low on the page to be of much help, so, we added a "Get Estimate Form NOW" to the bottom of the page where users could convert on page to request an estimate. We also added a CTA button above the fold which anchored to the form at the bottom of the page so that users knew which step to take next.

Expanded Content

To fix the content and keyword gaps, we expanded the content on the page to be more helpful to page visitors who were looking for information. We expanded upon the service areas section to include two detailed zip code based pinpointed Google Maps. We used targeted H2's to label the maps with user keyword intent, "Fencing in Colorado Springs" and "Fencing in Denver."





Through our keyword research, we determined that the residential fencing page was also missing a valuable section for the process of hiring and working with a fencing company. To solve this gap, we wrote new content on what to expect for the residential fence installation process, detailing each step and providing insights on what a customer can expect when they purchase a residential fence from Split Rail Fence Company.





Additionally, the page was lacking introductions to fencing material and FAQs. From our research, we determined that most people know they want a fence and they know what they want a fence for, but they don't know which type of fence they should buy or even how many types of fencing materials exist. We added a section to this page briefly introducing the types of fences available and linked them to the existing fencing materials pages along with an opportunity for users to view their blog "Which is Best? Wood vs Vinyl, Metal, Chain Link and Composite Fences. Finally, we added a section for FAQ's and answers to each question so users could easily find answers to common questions

Implemented an Internal Linking Strategy

Once we built out the page to encompass more content and answer more user-related questions, we developed and implemented an internal linking strategy. By linking to and from relevant content on this page, we created a knowledge-based content web that tells Google the site is legitimate and will help users find the information they are looking for when looking for information on a topic.
Results:
Before we optimized this page and during Q1 of 2019, Split Rail Fence was seeing 1,246 organic views and had 0 submissions/leads from the residential fencing page. After we implemented page optimization organic views for Q2 hit 2,248 and had 125 submissions/leads with 7 known customers totaling $31,242 in revenue for the company.
This year: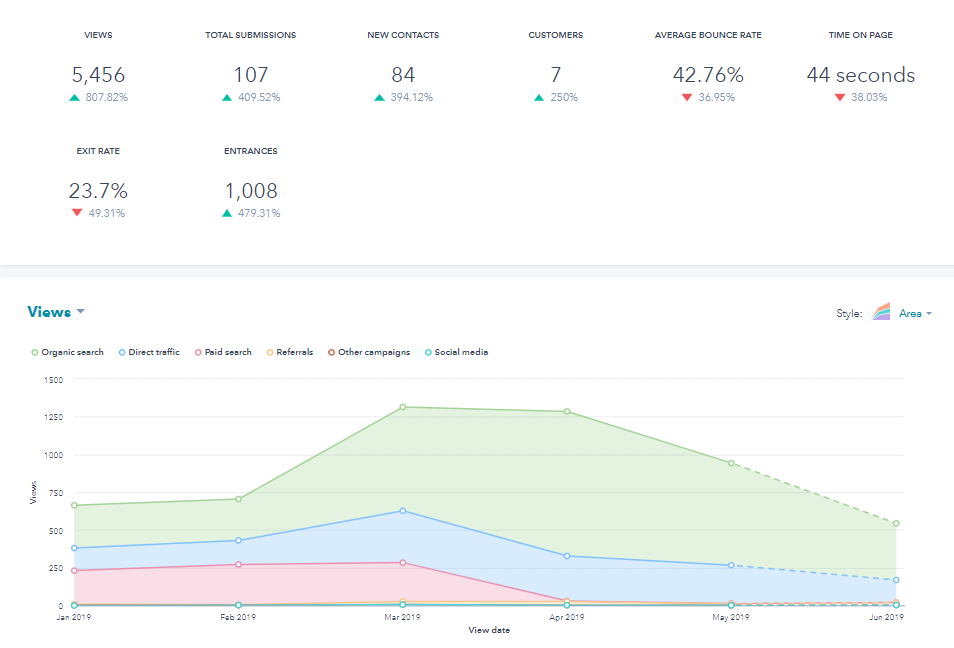 When we compare Q1 numbers with Q2 numbers it's easy to see why this page needed to be optimized. We increased the view to submission rate by 4% and increased the contact to customer rate 12.24%. Organic search is now about 71.5% of total search traffic consistently throughout Q2, so even though Split Rail Fence didn't run any Google ads in April, total search traffic has stayed consistent. When we continue Google Ads, there should be a large spike in website traffic above and beyond the organic traffic gains already made through the optimization.