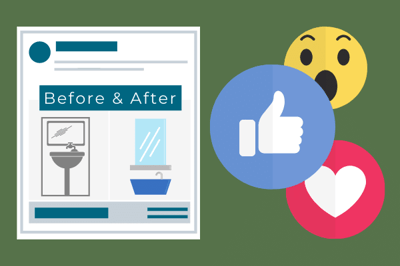 Organic traffic isn't churning for your website yet, so what can you do to get more "feet in the door" per say. That's a similar challenge we faced with a remodeling company we have been working with. Increasing the organic potential of any website takes quality content + time + consistency. So our objective to get more leads in the door right away was to increase the effectiveness of their Facebook Ad spend. Then, once their website starts driving more traffic and lead conversions organically we will be able to reduce their reliance on paid advertising so that their cost per lead is lower.
So, what type of Facebook Ad did we run?
"Before and After" Facebook Ads
"Before and after" project photo comparisons are the cream of the crop from what we have found when posting on social media. Not only do they have high engagement rates from non-paid posting, but they also tend to out-perform other types of boosted posts. (Notice the engagement on each!)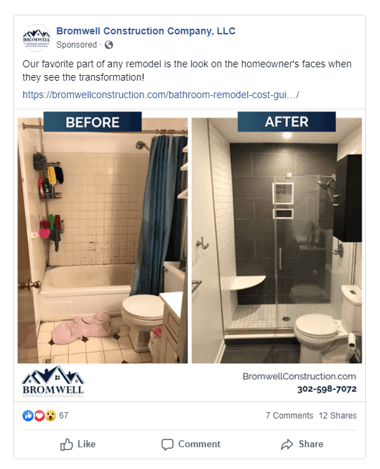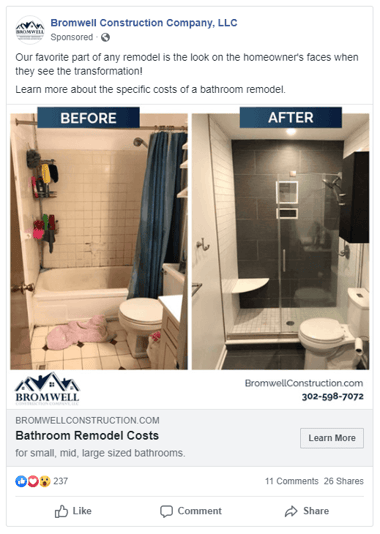 They have now proved their worth as Facebook Ad graphics as well.
We created one campaign with one ad set and two ads: one for kitchen remodels and one for bathroom remodels. We created a single graphic which showcased the "before" and "after" photos of each project side by side and added the company's branding on the graphic (see Example 2). We then used a 1% targeted website look-alike audience within the scope of about 20 zip codes in their service area. The ad directed to a landing page for each of their cost guides, which was the conversion metric for this ad.


The Results
In just one week, total website sessions increased by 67% and lead conversions increased 22% after spending just $95 on the ads.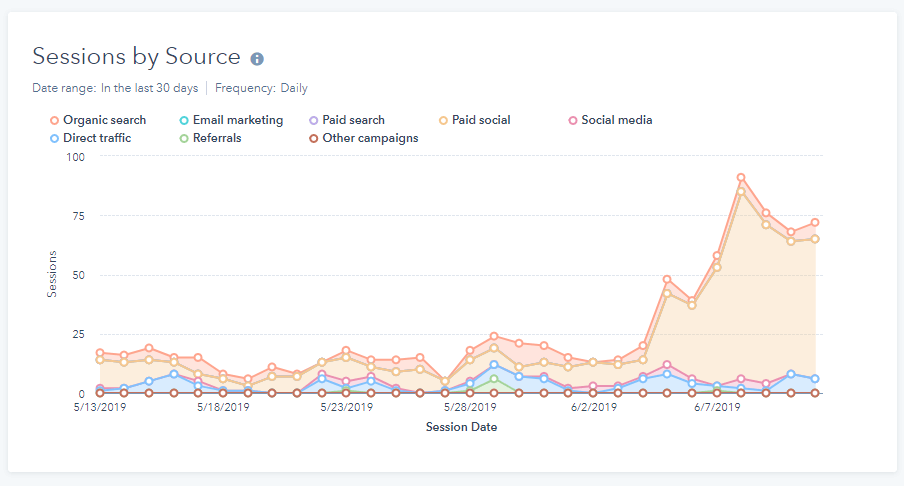 After the ads had been running for 4 months, they were still performing similarly. Both ads had a click through rate (CTR) of 3.6% and an average cost per click (CPC) of $0.20. The landing page was converting on average 2.5% of the landing page viewers into new contacts. 53 contacts have been directly acquired from the Facebook Ads for a cost per lead (CPL) of just $19.95.

---
How do we know that these are good click through rates from Facebook Ads?
Wordstream collected data across 18 industries to compile a benchmark for average Facebook Ads CTRs. In the Home Improvement industry, the average Facebook Ad CTR is 0.70%. Our before and after ads had a 3.6% CTR, over 5 times higher than the industry standard! Similarly, the average CPC of Home Improvement Facebook Ads is $2.93, whereas the before and after ads had a cost of just $0.20 per click.
Ultimately, though, a GOOD rate is anything that is higher than it used to be for your business.
---
As a bonus, due to The Network Effect of digital marketing, the increased traffic from these Ads has led more people to engage with the content on their website, increasing their website performance across many lead sources and several other website pages.
Insights:
This was a test to compare the level of performance of "before and after" ads to other tried and true Facebook Ads types that we have run for remodeling businesses. And they definitely worked! Here's why:

1. Solid Content
Not only were the graphics of the ad relevant to the audience (who doesn't love a good before and after!?), but users clicked through to a cost guide landing page, which is another very relevant piece of content. The Facebook Ad converted well, but the landing pages also converted well to make the social ad campaign an all around success.
2. Solid Targeting
The message can be great and the content sublime, but if the right people aren't seeing it, it won't matter. A large portion of the success of this social ad campaign came from running them to a specific audience who was more likely to click on the ad and convert into a lead from the landing page.
3. Solid Reputation
I firmly believe that the positive reputation that this remodeling company has in the community also played a strong role in the success of these Facebook Ads. They are admired as people and applauded as craftsmen which I believe bolstered their success from the existing brand recognition.
This isn't all we do! Check out another one of our success stories. 👇