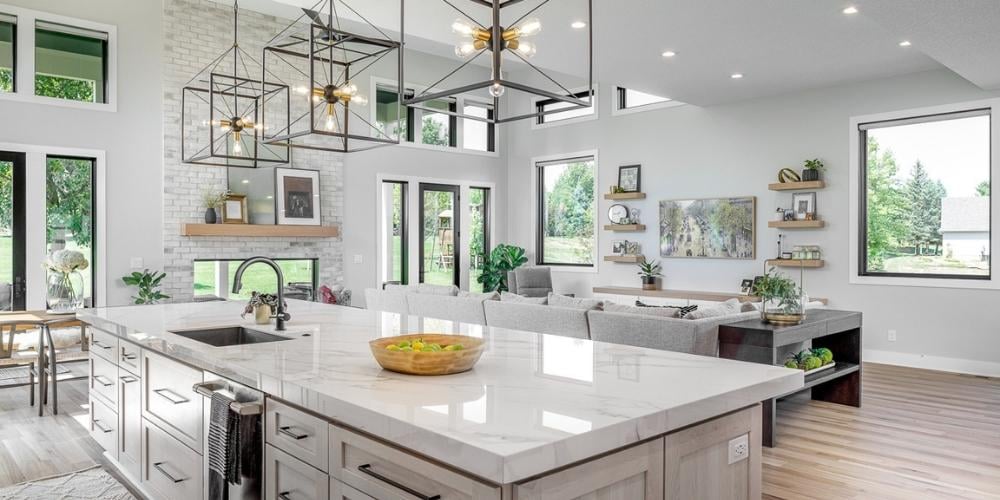 Background
Compelling Homes has been working with Builder Funnel for just shy of two years, and in that time has increased monthly website traffic by 115% with a 108% increase in leads not to mention a 7x increase in organic search traffic to their site month-over-month over a 1.5-year period. From ~125 average organic users per month in 2020 to 700+ per month through Q2 2022, with the best month boasting 1,350 organic search users.
But that's not ALL.
We've been able to track over

$1.7 million

in new revenue generated from

organic search and organic social!
Here's a unique piece of a much larger puzzle that helped us do it.
The Challenge
Creating content that establishes who Compelling Homes is as a brand, without losing their SEO authority.
Compelling Homes is a design-build remodeler in the Des Moines Metro Area in Iowa that does personal, customized, and bespoke residential projects. They were averaging around 120 monthly organic views to their site when they started their inbound marketing journey. Today, they are averaging around 1,200 monthly organic views.
Compelling Homes isn't a company you hire for a quick flip; they aren't your 'in-and-out' remodeler. They are here to get to know you, understand your lifestyle, dissect your patterns and movements in your home, then design a home that accommodates your lifestyle. Our messaging had to be clear: this is who we are, this is what we do, and this is why you should (and shouldn't) choose us.
Their updated challenge for our team, two years into their inbound strategy, is pre-qualifying leads. Together, we had established enough digital authority to bring in leads – and now we had the opportunity to be selective. To focus on capturing the right audience. Our thought project: how to have users pre-qualify themselves to save time (i.e. money) on our clients' behalf?
Enter: Project spotlights.
The Strategy
Year 1: Intense, sweaty, non-stop inbound marketing tactics.
Year 2: Humanizing the brand; customers pre-qualifying themselves subconsciously.
We know that inbound marketing is a marathon, not a sprint. We also know that there are many factors and variables at play when deciding which inbound marketing strategy is best for your business. With Compelling Homes, we initially focused on keyword research and gaining local authority. After year one, we shifted our strategy slightly to spend time showcasing their company as exactly who they are – Compelling. Our goal was to, in conjunction with our in-depth inbound strategy, push hard on branding and transparency.
Project spotlights are Compelling Homes' way of walking potential clients, anywhere in their decision-making journey, through past projects. What makes the project spotlights that we produce with Compelling Homes different than most, is that they reflect the brand's personality: honest, transparent, conversational, and detailed.
Professional photography is set up on the page as a natural walk-through – entering through the front door, moving naturally with the flow of the space, grouped together as if you were taking a virtual tour. The words on the page are not packed with keywords – something that seems to go against a "conventional" marketing strategy. These spotlights are written with candor as if owners Rusty and Denise Green themselves are guiding you through the home.
Publishing a page on your site that is not packed with keyword research is a risk. A risk we do not take. Yet, with project spotlights, the tradeoff was clear: humanizing your brand works.
Step inside Compelling Homes' coffee table book-worthy project spotlights →
The Results
Their original sales goal was already surpassed - by 2x - going into 2022.
We have been able to source $1.7+ million in revenue back to organic search and organic social. Of course, Compelling Homes' overall revenue is thanks to a multitude of marketing efforts – inbound digital marketing, their excellent local reputation and referrals, word-of-mouth, etc.
What we want to focus on here is what Builder Funnel has been able to generate for them through a rigorous and meticulous inbound digital marketing strategy – and how our project spotlights have played a key role in that.
It's important to remember that these project spotlights are not the sole reason their site (and in turn, their business) has seen so much success – but it's important to note that they have been a driving contributor to it.
Let's dive in:
$1.7+ million in revenue has been generated through organic search and organic social.




Through organic search alone, thanks to a multi-faceted inbound marketing approach, Compelling Homes' website has generated 10 new customers over a 1.5-year period. This is the power of our strategy!




1,681 total views to one project spotlight page since publishing, with a monthly average audience of 50 views 1.5 years down the road – this is called evergreen content and it's always the goal!




Their project spotlights alone brought in 5,100+ users to their website.




Sharing this one project spotlight on Compelling Homes' social platforms has brought in over 1,000 users to their website – which is also carefully curated to lead people down their sales funnel once they arrive.


Let's talk more about Organic. Social. As marketers, it can sometimes be hard to know exactly what a social audience is going to be interested in at any given point in time. We're confident in our strategy, skills, and content execution, but as anyone who uses social media will understand, what may grab your attention one day might be completely different from the next day.

It's important to spend time + effort making sure your site is drawing in the right amount of organic search traffic, but getting organic social traffic is not always as straightforward. What is straightforward? 1,102 users were sent to Compelling Homes' website from a single social media post.
Okay, but how does this attribute to their sales goals? Their blog portal (where project spotlights are showcased) has generated 14 new contacts over the last year. This may seem like a small number, but any contact generated from a blog is a unique victory.



Key Takeaways
Always remember that it isn't one specific website page, blog, social media post, or PPC ad that is going to ensure your digital marketing success – it's all of them. Carefully curating an inbound marketing strategy that works for one home remodeler or custom home builder, may not work for the next.
In this case, our detailed and personalized marketing strategy laid out in year 1 was laying the foundation. The focus on detailed and publish-worthy project spotlights to humanize their brand in year 2 was framing the house. The next years spent with Compelling Homes will be on designing and creating the carefully calculated and beautiful (digital) home, just as the ones they provide for their clients.


If you're interested in getting results like this for your remodeling or custom home building business, contact us to start the conversation!